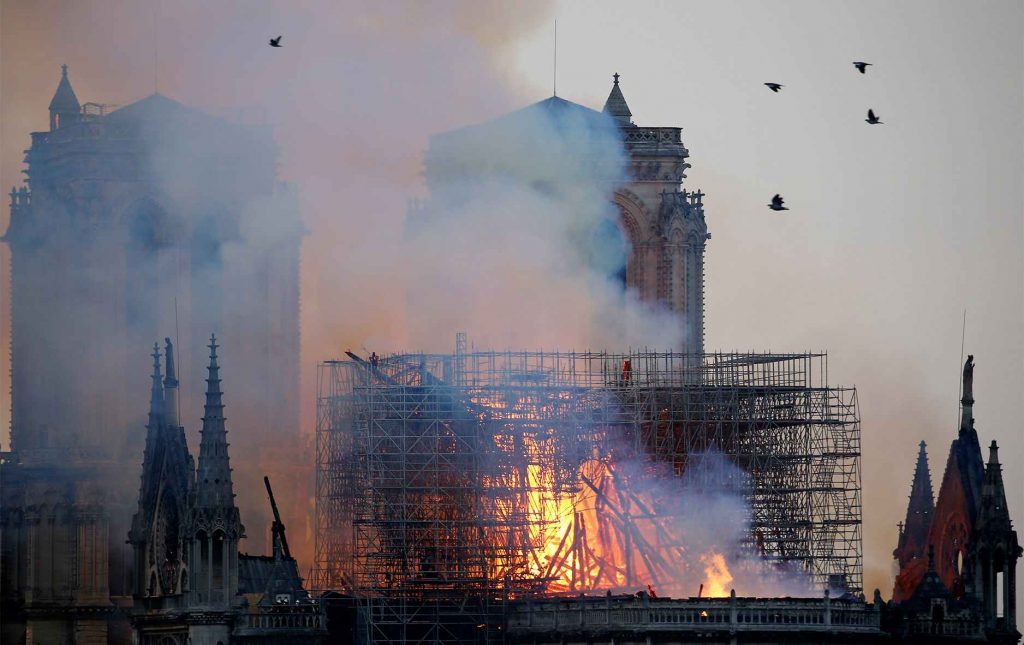 According to brief statement published on his Facebook page, Egyptian President Abdel Fattah Al Sisi expressed his "deep sadness" as to having received new of the cathedral of Notre-Dame's fire in Paris.
As soon as the fire was noticed in the medieval and iconic monument, news quickly circulated worldwide that one of France's most valuable heritage sites was ravaged by a fire.
The President also stated that the accident of the fire possibly leading to the loss of the cathedral would constitute a "a great loss for humanity". He also expressed Egypt's solidarity with France and its people.
Similarly, the Grand Imam of Al Azhar expressed dismay at the news of the incident, stating through the Al Azhar official Twitter account "I feel so sorry for the massive fire at the historical architectural masterpiece "Notre Dame Cathedral" in Paris, our hearts go out to our brothers in France, they deserve our full support."
Egypt's Coptic leader, Pope Tawadros II also issued a statement through the Coptic church's official spokesman page on Facebook saying "This is a huge loss for all of humanity, for its extremely important historical value, and being that it is one of the world's greatest artifactual sites."
"We pray that God may grant the French Authorities and leaders wisdom and support in the handling and remedying of the consequences resulting from this event, and that He may protect all the countries of the world in continuous and complete peace," the statements also read.
The fire, which ravaged the 850 year old building for 15 hours, was lamented by a plethora of world leaders including Pope Francis, US President Donald Trump and German chancellor Angela Merkel.
The fire was noted on Sunday and its cause is not yet clear although footage of interior of the sacred building  has revealed major damage.
Financial aid has already been secured for the reconstruction of the church with the most hefty pledge taking source from billionaire Francois-Henri Pinault who is pledging 100m euros for the rebuilding of Notre-Dame.
"Notre Dame represents a historically, architecturally, and spiritually, outstanding universal heritage. It is also a monument of literary heritage, a place that is unique in our collective imagination. Heritage of the French but also of humanity as a whole. This drama reminds us of the power of heritage that connects us to one another. We are receiving messages of support from all over the world," said UNESCO Director-General Audrey Azoulay who immediately has visited the site with French authorities.
The Cathedral was inscribed on the World Heritage List in 1991.
---
Subscribe to our newsletter
---