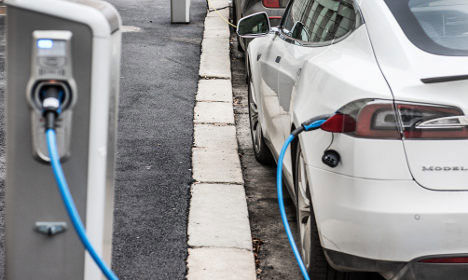 In a bid to promote electric cars in Egypt, the Ministry of Interior has announced that it will grant electric car owners temporary license plates and insured licenses until the policies are fully administered.
According to the ministry's statement, this will make is easier for people to import electric cars from overseas. It has also informed all the traffic departments to facilitate the procedures of obtaining a temporary license for an electric car.
Last week, Egypt struck a deal with China for the joint manufacture of electric cars and buses in Egypt, the State Information Service reported.
In February 2018, Egypt's first electric car charging unit was introduced in Cairo-Suez highway. The units are owned by the car manufacturer Revolta Egypt.
For years Cairo has been considered as a home for miscellaneous pollutions such as air, water and even noise. It is Cairo's air pollution, however, that is at the most critical level, with an estimated 43,000 Egyptians dying from diseases related to air pollution in 2012.
Forbes released an article on a report done by The Eco Experts saying that Cairo is one of the most polluted cities in the world. The data was based on three different types of pollution: air, noise and light.
Recently, both the public sector and the private sector in Egypt have been actively working towards environmentally sustainable solutions by introducing electric cars and electric buses to its transportation system as part of the nation's 2030 sustainable development goals.
Despite the challenges, in January 2019, Egypt jumped up to 66th place on Yale's 2018 Environmental Performance Index (EPI) out of 180 countries, almost 40 point up from ranking 104th place in the previous year.
*Cover Photo Credit: Daily News Egypt
---
Subscribe to our newsletter
---