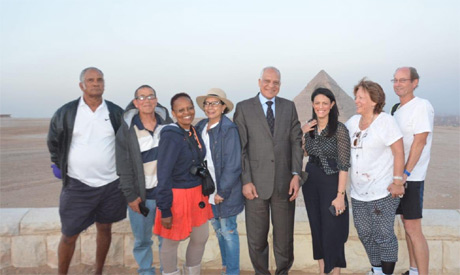 Egypt's Minister of Tourism Rania Al-Mashat escorted South African tourists on their visit to the Egyptian landmark, the Great Pyramids of Giza, on Sunday after the bus explosion.
According to the statement released by the ministry, the South African tourists were amongst a group 25 tourists who were targeted in the bus explosion near the Grand Egyptian Museum in Giza on Sunday afternoon.
At least 17 people have been injured.
The minister paid a visit to El-Haram Hospital where those injured where being treated. Afterwards, she accompanied the other group to the pyramids alongside the South African Ambassador to Egypt and Ahmed Rashed, governor of Giza.
Initial reports from state media indicate 10 Egyptians and seven South Africans were among those injured.
According to media reports, two vehicles – a tour bus and a private vehicle – were impacted by the explosion. The tour bus was carrying 25 people while the private vehicle was carrying four people.
The extent of the damage remains unclear. However, photographs from the scene show shattered windows on the bus while individuals roam around the overly intact bus.
Security forces and ambulances rushed to the scene of the explosion within minutes of the incident.
The road near the Grand Egyptian Museum is often popular with tour buses traveling to and from the Great Pyramid of Giza complex and other nearby antiquity and historic sites.
The Grand Egyptian Museum is set to open in 2020 and will be the largest archaeological museum in the world, housing many of Egypt's treasures. It has not been harmed following the explosion of the device.
Authorities have rushed to claim that the situation is under control although no group claimed responsibility for the attack and the culprits have yet to be apprehended.
*Cover photo credits: Ministry of Tourism
---
Subscribe to our newsletter
---