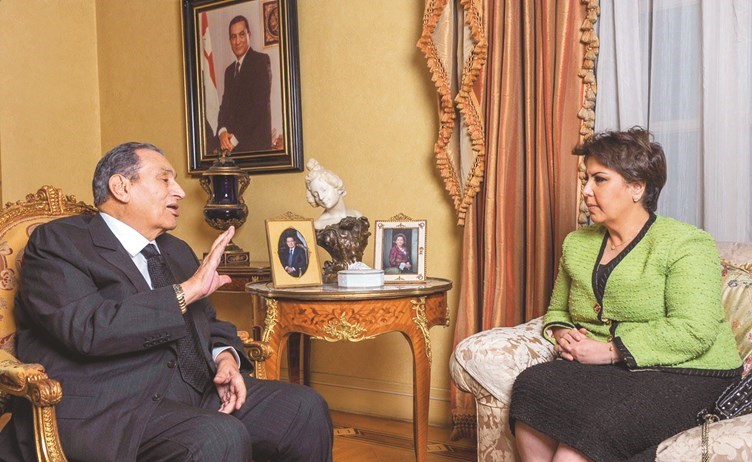 Interview Draws Mixed Reactions
A rare interview with former president Hosni Mubarak published in the Kuwaiti Al Anba newspaper on May 20 drew mixed reactions from Egyptians.
Supporters of the deposed president eagerly shared the interview on social media platforms, promoting it as a "must read." Activists who took part in the 2011 mass protests that forced the longtime autocrat to step down, however, showed their disdain by re-publishing old "Down with Mubarak" tweets, reminiscent of the chant that had echoed across Tahrir Square during the eighteen-day uprising.
The readers' comments published below the article were largely pro-Mubarak, with a supporter praising him as "the boldest of Egyptian rulers." Not surprisingly, the commenter also mentioned that he was a member of the group, "We are sorry Mr. President," a loose coalition of Mubarak supporters, created after the 2011 uprising to show solidarity with the deposed president and apologize for the way he was overthrown after 30 years in power.
Meanwhile, a Mubarak critic reminded readers that the Egyptian people had lived in poverty, ignorance and dire economic conditions under the latter's rule. "Corruption had become so rampant that it created the environment for political succession," he wrote in reference to Gamal Mubarak's presidential bid in the months before the uprising.
Most of the comments appeared to be emotional expressions of support or contempt for the deposed president with only a few touching on the actual content of the interview. The interview itself largely focused on Mubarak's attempts to avert an Iraqi invasion of Kuwait in 1990 and his role in containing the "Gulf crisis," as the Iraq-Kuwait conflict has been referred to in the media.
"Saddam Hussein assured me he would not invade Kuwait," Mubarak told the interviewer. He added that he was "shocked" when Iraqi troops stormed Kuwait on August 2, 1990.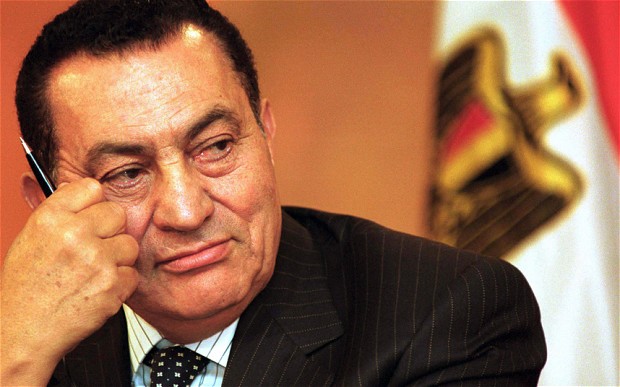 Warning Against US Military Intervention in Iran  
Some analysts such as Mustafa Kamel El Sayed, Professor of Political Science at Cairo University, have read Mubarak's interview as possibly carrying "a warning message" against a potential US military attack against Iran.
"Sixteen years ago, Mubarak warned the Bush administration against the dire consequences of US military intervention in Iraq; he was far-sighted," El Sayed told Egyptian Streets.
"The interview is perhaps a reminder that US military action against Iran would ultimately turn an already troubled region into a war zone; increasing instability in the region would have grave consequences worldwide, including on the economies and security of countries far away from the region," he warned.
"Deal of the Century Can Lead to Explosive Situation"
The lengthy one-on-one interview, conducted in Mubarak's home in Cairo's affluent district of Heliopolis, also tackled the 1973 October War as well as US and Russian influence on the Middle East.
Yet ultimately, the Egyptian media chose to focus on Mubarak's remarks on the "Deal of the Century," a US-sponsored plan for Palestinian-Israeli peace expected to be unveiled after Ramadan.
"Any plan which is imposed on the region based on power imbalance is likely to fail to bring lasting peace," Mubarak said.
"It would culminate in an explosive situation that can blow up any minute," he warned, alluding to what he described as "worrying signs" such as the expansion of settlements in the Occupied Palestinian Territories, Washington's recognition of Jerusalem as Israel's capital as well as recognition of Israeli sovereignty over the Syrian Golan Heights.
Mubarak also said he knew Israeli Prime Minister Benjamin Netanyahu well, adding that the latter "is neither interested in a two-state solution nor does he believe in the Land for Peace deal; rather, he wants to separate the Gaza Strip from the West Bank."
"When Netanyahu suggested that Egypt give up a part of Sinai to the Palestinians, I told him not to open this subject again or we would go to war over this," he recalled.
"An Attempt to Whitewash his Image"
Mubarak's remarks have been considered by some analysts like Hassan Nafaa, Professor of Political Science at Cairo University, as "an attempt to whitewash his image."
"Mubarak wants to be seen by Egyptians as a dignified military man who has refused to give up an inch of Egyptian land," Nafaa told Egyptian Streets.
"Perhaps Mubarak is dissatisfied with Sisi's new approach to Egyptian-Israeli relations and wished to make that clear," he speculated.
Drawing a comparison between Mubarak and Sisi, Nafaa reminded that the deposed president "is from a generation of senior military officers who fought in wars with Israel, while the latter is from a new generation of military brass that has not fought in any wars."
Since assuming power, President Sisi has further endorsed rapprochement with Israel out of a conviction that relations with Egypt's northern neighbor are strategically and diplomatically beneficial. Israel meanwhile, has thrown its weight behind the Sisi regime, forging a close security partnership with Cairo and allowing Egyptian security forces to be deployed in Sinai's demilitarized zone in order to fight against armed Islamic State-backed militants.
"Baseless Rumors"

Hisham Kassem, an Egyptian publisher and political analyst, has meanwhile rebuffed the Deal of the Century as "a farce" and "a failure."
"The Israelis are too politically-savvy to agree to creating a substitute land for the Palestinians in the Sinai Peninsula, as some media are reporting. They know only too well that such action would lead to war between Egypt and Israel. Israel would never jeopardize peace with Egypt," he argued.
"It is one thing to agree to establish a trade zone along Egypt's border with Gaza but another completely to violate Egyptian sovereignty by allowing Gazans to resettle in parts of the Sinai. Peace is a delicate matter, coming after many years of war; no politician in his right mind would choose war over peace," Kassem told Egyptian Streets.
A claim by the independent Israeli think tank New State Solution that President Trump's peace plan involves giving Palestinians part of Egypt's Sinai Peninsula for the creation of a so-called new state, has been refuted by US Middle East envoy Jason Greenblatt. In a tweet in April, he warned against believing such "leaks," describing them as "baseless rumors."
No Peace Without Just Solution  
Former head of Egypt's Social Democratic Party, Mohamed Aboul Ghar, agrees that it is "too early to speculate" on the proposed plan for Middle East peace "as no one really knows yet what its precise components are."
"The only factual information we have so far is that Palestinians are being offered to give up their sovereignty and their land in the West Bank in exchange for economic incentives. This is not a workable solution as no amount of money can compensate the Palestinians for their own viable state," he told Egyptian Streets.
The various analysts' comments signal that there may be more to Mubarak's interview than meets the eye. While at first glance, the interview may seem rhetorical and void of substance, the underlying message could very well be that there can be no peace in the Middle East without a just and lasting solution. A peace plan that clearly favors one side over the other is bound to fail.