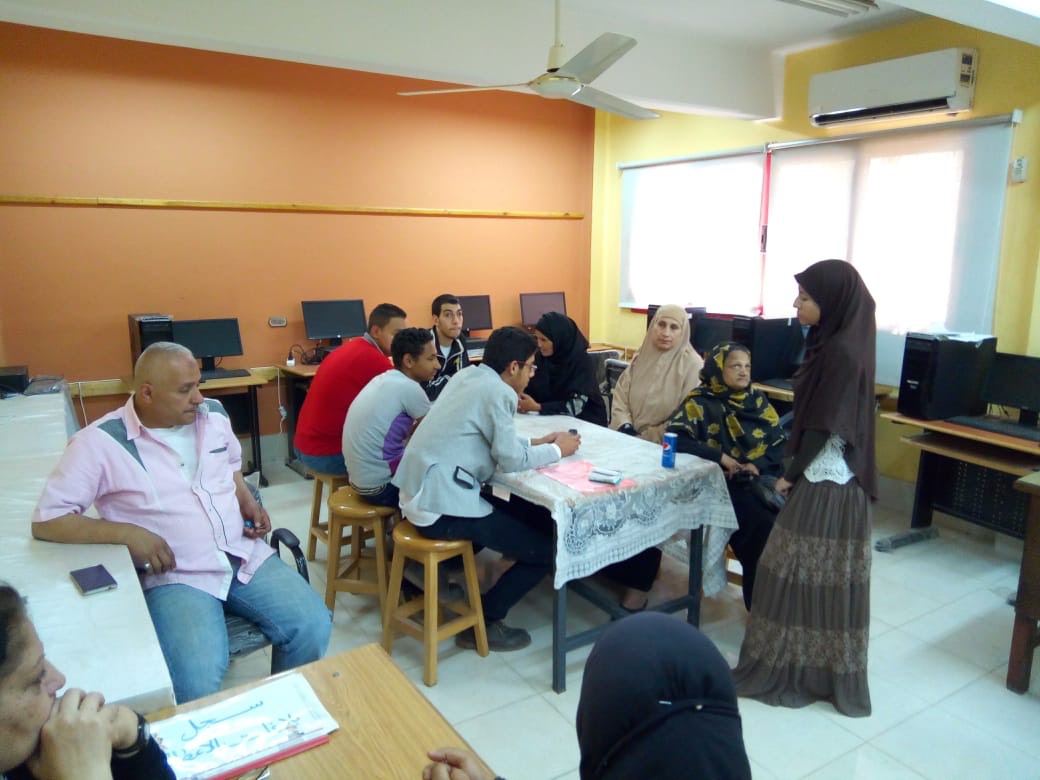 Last month, Ebtessama Foundation collaborated with Vodafone Egypt for Community Development to introduce a 'first of its kind' platform 'majidah.org' which helps people with disabilities job hunt by connecting employers, companies, training centers and institutions together.
The foundation, founded by the late Majidah Sami in 1998, has been pushing for the rights of people with disabilities for over 12 years. Majidah, which is also the name of the namesake of the project, was considered one of the pioneers in the field.
The Story Behind Majidah.org
During a time when the segment faced deeply rooted discrimination, Majidah not only believed in the rights of people with disabilities such as mental, physical, intellectual and sensory disabilities, but also their abilities and the possibility of achieving their dreams.
The mission of the foundation is to "eliminate the barriers" that are preventing people with disabilities and their families from having equal opportunities in life. "Employment rights were of particular interest because financial independence and stability are key factors in regaining autonomy over their lives," Ashraf Othman, Chairman of the Board of Trustees at Ebtessama Foundation, explains.
Of course, "eliminating the barriers" is not an easy process. The first barrier the foundation stumbled upon were the cultural barriers. "In the past, people with disabilities were marginalized to the extend that they were almost concealed from the public," Othman says. "People were not aware of the magnitude of that population nor were they aware of how to deal with them. People with disabilities also felt uncomfortable mingling within the society. Years later, things have evolved as a result of awareness."
Because of the lack of awareness, this has made it difficult for society to create an atmosphere where people with disabilities would believe in their abilities and contribution to society. This difficulty also stemmed from families who thought that it is best to shelter members with disabilities to avoid disappointment. This further enhanced the stigma surrounding people with disabilities as well as their marginalization.
Othman pointed out that people often have a stable support system around them. There are two kinds of support system: formal and informal. Formal support is often received through formal education and informal support system through families and friends.
However, people with disabilities do not have that support system when in fact they need more support. The way to cross that barrier was though special training, awareness campaigns given to families to help them properly support members with disabilities, as well as training businesses so they too know how to provide the right kind of support. Ebessama developed a methodology for businesses to help them navigate progress and allow their employees with disabilities to achieve their maximum potential.
There are 15 to 20 million disabled people in Egypt. As the number grew, many civil societies and non-profit organizations (NGOs) started advocating for the rights of people with disabilities.
"We noticed that the services catered to that segment is there, however, the ecosystem is distorted. The different stakeholders are coordinating with each other in a very 'manual' informal manner," the chairman explains. "For example, a company could need to employ 50 disabled people, and there is a foundation that has 50 people with disabilities and they are missing a certain skill. On the other hand there is a training center that is offering training for this skill. There is no connection between these players unless they know each other personally."
This inspired Majidah.org.
How It Works
Majidah.org operates like an ecosystem for training and employment for people with disabilities. Othman believes that the only way to serve this number is through technology by creating an "enabling" platform that serves and connects all these beneficiaries including training providers, employers, people with disabilities, civil organizations, foundations, donor organizations.
The reason people with disabilities need their own employment method is because they have a different employment cycle. The site is based on a model called a market network, a model that is often used in different countries for tasks that need the collaboration of different entities.
The way the platform works is through two mechanisms: a tagging system, which is based on data tags meaning that the data base is easy to navigate through tags and filter, and a smart engine, that works on match making. If we follow the example Othman gave earlier, Majida.org nudges said employer letting them know that this foundation has the needed number of employees while still notifying them of any missing skillsets. It also notifies the foundation that there is a job prospect but their candidates are missing a certain skillset, if any. Training providers are also notified about the foundation whose candidates are missing said skill.
It is important to note that prospective candidates with disabilities do not have to be associated with a foundation to be able to access the platform and look for job opportunities. They can be independent applicants who are also given the equal opportunity to explore the job market and training programs along side the other services Majidah.org offers.
The great thing about this platform is that it allows Ebtessama to identify the gaps in the market. Once it collects enough data, Majidah.org will be able to trace pattens and give recommendations to the various entities. For example, if there is a certain skillset needed in the market, and some training centers do not provide this skill. Majidah.org will contact the center and let them know about this skillset and its growing popularity.
People with Disabilities in Egypt
Recently, there have been several efforts by the government to ensure that people with disabilities receive their rights. Egypt's President Abdel Fattah El-Sisi agreed to a draft law to establish the National Council of People with Disabilities Law No.11 of 2019.
"People with special needs in Egypt represent 9-10 percent of the total population,"Sisi said during International Day of Persons with Disabilities event.
The establishment of the Disabilities Council will have a separate body that will highlighting their rights as well as cater projects to help those with disabilities.
This will also be a safe space for people to complain about any form of discrimination or harassment they received as a result of their disability. The council will then ensure that the schools and workplaces are adopting the necessary policies as well as raise awareness through campaigns to fight discrimination.
---
Subscribe to our newsletter
---