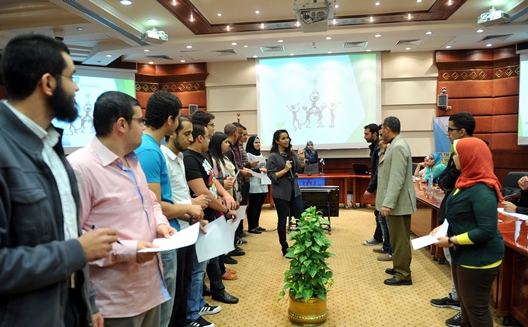 Egypt has had a thriving entrepreneurship scene for almost 10 years that has now been receiving several governmental support from entities like who are working to aid incubators as well as rising and existing entrepreneurs on reaching their maximum potential by providing funding opportunities and mentorship.
Entrepreneurship has been gaining attraction for a while now for several reasons. According to a research done on business incubators, "Entrepreneurship is an important factor in facilitating poverty reduction, creation of employment opportunities, and structural changes within its context. In essence, entrepreneurship is an important tool for improving living standards and the general well-being of the society," author Mohamed Imam Salem writes.
Last year during the opening of GEN Week, Minister of Investment and Cooperation Sahar Nasser highlighted how important it is for the government to support entrepreneurs who are paving the way for job opportunities.
Most entrepreneurs help solve many of Egypt's prevailing problems such as pollution and transportation, which takes a load off of the government. With governmental support and cooperation, both parties will collaborate to establish a better services for Egyptian citizens and residents.
One way the government supports entrepreneurs is by launching local incubators. Business incubators are defined as a facility that nurtures new start-ups in their early years by providing 'affordable space, hand-on management training, marketing support and, often, access to some form of financing.'
While incubators offer key support to fresh entrepreneurs, they also have a key role when it comes to economic development.
According to The United Kingdom Science Park Association (UKSPA) Fact Sheet, incubators "act as a catalyst for economic change development, visibility and credibility in the marketplace, encourage faster sustainable growth and greater survival rates of new and existing companies, and act as catalyst for urban and rural regeneration."
Here are three key governmental incubators in Egypt who are providing a stepping stone for local entrepreneurs.
Bedaya
Founded by Egypt's General Authority for Investment and Free Zones in 2009, Beyada is another governmental incubator that offers up to EGP 150,000 in funding as well as office space, business development services, networking opportunities and manufacturing spaces.
It was the starting point for Recyclobekia and Egy Glove.
Although Bedaya is a governmental incubator, it is led by the private sector. They launched an initiative called 'Bedaya Fund' managed by Al Ahly for Development and Investment (ADI).
This fund provides financing opportunities depending on the business's growth stage, which varies between EGP 2 million and EGP 50​​​​​ million, for start-ups in the food, agriculture, manufacturing, services, and IT sectors.
Bedaya allocates 60 percent of its funds to businesses sprouting from governorates outside of the capital Cairo. While their incubation period is a minimum of three months, Bedaya offers funding for three to five years in return for equity. But, it also discloses different exit strategies that vary from business to business
TIEC – Technology Innovation and Entrepreneurship Center
Launched in 2010, TIEC is a government entity that incubates information and communication technology (ICT) startups as part of the governmental plan to develop Egypt's ICT sector.
While providing office space, mentoring sessions and investment opportunities, TIEC welcome startups from across Egypt including Upper Egypt and Nile Delta.
It is located in Cairo's Smart Village and was home for the likes of Ta2heal and Bey2ollak. Funding can go up to EGP 120,000 without having to worry about sharing or giving equity. TIEC's incubation period is one year.
Fekretak Sherketak
'Fekretak Sherketak' is the most recent entrepreneurial initiative by Egypt's Ministry of Investment and International Cooperation.
Launched in 2017, this incubator is "designed to support and empower the next generation of Egyptian entrepreneurs and contribute to the development of the Egyptian startup ecosystem" through its Falak program, the website reads.
This initiative promotes the launch of the Egypt Entrepreneurship Program (EEP) in partnership with Hermes Financial Group and the United Nations Development Programme (UNDP).
Along with funding opportunities, Falak program offers mentorship, training and other necessary tools, resources for local entrepreneurs looking to grow and expand their businesses.
Emerging businesses have the opportunity to receive EGP 500,000 in funds in return for four to eight percent equity as well as a four month training period.
One of the start-ups this initiative incubated is 'Hood', "a mobile app that provides a device for users' cars synced with the app, assessing the driver's use of the car, their driving style and car consumption," co-founder Abdelrahman Saeed explains in a press release by the ministry.
*Cover photo: Rise Up Summit/MENABytes
---
Subscribe to our newsletter
---