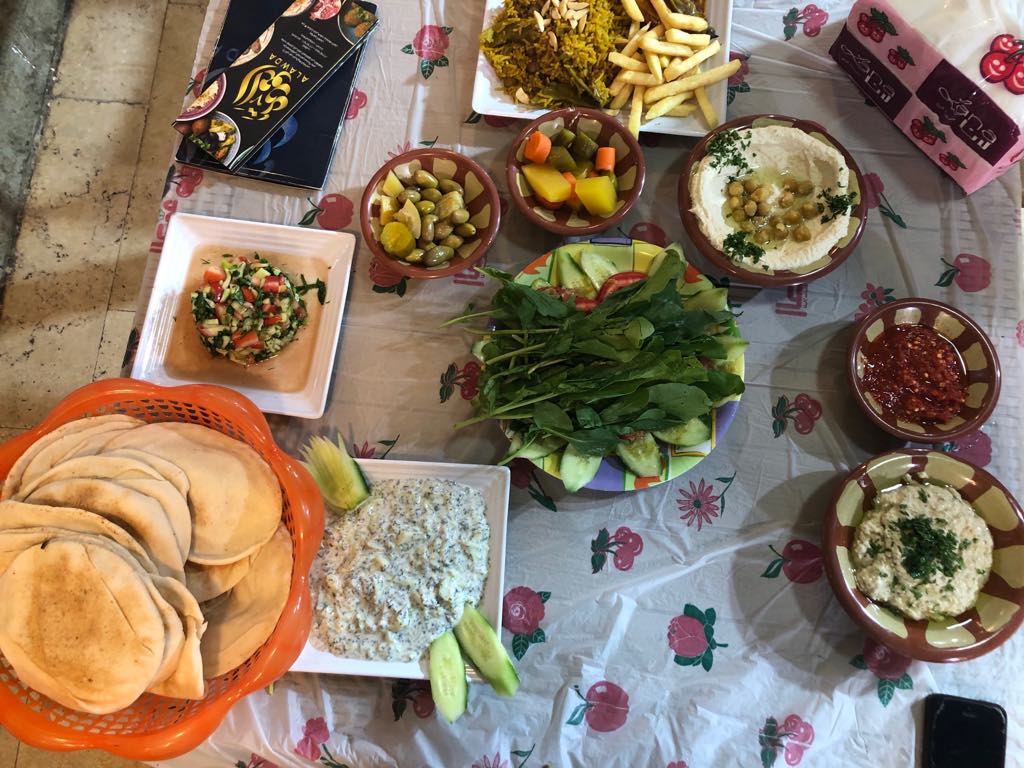 Palestinian cuisine is known for its rich flavors, its refined use of a range of spices and olive oil but also its indulgent sugary sweets. In general, it closely resembles the cuisine of other Levantine countries, including Lebanon, Syria and Jordan.
We decided to try and locate a Palestinian restaurant in Cairo, which should not be an impossible task, considering that ever since the establishment of Israel in 1948 rendered thousands of Palestinians refugees, a significant Palestinian population – many of whom Gazans – have come to live in Egypt.
A stint of online research presents us with the restaurant "Al Awda" (the return), which immediately rings a bell for anyone familiar with the ongoing Palestinian struggle, at the heart of which lies their demand for a 'right to return' to their homeland.
The restaurant seems to be well known in Nasr City, the suburb in which it is located, as we receive encouraging nods when asking a couple of people for directions: "Ah yes, Al Awda is right up there on your right."
Indeed, on a side street just up from the more bustling Abbas El-Akkad, we spot the name we are looking for; and it seems that a sizeable number of customers have opted for sitting around big plastic tables outside, despite the summer heat. The restaurant interior appears to be fairly empty, with only waiters walking in and out. After hesitating for a moment, we too join the other customers and are led over to a smaller table outside.
Al Awda's setting needs no thorough description, after all, we have come here for the food, and on an empty stomach. It is enough to say that the outdoor area feels spacious and it is surprisingly calm, considering we are in the midst of one of Cairo's busiest neighborhoods. We spot a Syrian sweets place just opposite, and debate whether we might have any space in our stomachs to pop by afterwards. We would not.
The first Palestinian food items we spot on our way to the table are a selection of mouthwatering pastries in the fridge near the entrance, the perfect takeaway snack for those on the run, yet we continue on our mission to have a full-blown meal.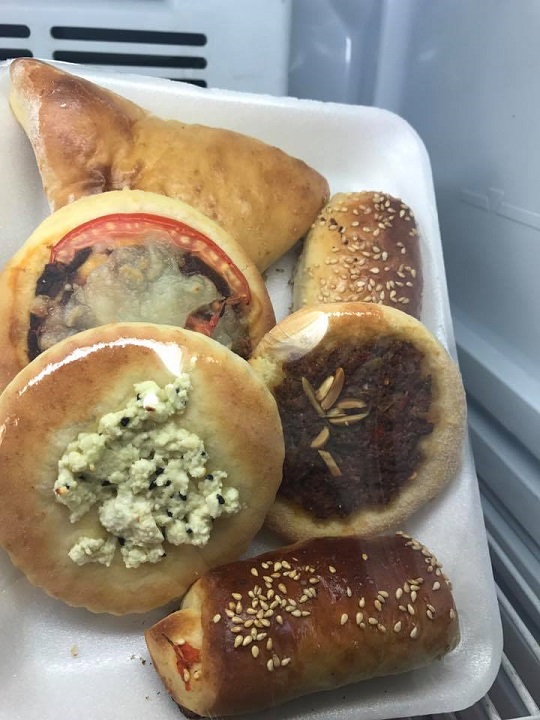 Since we are fairly hungry, and, knowing that Palestinian starters are just as scrumptious as their mains, we select a few light bites first, but are just as quick to choose our mains, eager to taste two Palestinian classics on the menu: maqlouba and qidra.
The former is one of Palestine's most traditional and popular dishes, its name indicating the 'upside-down' casserole of rice that combines either chicken or lamb with baked eggplant, sometimes substituted for fried cauliflowers and other vegetables, or all combined in one.
We are told by the friendly waiters that qidra is especially popular in the West Bank city of Al-Khalil (Hebron), its name alluding to the fact that it is traditionally prepared in pots of pottery and cooked over firewood. The rice and chicken or lamb dish is characterized by its spicy hints of cumin, turmeric and cardamom.
Before we know it, a tray laden with fresh-looking starters arrives, carrying more than what we ordered, testament to Palestinian generosity and hospitality. There are a variety of salads, a plate of thick and creamy looking (and tasting!) hummus and a plate of baba ghanoush, both drizzled with a generous portion of oil: 'Zayt zaytoun', we are repeatedly told after, is a core component of Palestinian food and what makes Palestinian cuisine differ most from that of its Egyptian neighbor.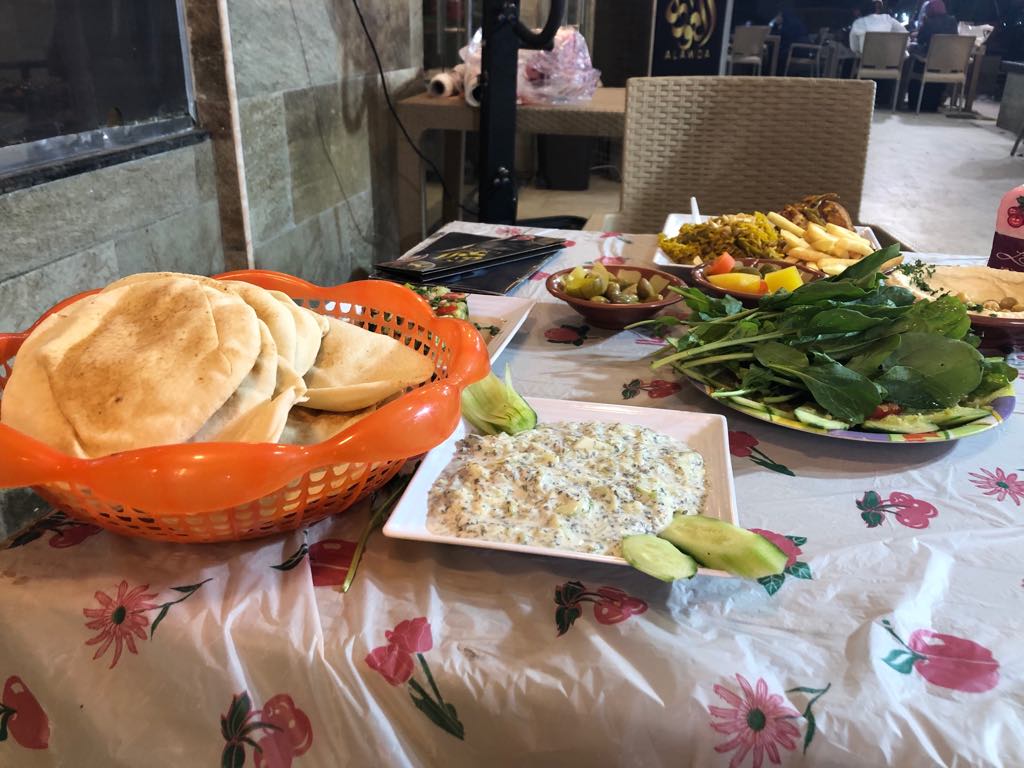 Our waiters also mention that this is one of the ways they are able to distinguish between Palestinian and Egyptian customers: "Egyptians tend to complain about there being a bitter taste. That is the olive oil. For Palestinians it is a natural and crucial ingredient." We certainly love it and cannot help but find ourselves comparing some of these starters to their Egyptian counterparts: the sliced tomatoes and cucumbers have generous toppings of crushed garlic on them, an addition that adds an extra kick.
The basic-looking Arabic salad offered on the side triggers a quick cough, wow that is spicy! After finishing our meals it is explained to us that Gazan food in particular – which is, by the way, where the owners are originally from – is known for adding a lot more spice to their meals. Another starter we did not order, but happily welcome to our table, is the generous portion of salata zabadi, a yogurt and cucumber salad and variation of a Mediterranean classic, known in Greece as Tzatziki, for instance.
Our two steaming main courses arrive while we are still happily enjoying the starters, so we end up just sharing and eating everything together. While both mains are rice-based with chicken, one is a lot spicier than the other. For people not too keen on intense spice combinations, the qidra may come as a bit of a surprise. The tasty grilled chicken on top momentarily distracts from the bursting flavors below, but they still remain overpowering.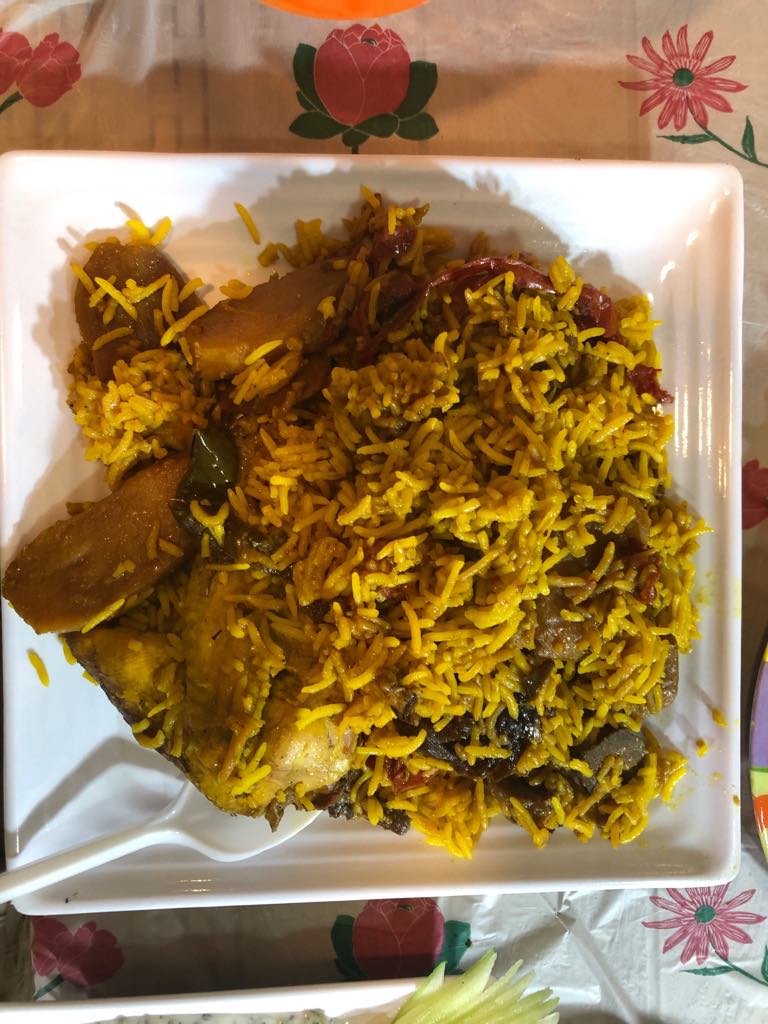 The maqlouba, in turn, is rich in another sense. It definitely contains a substantial amount of oil, and as a result, the chunks of fried eggplant, tomato and potato have almost integrated with the rice, each mouthful containing a burst of juicy flavors. The downside is perhaps that a few bites already feel heavy on the stomach. How on earth will we get through the whole plate, especially since we do not want the delicious starters to go to waste either!
It is a bit of a challenge to stop feasting, yet our stomachs are calling for a break, and something to induce digestion: "Let's order coffees," seems to be the consensus. However, and this is possibly one of the only negatives of the night: They do not offer coffee. We forget to ask if it is just on this night or in general.
Still, the positives outweigh the negatives at Al Awda: While the restaurant does not boast a particularly unique set-up, it is the friendly service, the generous portions, the variety of Palestinian dishes available and, not least, the affordable bill we are surprised to find at the end, that convince us to recommend a visit to Al Awda.
The last thing on our mind are desserts at this point, but the attentive waiters bring us two steaming slices of kanafeh, one 'na'ama' (fine), the other 'khishnah' (rough), both originally Palestinian in their style, the waiters proudly emphasize. We absolutely cannot help but stick our spoons in and it is very unlikely to imagine that these delights would not bring a smile to any sweet-toothed person's face.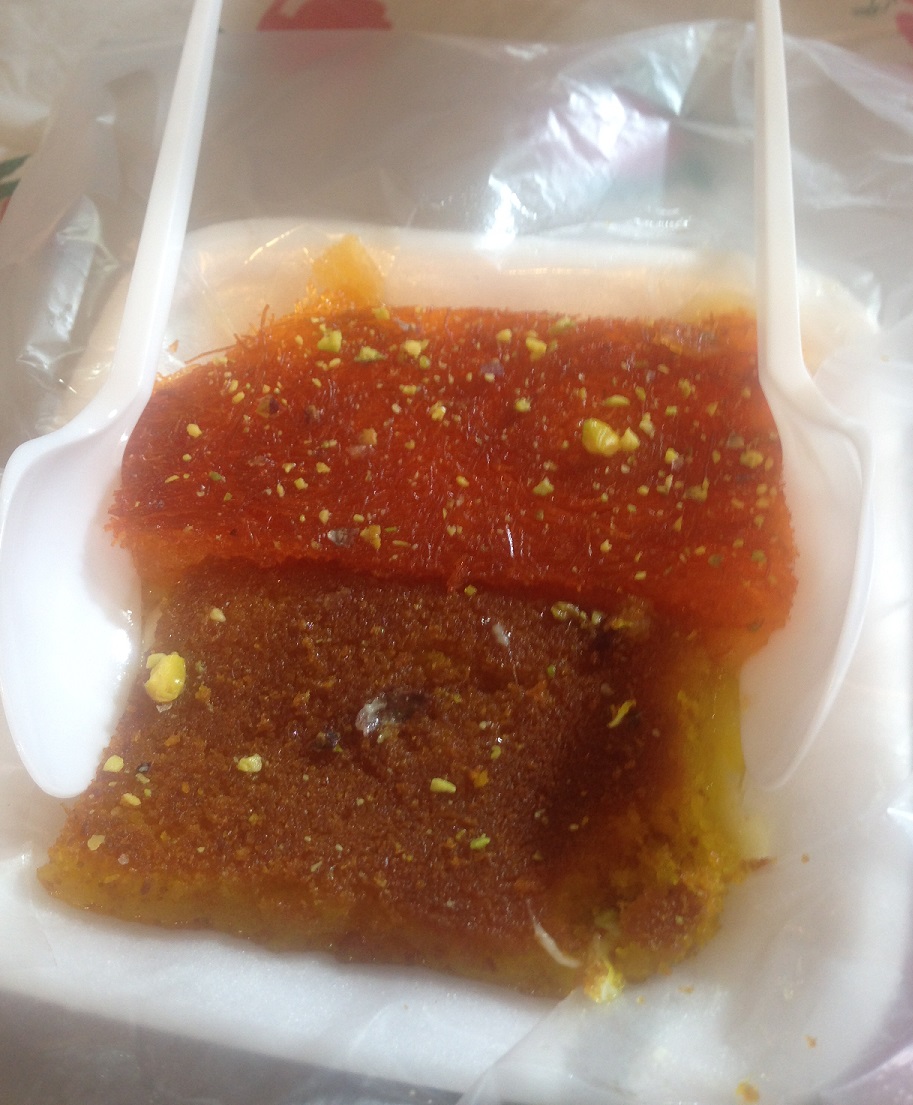 Before we head home, the waiters tell us a little bit about the family-business of Al Awda, apparently the first Palestinian restaurant to have been established in Egypt. The restaurant was opened by 'Hagg Mohammed' in 1984, who had come to Egypt from Gaza. Now, Al Awda is in the hands of his sons, yet unfortunately none of the family members were around on the night we chose to go there.
Their food is cooked by Palestinians and Egyptians who have been taught how to prepare food the Palestinian, or more specifically, the Gazan way.
"80% of our customers are Gazan," the waiter explains, and apparently this area is generally home to a lot of Palestinians. He spends some time elaborating on the differences in food and taste between Egyptian and Palestinian cuisine, before sharing some behavioral differences they have meanwhile identified, one of which being that the Gazan customers are generally more impatient. "They demand to get their food as fast as possible," he chuckles.
Ramadan is the only period during which the restaurant is primarily visited by Egyptians, who come in large numbers to break-fast there with Palestinian food.
The menu contains a wide palate of popular Palestinian dishes worth trying, such as musakhan, mansaf or mujaddara, for vegetarians. "What you find in Gaza, you'll find here, the same taste," the waiter concludes, before we head home.
Al Awda is open seven days a week until 2am and located on 26 Abd El Hakim El-Refaey in Nasr City, Cairo.
---
Subscribe to our newsletter
---