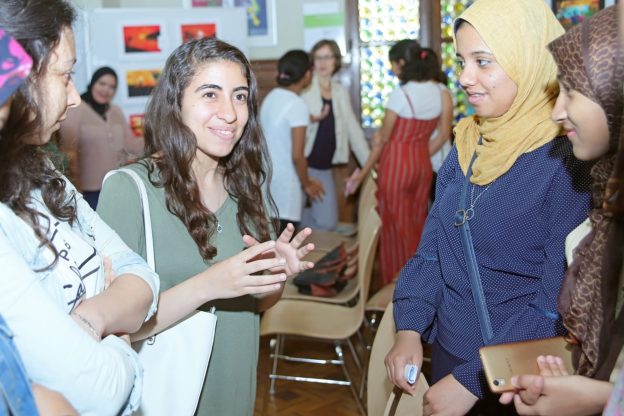 The summer saw the start of the third annual ProGirls (Professional Orientation of Girls) initiative in Egypt's capital Cairo and coast city Alexandria.
This initiative, founded in 2017, introduces high school girls to the STEM (Science, Technology, Engineering, and Mathematics) – a field that is predominantly run by men- and aims to  cultivate leadership.
The initiative is supervised by EconoWin (Economic Integration of Women in the MENA Region), which is a collaboration program by GIZ, the German international development agency, and PASCH Schools' Partners for the Future initiative.
This round of the program trains 190 Egyptian students from 12 different states in Sohag, Damanhour, Alexandria and Cairo, where they are given the opportunity to work with 90 female mentors and meet supervisors from 45 local private companies as well as attend internships.
The participants are attending five mentoring session between July and September as well as a two-week internship program.
Teacher Rania Ragab from Al-Quds School in Alexandria told Ahram Online, "What motivates me as a teacher to participate in ProGirls, is the change that I find in the girls' mentality and personality after the project. This is our third year to participate as a school and I can say that there is a 180-degree change for many girls concerning their career and study path."
This year on Girls' Day, which lands on 11 October every year, the participants of the program will receive a professional job shadowing session at their respective fields.
"When I was a young girl, I did not know that there are successful women in technology. I want the girls I am mentoring in ProGirls to understand that they have opportunities ahead of them in IT. What I like about ProGirls is that it targets 15 to 16-year-old girls; at that age they can still choose in school whether they go for liberal arts or science majors," says Menna Ayad, consulting engineer at Cisco Cairo, shared with Ahram Online.
Jana Ali, a participant from Egyptian Language School in Cairo shared that she was eager to participate in the program upon learning about it from her teacher. "I like most about it that we are given opportunities to start experiencing new fields of work, which prepares us for our professional future."
According to International Labor Organization (ILO) report titled Women in Business and Management. Gaining Momentum in the Middle East and North Africa, only 7.1 percent of all managers in Egypt are female.
In this region, there are as many women graduating from the field as men yet the job market does not reflect that. But in the recent years, more women are taking in more practical fields as there is growing interesting in entrepreneurship and coding.
---
Subscribe to our newsletter
---