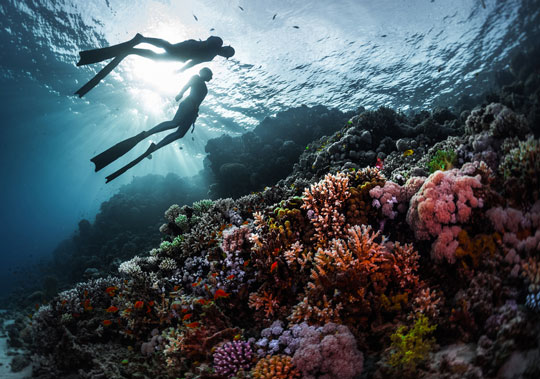 In a bit to become more environmentally conscious. Egypt will be joining the United Nation's environmental initiative, Green Fins, to protect the country's coral reefs from the impact of diving and snorkeling has on marine life.
With 10 other countries implementing this initiative, Egypt became the first country in the region. Egypt plans on piloting the initiative in South Sinai Governorate before being adopted by all dive and snorkel operators across Egypt by March 2020.
According to the press release, at least 11.3 million tourists visited Egypt in 2018 with almost three million divers visiting the country's Red Sea each year. To accommodate for that number, around 500 businesses host diving and snorkeling activities. The local tourism industry negatively impacts the marine life due to the diving and snorkeling activities.
"Reducing diving and snorkeling-related damage to sensitive marine ecosystems, including coral reefs, helps to make them more resilient to other stressors such as those associated with climate change," the press release reads.
The UN's initiative was founded is internationally coordinated by The Reef-World Foundation, an organization committed to preserve coral reefs by establishing environmentally friendly guidelines for sustainable diving and snorkeling tourism industry. The local tourism industry negatively impacts the marine life due to the diving and snorkeling activities.
Although the initiative is usually adopted by government body, Green Fins initiative collaborated with Chamber of Diving & Watersports (CDWS), an non-profit organization under Egyptian Tourist Federation.
Green Fins developed sustainable practices implemented across 30 marine tourism operators by training 150 dive guides and raising awareness on sustainability. It encouraged divers to stop harmful marine practices like anchoring, fish feeding and chemical pollution.
Egypt has been taking serious steps towards marine sustainable development.
Early June, Egyptian Parliament member Anissa Hassouna submitted a proposal to abolish the use of plastic bags in Egypt to the Prime Minister and the Ministry of Environment.
Hassouna suggested replacing the envinromentally-harmful use of plastic bags for bags that are more eco-friendly.
The MP stressed the non-recyclability of plastic bags and their incapacity for quick decomposition which eventually results in their presence in seas and rivers, polluting and altering aquatic ecosystems.
Moreover, the Parliamentarian highlighted the adverse effects of these plastic bags being burned along with other garbage, as is a common waste practice in Egypt, on human health.
Similarly, Egypt's Red Sea governor, General Ahmed Abdullah, has decided to ban single-use or disposable plastics starting from June 2019 after agreeing to the proposal submitted by Hepca (Hurghada Environmental Protection & Conservation Association).
The ban of the single-use of plastics will apply on any food related outlets, including restaurants, coffee shops, supermarkets, groceries, butchers, fisheries, fruits and vegetables shops and pharmacies, as well as plastic cutleries like knives, plugs, plastic hooks, cups and dishes.
EU-funded initiative was launched by the Egyptian environment ministry in 2017 calling for "Enough Plastic Bags", to eliminate the country's dependency on plastic bags, due to their negative effects on the environment and the economy.
The initiative aims to encourage citizens to reduce their consumption of plastic bags and to shift towards more environment-friendly alternatives.
---
Subscribe to our newsletter
---