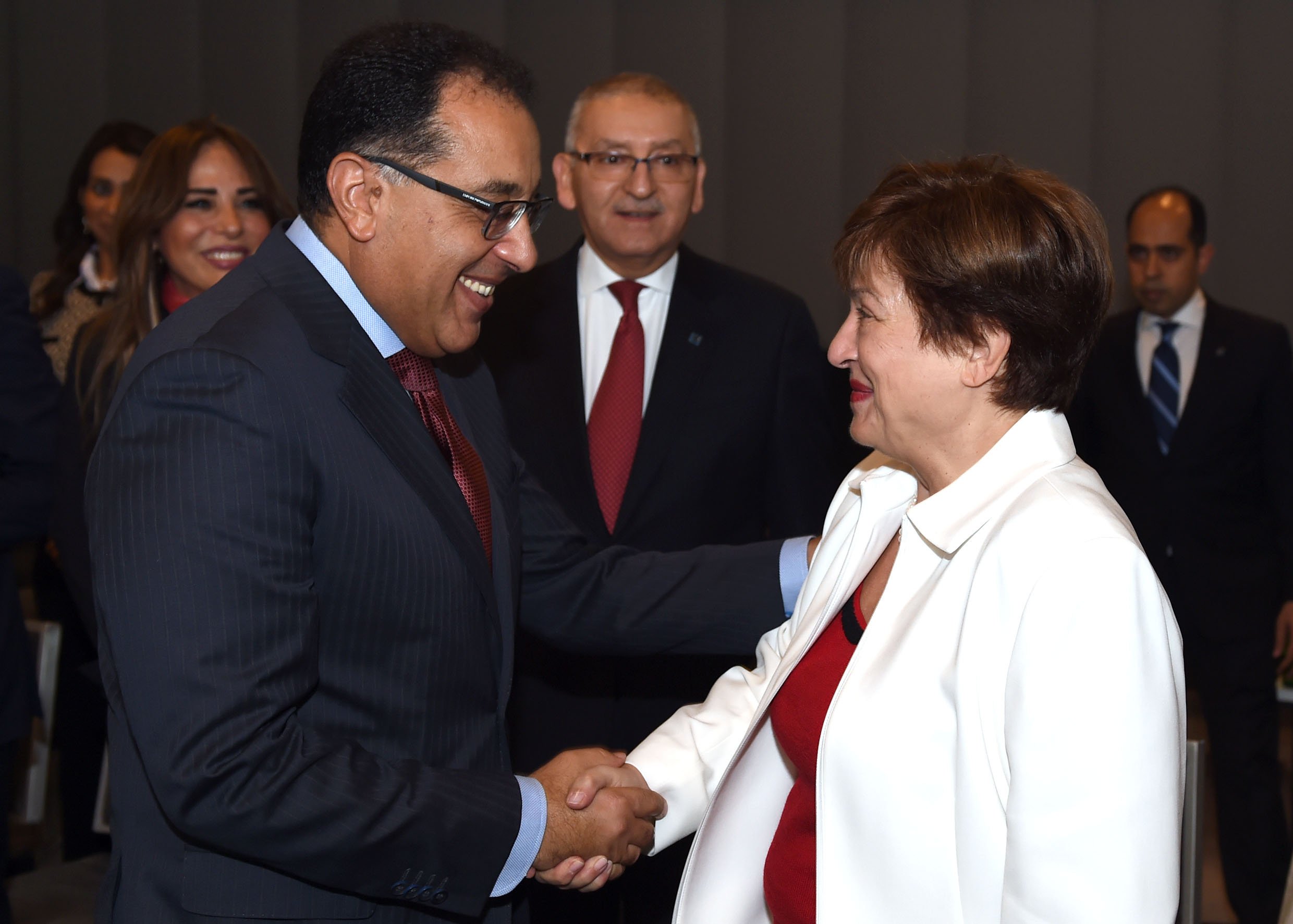 Kristalina Georgieva, the International Monetary Fund's (IMF) Managing Director, hailed Egypt's efforts to reform its economy during a recent meeting with Egyptian Prime Minister Mostafa Madbouly.
Georgieva, who replaced Christine Lagarde as the new IMF Managing Director on 1 October, met with an Egyptian delegation led by the Egyptian Prime Minister in Washington on Tuesday.
During the meeting, Georgieva and the Egyptian delegation, which also consisted of Egyptian Minister of Investment and International Cooperation Sahar Nasr, discussed the next steps for the IMF's cooperation with Egypt.
According to a statement released by the Ministry of Investment and International Cooperation, Georgieva and the delegation discussed new forms of cooperation and initiatives that will help Egypt continue its path of economic reform. This includes boosting the private sector's participation in the development, infrastructure and production sectors.
Following the meeting, Georgieva tweeted that there's opportunity to further advance reforms.
"I had a constructive meeting with Prime Minister Mostafa Madbouly. #Egypt's reform program has made significant strides towards economic stability. This is a moment of opportunity to further advance reforms to achieve more inclusive private-sector led growth and job creation," tweeted Georgieva.
Egypt has been working with the IMF to boost Egypt's economy since the January 25 uprising in 2011. Earlier this year, the IMF provided its last installment of a USD 12 billion loan provided to Egypt to help with the country's economic reform program. The reform program has attracted criticism for its impacts on everyday citizens, but has also been hailed for placing Egypt's economy back on track.
A report released by Centre for International Development in Harvard University classified Egypt as one of the world's fastest growing economy in the coming decade, coming in third place after Uganda and India.
In exchange for issuing the USD 12 billion loan program, Egypt devalued its currency in November last year and cut down on state subsidies. Following the currency devaluation, the value of the Egyptian pound halved against the greenback and inflation skyrocketed, reaching record levels of over 30 percent.
Prior to the flotation measure, which was a key demand from the IMF, there had been a wide gap between the value of US dollars in banks and in the parallel market. Following the flotation, the lender agreed to loan Egypt USD 12 billion in an attempt to restore its economy.
Egyptian authorities have said that the country will start the repayment of the International Monetary Fund (IMF) loan in May 2021, starting with a USD 2.75 billion tranche.
This would be followed by equal installments that would end by 2026.
---
Subscribe to our newsletter
---