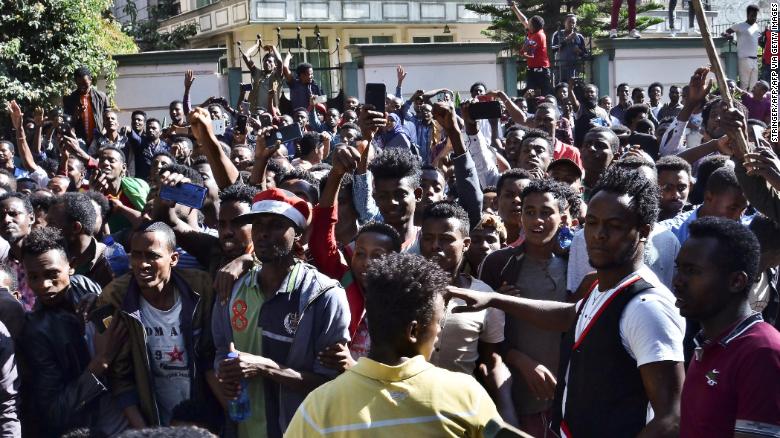 According to multiple international news outlets, unrest erupts Ethiopia as violent clashes leave at least 67 people dead and 200 injured, police official reported.
"The total number dead in Oromia is 67," Kefyalew Tefera, the regional police chief, told the Guardian highlighting that five of the dead were police officers.
Protests erupted out after Jawar Mohammed, an independent media organization owner, activist and political analyst, revealed on Facebook that there was a planned conspired attack against him by police officials after they ordered his security to clear the area. Police officials and the government, however, denied any ties to the expected attack.
Soon after his post, clashes broke out in the Oromia region, which includes Ethiopa's capital Addis Ababa, between civilians and security forces, resulting in the deaths of 19, while others were killed in clashes between supports of Prime Minister and Nobel Peace Prize recipient Abiy Ahmed and supporters of Mohammed,
according to CNN
.
Although Tefera told AFP that the violence ended last Friday, Amnesty International's Fisseha Tekle said that they are still receiving reports of attacks in the region, the Guardian reported.
Prime Minister Ahmed Abiy, the first leader from the ethnic Oromo group – Ethiopia's largest ethnic group – and previous military officer specializing in cyber intelligence, took office in April 2018. Mohammed credits himself for the organized protests he ushered that led Abiy to office.
For his efforts in achieving peace and resolving the border conflict with Eritrea, Ethiopian Prime Minister Abiy Ahmed Ali was awarded the 2019 Nobel Peace Prize in early October.
His current role in negotiations between Egypt and Ethiopia regarding the construction of the Grand Ethiopian Renaissance Dam (GERD) is considered crucial in the time-sensitive spat.
Recently, the spokesperson of the Egyptian Ministry of Water Recourses and Irrigation, announced that the discussions with Ethiopia surrounding GERD had reached a "dead end".
Ethiopia denied these accusations and asserted its efforts to resolve any issues stalling the discussions with Egypt and Sudan.
---
Subscribe to our newsletter
---