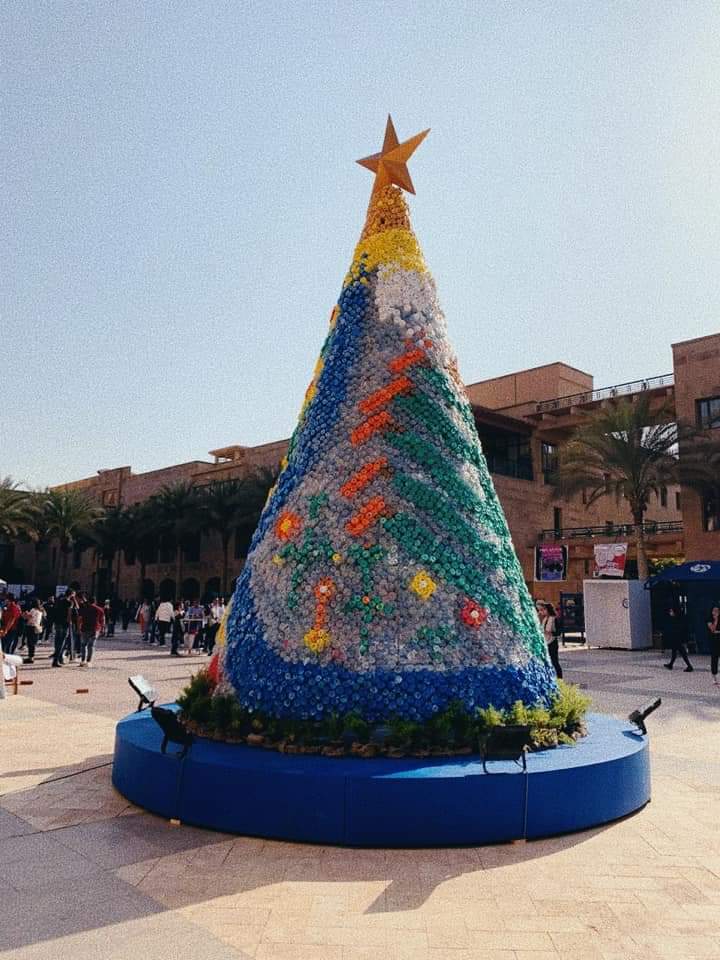 For this year's Christmas, the American University in Cairo (AUC) displayed a Christmas tree created from plastic bottles to raise awareness about plastic consumption.
The tree is made of 10,000 plastic bottles, which constitutes only 15% of the monthly plastic consumption on campus.
"This 6 meter high tree is a small reminder to people on out daily consumption of plastic," Seham Sultan, the designer of the tree and AUC's graphic design program coordinator, reiterates, "If everyone looks for greener alternatives and cuts down their consumption, it does make a difference on a boarder scale."
Inspired by the mosaic of the hanging church in Coptic Quarter in Cairo, the tree was created to reflect the beauty of Egypt's history by shedding light on Coptic Art.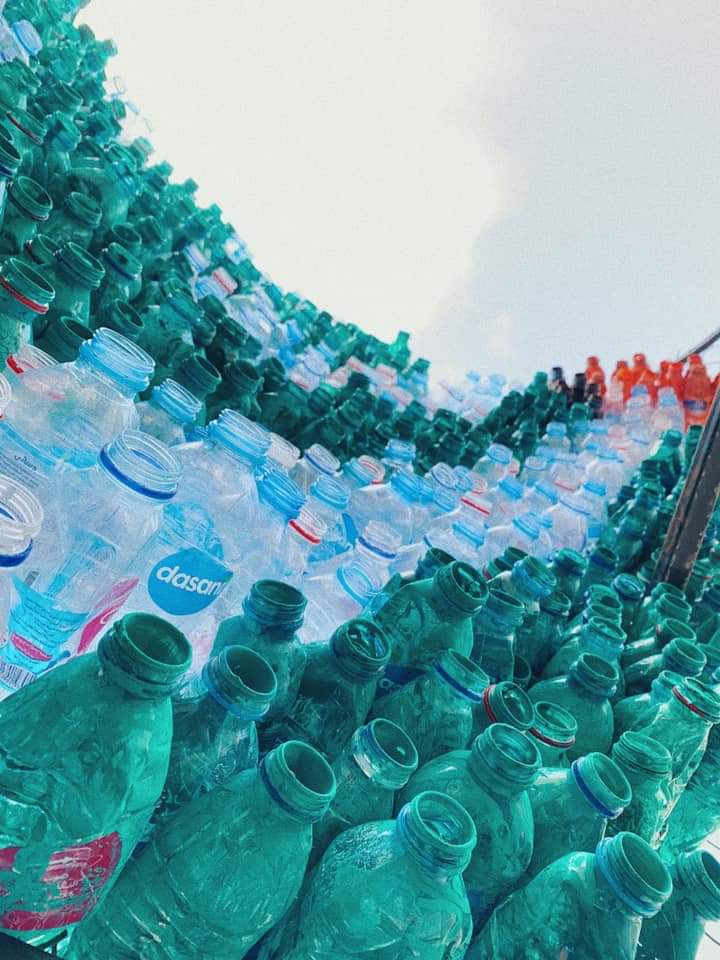 "We decided to celebrate the Christmas season this year by going green for three main reasons : to shed light on the importance of maintaining a green campus, encourage the community to seek greener alternatives in every day life, and bring the community together," Sultan elaborates.
The project was designed, executed and coordinated by alums of the graphic design program of AUC – Sultan, Ahmad Refaee (the execution designer) and Sohayla Helal (the project coordinator) – and was over seen by Bahia Shehab.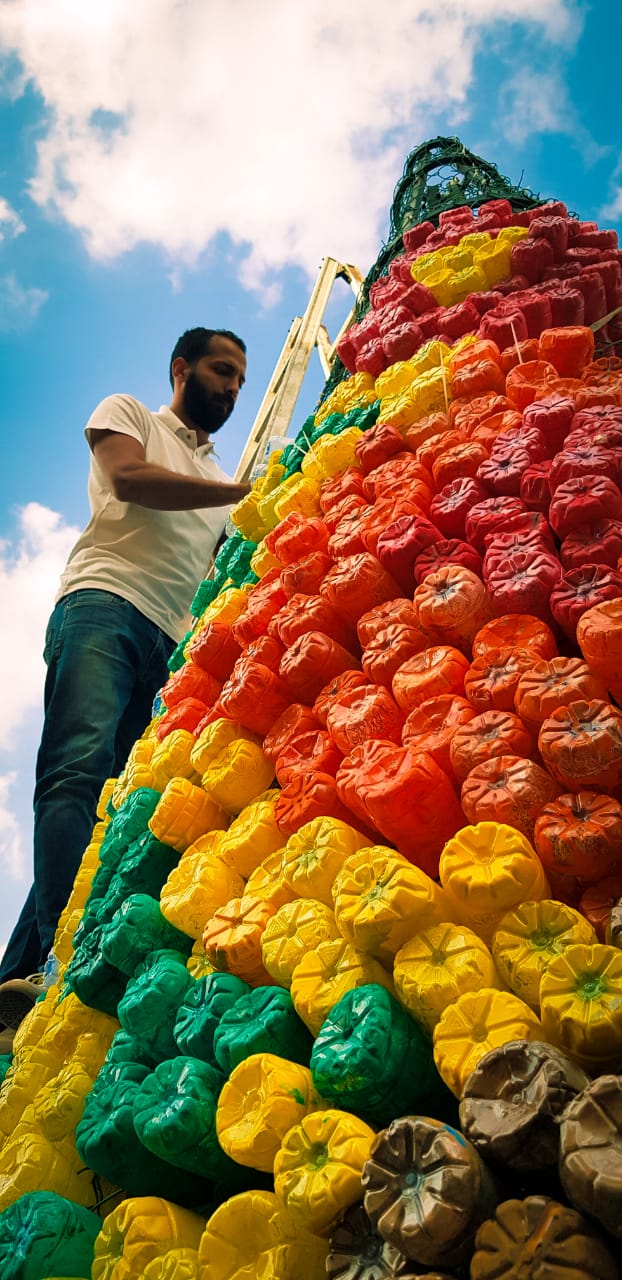 AUC's New Cairo campus is Egypt's first university campus to practice sustainability. In 2014, the university was featured in the United Nations Environment Programme's (UNEP) Greening Universities Toolkit for being a green low-carbon educational institution.
Outside the university walls, Egypt has been taking serious steps towards reducing and eliminating plastic waste and consumption over the past few years.
Egypt uses 12 billion plastic bags annually which not only constitutes an economic strain as raw material for plastic bag production are imported, but an environmental crisis as well. Plastic causes severe problems to the Nile river and the seas thus greatly affecting the marine ecosystem. As a consequence, it also negatively affects environmental tourism and diving.
Early June, Egyptian Parliament member Anissa Hassouna submitted a proposal to abolish the use of plastic bags in Egypt to the Prime Minister and the Ministry of Environment.
Hassouna suggested replacing the envinromentally-harmful use of plastic bags for bags that are more eco-friendly.
The MP stressed the non-recyclability of plastic bags and their incapacity for quick decomposition which eventually results in their presence in seas and rivers, polluting and altering aquatic ecosystems.
Similarly, Egypt's Red Sea governor, General Ahmed Abdullah, has decided to ban single-use or disposable plastics starting from June 2019 after agreeing to the proposal submitted by Hepca (Hurghada Environmental Protection & Conservation Association).
The ban of the single-use of plastics applies on any food related outlets, including restaurants, coffee shops, supermarkets, groceries, butchers, fisheries, fruits and vegetables shops and pharmacies, as well as plastic cutleries like knives, plugs, plastic hooks, cups and dishes.
In the same manner, City Council President Tarek El Baz announced an initiative in July to prevent the use of plastic in the South Sinai city, Dahab, to protect the environment and marine organisms under the slogan 'No Plastic' in an attempt to turn the city into a plastic-free zone.
EU-funded initiative was launched by the Egyptian Environment Ministry in 2017 calling for "Enough Plastic Bags", to eliminate the country's dependency on plastic bags, due to their negative effects on the environment and the economy.
The initiative aimed to encourage citizens to reduce their consumption of plastic bags and to shift towards more environment-friendly alternatives.
---
Subscribe to our newsletter
---