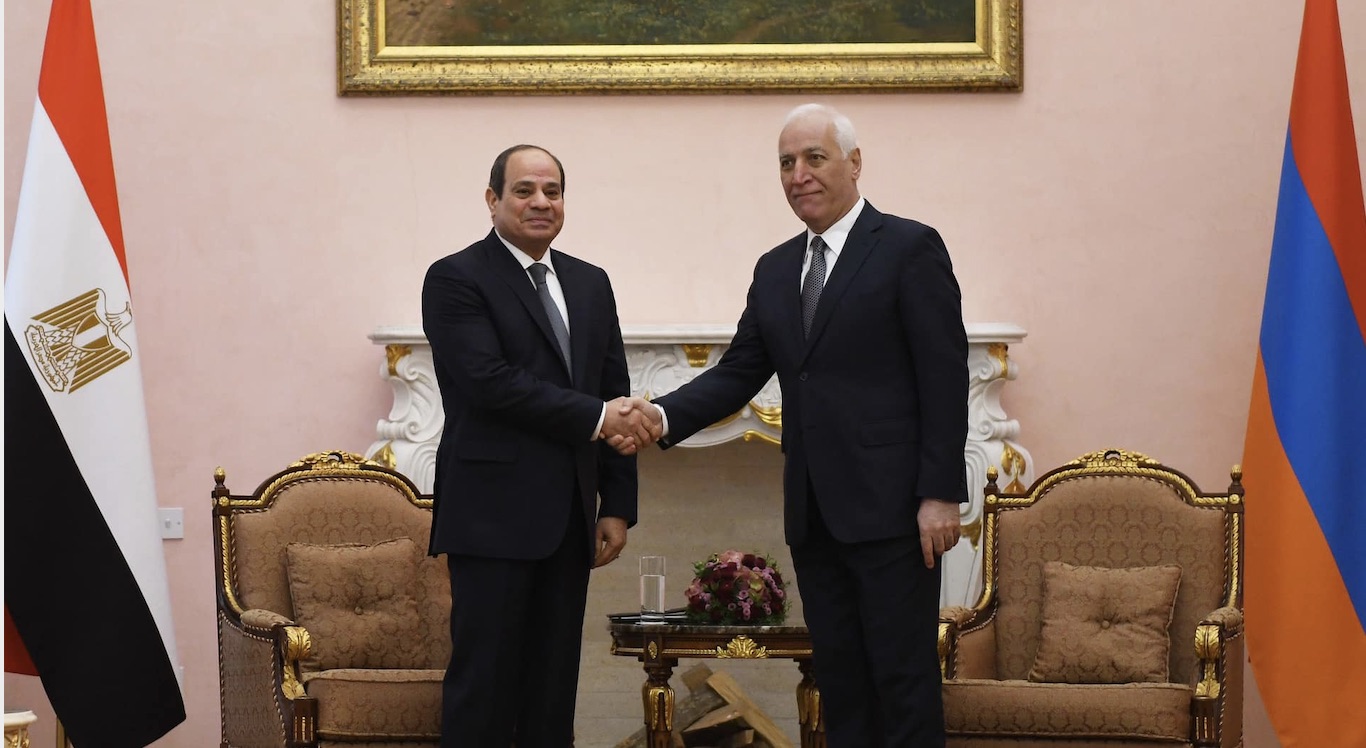 Egyptian President Abdel Fattah Al-Sisi arrived in Armenia on Saturday, 28 January, in a historic visit — the first-ever by an Egyptian head of state to Armenia since its independence.
The visit is part of an ongoing tour that also saw him visit India on Wednesday, 24 January to attend celebrations of its Republic Day and Azerbaijan on Friday, 27 January.
Al-Sisi met with Armenian president Vahagn Khachaturyan and prime minister Nikol Pashinyan.
According to official statements, president Khachaturyan stressed Armenian's keenness to support Egypt's developmental efforts through exchanging technical expertise and collaborating in the implementation of projects in Armenia. Both presidents also expressed their willingness to join forces to confront the global repercussions of the Russian-Ukrainian war.
During his talk, Al-Sisi also expressed his appreciation for the Armenian president's participation in COP27, which was held in Sharm El Sheikh in November 2021. Al-Sisi stressed the importance of establishing economic and trade relations with Armenia "in light of the role of the joint committee on economic, scientific and technical cooperation and the businessmen forum, which helps introduce the areas for investment and trade between the two countries," the statement said.
Presidential Spokesman Bassem Rady explained that a number of agreements and joint memoranda of understanding have been signed by the governments of Egypt and Armenia. The visit also included discussions on enhancing economic relations and outlining the bilateral interests between the two countries.
Egypt became home to one of the largest com munities of the Armenian Diaspora in the beginning of the 20th century after the Armenian genocide in 1915. Migrations to Egypt increased in the 1940s, numbering to almost 40,000.
The visit is particularly important as Egypt has been home to an Armenian population since ancient times that has impacted a variety of spheres in Egypt.
---
Subscribe to our newsletter
---