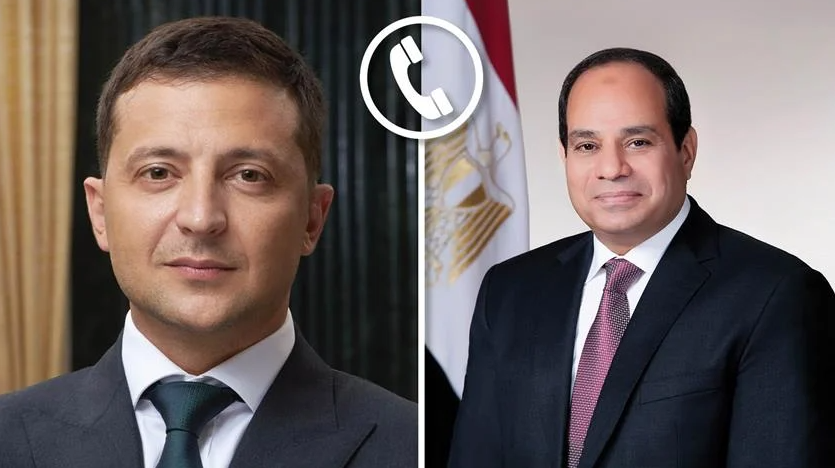 Egypt's President Abdel Fattah El-Sisi held a call with Ukrainian president Volodymyr Zelensky on 23 February, in which the two leaders discussed developments in the Ukraine crisis and issues of food security.
Al Sisi affirmed Egypt's support for "all efforts aimed at calming the situation and advancing efforts to reach a peace solution to the conflict" also pointing out that "Egypt is willing to make further efforts in this regard," according to a statement from the Spokesman for the Egyptian Presidency.
The two leaders further discussed issues of food security across the African continent which have been exacerbated by the ongoing Russia-Ukraine war crisis.
In this regard, both presidents emphasized the importance of continuing the Black Sea Grain Initiative, which enables Ukrainian export ships to reach international markets, and through which Egypt has received 34 Ukrainian cereals shipments amounting to approximately 787,000 metric tons since August 2022.
Zelensky also relayed broad lines of the two the presidents' discussion and intent to cooperate on the opening of Ukrainian food hubs in Africa, in a tweet reading:
Had a call with 🇪🇬 President @AlsisiOfficial. Talked about enhancing food security, cooperation in opening 🇺🇦 food hubs in Africa, and the importance of continuing the Grain Initiative. We endorsed the principles of the 🇺🇳 Charter, sovereignty and territorial integrity of states.

— Володимир Зеленський (@ZelenskyyUa) February 23, 2023
Zelensky and Al Sisi's call comes at a pivotal time as today, 24 February, marks one year since the Russian invasion of Ukraine.
The invasion constituted a major escalation in the Russia-Ukraine war, which has been ongoing since 2014. Carried out 24 February 2022, it has since caused tens of thousands of deaths on both sides and resulted in Europe's fastest growing refugee crisis since World War II.
The Russian invasion of Ukraine has caused severe shocks to global food supply chains, worsening the disruptions already caused in previous years by the COVID-19 pandemic.
This has been of particularly drastic consequence to food security in Africa, where many countries rely on Russia and Ukraine for a significant share of their wheat, fertilizer, or vegetable oil imports. Additionally, the war has disrupted trade flows to Africa, worsening already high price inflations across the continent.
In the year since the invasion, the international community has widely condemned Russia's actions. On 23 February, the United Nations General Assembly (UNGA) voted overwhelmingly in favor of a resolution demanding that Russia withdraw its troops from Ukraine. The resolution affirmed Ukraine's independence and territorial integrity, and called for a "comprehensive, just and lasting peace."
At the outcome of yesterday's vote, 141 member states had voted in favor of the resolution; 32 had abstained; and seven voted against the resolution, namely Belarus, the Democratic People's Republic of Korea, Eritrea, Mali, Nicaragua, Russia and Syria.
---
Subscribe to our newsletter
---