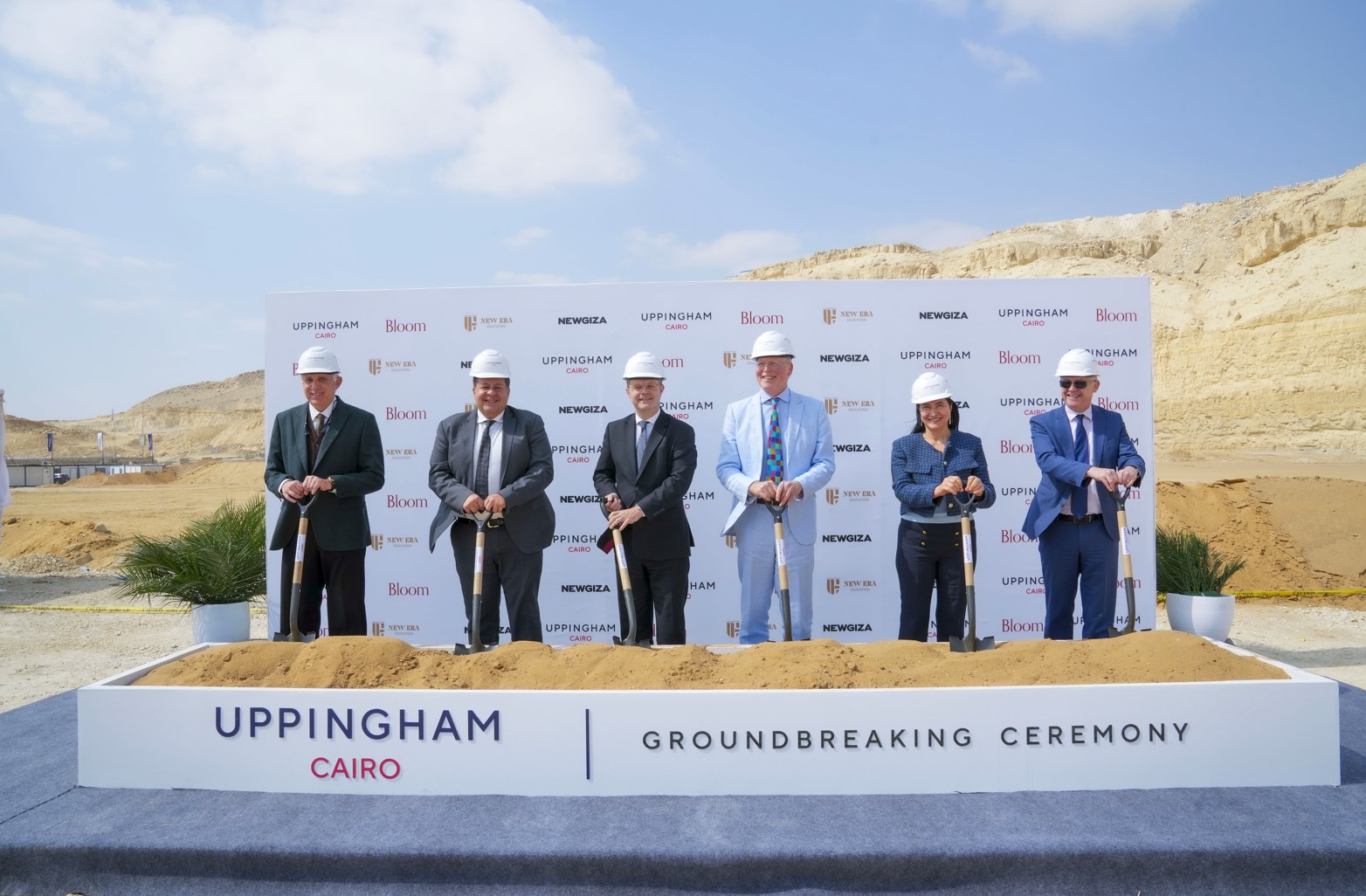 New Era Education celebrated the groundbreaking ceremony for "Uppingham Cairo" School in the presence of the British Ambassador to Egypt, Gareth Bayley OBE, and senior officials from the Division of International Trade at the British Embassy in Cairo.
Tamer Tammam, Chairman and Founder of New Era Education, welcomed the British Ambassador, who was also received by Keith Budge, Vice Chair of Trustees at Uppingham School, Patrick Mulvihill, International Development Director of Uppingham School UK, the Board of Directors of New Era Education, Bloom, and New Giza. The ceremony took place on the site of the new campus at New Giza.
"It's fantastic to be here today to witness the latest stage in the continuing success story of UK education in Egypt. Uppingham is a school with a proud history and a wealth of experience, and I am delighted that they will be bringing both of these to their new school here in Egypt, Uppingham Cairo," said the British Ambassador at the groundbreaking ceremony.
"I firmly believe that the UK represents Egypt's number one partner when it comes to education. The demand is there among Egyptian families, and British schools and universities are coming in increasing numbers to bring world-class education to Egypt. I look forward with interest to the opening of the school next year."
The collaboration with Uppingham School, one of the United Kingdom's leading and historic schools, will allow students in Egypt to benefit from international education opportunities, with the school offering both the International Baccalaureate (IB) Diploma and A-levels. Uppingham Cairo's values will be based on those of its parent school in the UK, while also bringing in Egypt's wealth of history and culture.
Uppingham Cairo, a K12 co-educational school, is set to open in September 2024. The school will be located on a 10-acre site at New Giza, west of Cairo, and will boast state-of-the-art teaching and sports facilities. With over EGP 1.5 billion invested in the project, the school will rank amongst the largest K-12 educational projects in Egypt.
New Era Education was established in 2018 with the aim of providing educational services and managing schools on a world-class level by establishing high-quality educational institutions in Cairo.
Since its establishment in 1584 in Great Britain, Uppingham School has been working to provide high-quality education for its students' development and is focused on empowering them for a prosperous future.
This article is sponsored. If you are interested in advertising with Egyptian Streets, click here to get in touch.
---
Subscribe to our newsletter
---