Nine days ago, American rapper Travis Scott announced to his 50.3 million followers on Instagram that he would debut his latest album, 'Utopia', at a live-streamed concert at the Pyramids of Giza on 28 July. Tickets were made available shortly afterwards and sold out within 15 minutes of release to the public.
Nine days later, Scott's concert is on the brink of cancellation and Egypt has once again made headlines across the world under negative circumstances after Egypt's Musicians' Syndicate revoked the concert's license. In its statement, the Syndicate's spokesperson claimed that the rapper's values conflicted with "the cultural identity of Egyptian people", adding that Scott had engaged in "unusual rituals" during his performances.
This cancellation, should it take effect, is not only a blow to Scott's fans, but also a devastating blow to Egypt's image on multiple fronts. The short-sighted decision by the Syndicate will have far-reaching consequences, impacting the country's tourism and business sectors and its reputation. Ultimately, Egyptians are the losers, and someone else will claim their spoils.
A Lost Opportunity to Promote Egypt to the World
The Pyramids of Giza, a symbol of Egypt's rich historical heritage and the world's last remaining ancient wonder, have always been a major tourist attraction.
Since the 2011 and 2013 uprisings, Egypt has been struggling to attract tourists. In 2022, Egypt welcomed 11.7 million tourists. A statement released mid-2022 by the United Nations World Tourism Organization revealed, at the time, that Egypt had been lagging behind other Arab countries, including Saudi Arabia, the United Arab Emirates, Tunisia and Morocco. More tourists visit Dubai's modern 'Burj Khalifa' than Egypt's ancient Pyramids.
Travis Scott's concert is a golden opportunity for Egypt to promote itself to the world. Scott has a combined 87 million followers across Facebook, Instagram, Twitter and YouTube. A livestream of the concert has the potential to promote Egypt to millions of viewers – many of whom could be encouraged to visit Egypt. Hosting such a high-profile artist attracts not only fans of the entertainer and of rap music, but also positive media attention from around the world.
The event would be covered by music publications, news outlets, and social media platforms, generating free, positive publicity for Egypt as a cultural and tourism destination – the kind of publicity Egypt only dreams of. Egypt has already seen some of this with concerts at other historic sites at the country, including electronic duo Adriatique's live streamed rave at Hatshepsut Temple and the concerts by Carl Cox, Shakira, Red Hot Chili Peppers, Black Eyed Peas and other entertainers at the Pyramids. However, few artists with an active, contemporary and sizeable fanbase, such as Travis Scott, have performed in Egypt. Coldplay were ignored in 2017 after expressing their interest to perform a New Year's Eve show at the Pyramids; instead, the iconic band performed in Abu Dhabi.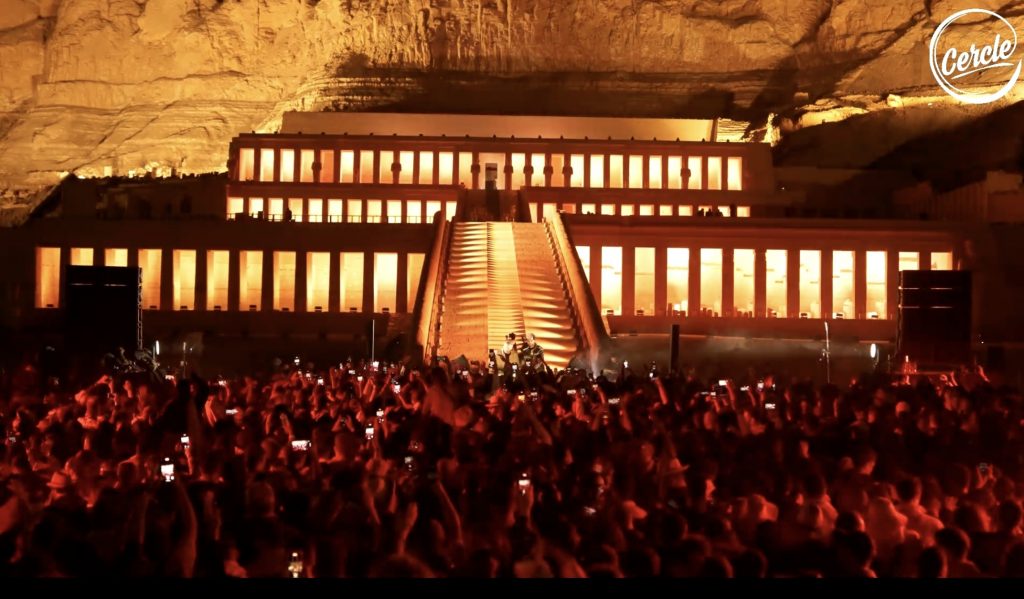 Egypt Will Be Culturally Irrelevant
Egypt's historical significance is unquestionable, but it is equally important for the country to maintain its relevance in the contemporary and global cultural landscape. A decision to cancel Scott's concert portrays Egypt as resistant to evolving artistic expressions and sends a message to the global community that Egypt and Egyptians are out of touch with modern trends.
Instead of encouraging other international artists to consider Egypt as a viable venue for their performances, leading to a potential influx of high-profile acts in the future, Egypt would be isolating itself from the international music community and limiting its impact on the global stage. A cancellation would be a setback for the country which had only just started to attract contemporary major talent from across the globe to perform in the country.
The decision also serves a blow to freedom of expression. Egyptians rose up against the Muslim Brotherhood in 2013 for many reasons, one of which was in response to the organization's attempts to stifle freedom of artistic expression in Egypt. Art, music and film have always been powerful tools for communication and self-expression, and were among the catalysts for Egypt's two uprisings.
Egypt's Musicians' Syndicate is sending a regressive message that stifles creativity and discourages artists from pushing boundaries. This deters not only international artists from engaging with Egypt's music scene, but also local artists.
Everyday Egyptians, Not Travis, Miss Out Economically
Beyond Egypt's image, a decision to cancel a concert such as Scott's can have wide-ranging impacts on Egypt's economy. Egypt would miss out on the positive perception of Egypt's ability to host a large scale-event such as Scott's concert; a perception that can position the country as a regional hub for music and entertainment, attracting foreign investors and businesses who would see Egypt as an attractive location for future ventures and partnerships. This is particularly important given Egypt is struggling to attract foreign investment, with its foreign currency reserves reaching such low levels that the import of goods into the country have been severely impacted.
While ticket prices for Scott's concert in Egypt, and others by international artists, are well beyond what everyday Egyptians can afford, large-scale events such as concerts require extensive logistical support, ranging from event management and security to merchandise, which undoubtedly benefit Egyptians. Hiring local staff and collaborating with local businesses to meet these demands create numerous job opportunities, particularly in the entertainment and hospitality sectors. Local vendors, suppliers, and service providers can also benefit from increased demand for goods and services associated with the event, resulting in a positive economic impact at various levels of Egypt's supply chain.
This momentum can additionally encourage Egypt's own music and entertainment industry to grow, creating opportunities for local artists and professionals involved in the sector, fostering local talent development.
Financially, a cancellation of the concert does not really harm Scott or his team – they can just fly the Red Sea and host a concert in Saudi Arabia; a country that has shown that it is willing to embrace change and that is positioning itself as the Arab world's leading culture and entertainment hub. In fact, Saudi Arabia previously hosted a performance by Scott in Jeddah. Instead, the cancellation harms everyday Egyptians who will miss out on job opportunities and economic growth.
Cancellation Sends All the Wrong Messages
Travis Scott's announcement nine days ago sent a message that Egypt is open for business; that it is safe, it has a vibrant cultural and music scene, and it is welcoming of change.
The Egyptian Musicians' Syndicate's decision, which may lead to the cancellation of the concert, is a significant setback for the country's image as a thriving tourism and cultural destination. By denying a groundbreaking concert in such an iconic location, Egypt misses an opportunity to showcase its modern cultural vibrancy and stifles potential economic growth.
The Syndicate's decision shows Egypt is not open for business: that it is irrelevant, out of touch and not welcoming of change. It is a lost opportunity for Egypt to start reclaiming itself as the region's leading cultural and tourism hub.
The opinions and ideas expressed in this article are the author's and do not necessarily reflect the views of Egyptian Streets' editorial team. To submit an opinion article, please email [email protected]. 
Subscribe to the Egyptian Streets' weekly newsletter! Catch up on the latest news, arts & culture headlines, exclusive features and more stories that matter, delivered straight to your inbox by clicking here.