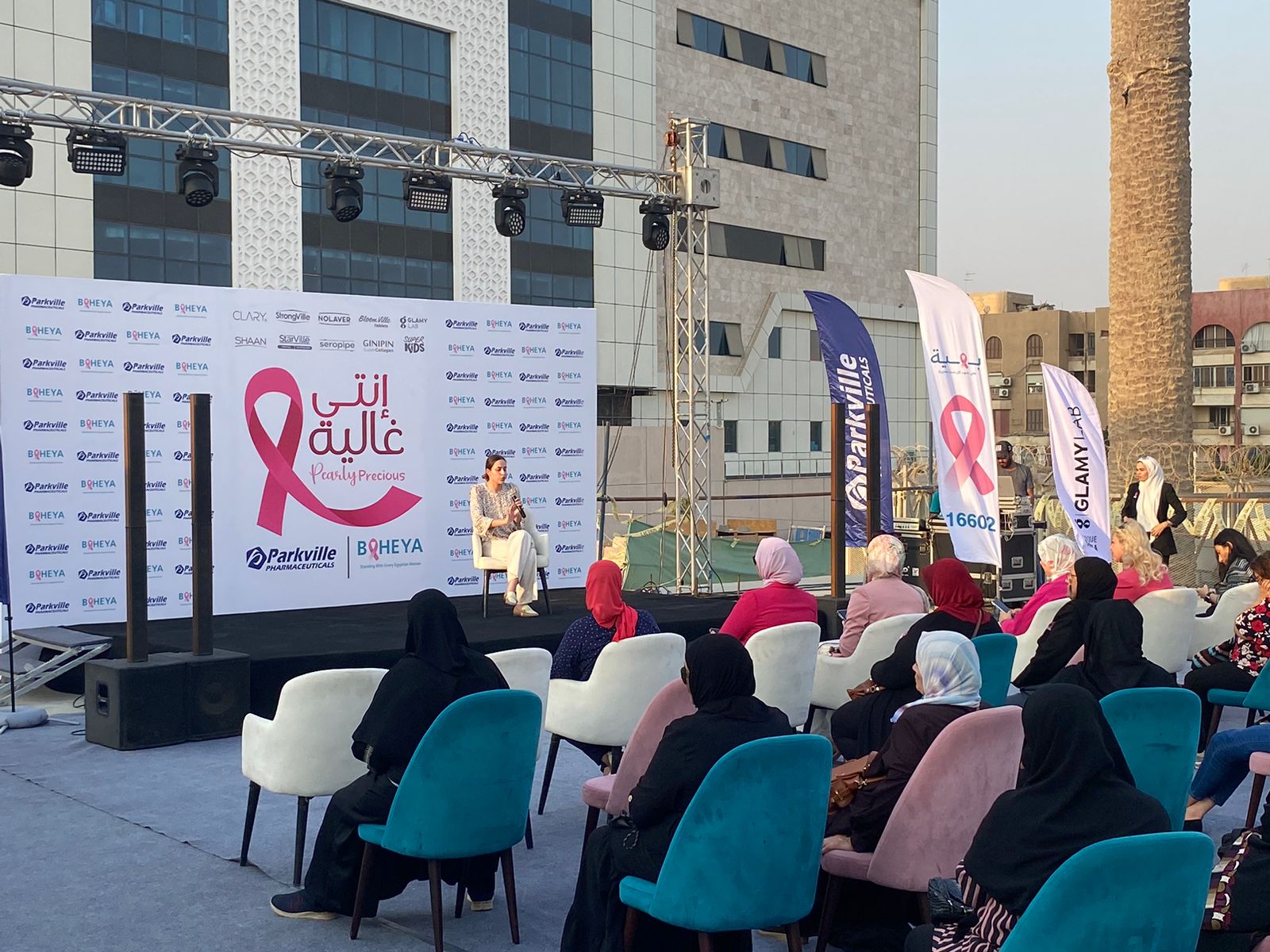 At Baheya Foundation, the first hospital in Egypt dedicated to the treatment and early detection of breast cancer, patients are never referred to as "cancer patients." Instead, they are warriors and fighters. During their Pink October, or Breast Cancer Awareness Month, awareness events, positive expressions like "strength," "precious," "courage," and "hope" are often repeated and emphasized by Baheya.
Baheya's message has always centered on the importance of mental health and psychological treatments for cancer patients, and this emphasis has grown stronger over the years.
Recently, Baheya partnered with Parkville Pharmaceuticals to host an event for breast cancer fighters, sharing tools and information on mental health, nutrition for gut health, skincare, and makeover techniques to boost emotional well-being.
Parkville Pharmaceuticals is participating in Baheya's challenge to provide 10,000 free chemotherapy sessions for Baheya's cancer fighters during the awareness campaign.
Mental Health Challenges
Research has shown that breast cancer survivors are more likely to experience anxiety, depression, sleep troubles, and other mental health challenges than women who have not been diagnosed with the illness. Receiving a breast cancer diagnosis can be a highly stressful experience, and the treatment process can introduce new challenges that exacerbate this stress. Managing side effects and fatigue while simultaneously navigating concerns about family, employment, and personal relationships can be overwhelming.
"I feel a lot of guilt and anxiety because I do not have enough time to care for my son," one cancer fighter expressed during the event. "I carry a lot of fear that I will not be with him for long, that he will have to suffer alone."
Along with the emotional toll that a breast cancer diagnosis can bring, it can also reduce a woman's self-esteem. Cancer treatment may result in aesthetic ramifications, such as eyelash loss and facial discoloration. These treatments may be associated with negative body image, feelings of loss of femininity and attractiveness, and low self-esteem due to changes in appearance.
Although Baheya foundation is one of the few organizations that offers free mental health services for breast cancer patients, cancer fighters during the event have urged the need for more affordable therapy, particularly for their own families.
"Therapy is too expensive in Egypt. We are already trying to cope with rising food prices, so paying for therapy is seen as a luxury. I cannot afford therapy for my son even though he desperately needs it, but I can't find organizations like Baheya that offer free therapy for anyone," another cancer fighter shared.
In Egypt, a limited number of private hospitals and mental health clinics are independently providing mental health care services to cancer patients. However, the presence of large and organized psychosocial services is far from adequate. The development of these services is hindered by a number of factors, including a scarcity of trained clinicians, stigma and misconceptions surrounding both breast cancer and mental health, and a low healthcare budget.
Mental Health Tips for Women with Breast Cancer 
During the event, cancer fighters gained practical tools and knowledge on mental health. The first recommendation was to find the balance between 'acceptance' and 'change'.
"All reactions are normal. We are not here to say that you have to be strong and positive all the time, but if some reactions persist, then they make it harder to cope. The ideal goal is to find the balance between negative and positive emotions," Mayar Sayed, teaching assistant at the psychology department at the British University, said during the event.
There are times when we simply need to accept our emotions and feelings as they are without doing anything, and other times, we need to actively change these emotions, Sayed added.
"Problem-solving starts with clarifying the relation between emotion and needs. Emotions tell us something about ourselves. Negative emotions, for instance, tell us that a particular need is not being satisfied, like a need to belong or feel connected."
Positive emotions, on the other hand, signal that our needs have been met, according to the lecturer.
"Verbalize the problem to yourself. Sometimes you will hear something that you need or something that you should let go of," she added.
Most importantly, community support is also highly beneficial for cancer fighters.
"Talking through a problem with another person can be a powerful tool for understanding it and finding a solution. Weigh their insights against your own knowledge and experience, and strike a balance between the two," Sayed recommends.
The Egyptian Women's Health Initiative offers women screening of carcinoma of the breast at an early stage, clinical examinations, and free-of-charge treatment, in addition to the detection of non-communicable diseases, such as diabetes, blood pressure, and obesity.
Women can receive necessary information as well as details of their nearest healthcare unit and documents required through the initiative's active hotline, 15335, or their website