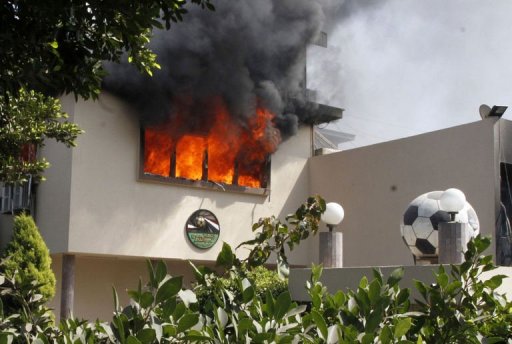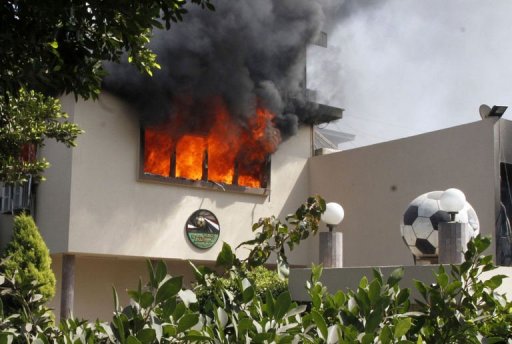 "The history of Egyptian football is lost and cannot be recovered." Those were the words of Sarwat Swelam, Head of the Egyptian Football Association (EFA), after hundreds of Ultras Ahlawy hooligans stormed the EFA's headquarters, stealing its contents and completely torching the building.
The violence comes after a court ruled that seven police officers and two Masry Football Club officials were acquitted in the Port Said Stadium Massacre trial. The court also upheld the death sentences of 21 that were found guilty in January. The Port Said Stadium Riot took place on February 1st 2012 when Masry Club fans stormed the pitch and attacked Al-Ahly fans as police officers avoided any intervention, leaving 74 dead and more than 1,100 injured.
[youtube=https://www.youtube.com/watch?v=aI0XEK5oyio]
Naturally (albeit senselessly), the Ultras Ahlawy were enraged by the acquittal of seven police officers while only two were sentenced to 15 years in prison. In a statement on their official Facebook Page, the Ultras Alhawy warned of an escalation of violence:
"Today's acquittals of most of the police 'dogs' are a clear sign that the trial was a sham and the officials we stressed should be convicted were intentionally found innocent…What happened today in Cairo is only the beginning of our rage. Even more of it will surface if all officials involved in the massacre are not put on trial. We will not be placated by the sentencing of just two police 'dogs'."
Yet, even if the court rules unfairly, would that warrant the violence that Cairo is facing due to the actions of the Ultras Ahlawy? The EFA's HQ, a Police Club in Giza, a school near Tahrir Square, and several other buildings have already been torched to the ground, leaving hundreds injured. Clashes following the verdict have already led to the death of two 'protesters' who have suffered suffocation due to the incessant (but perhaps just?) use of tear-gas by security forces.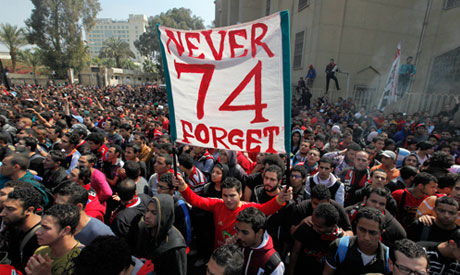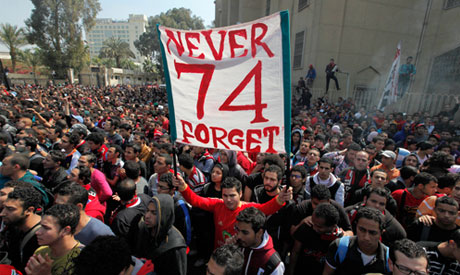 Ultras Ahlawy members carry signs that state "Never Forget. 74" reminding the public that 74 people were killed at the Port Said Stadium Massacre. However, the actions of the Ultras are absolutely hypocritical. The 74 people who were killed were not just football fans nor were they members of the Ultras Ahlawy – they were Egyptian. Nevertheless, the Ultras are willing to 'burn Cairo,' thus risking the lives of tens of thousands of Egyptians.
Perhaps more confusing, what purpose does looting and torching the EFA's headquarters and other buildings achieve? Was a school near Tahrir Square – torched by Ultras members – involved in the "corrupt ruling"? Were all of Egypt's Football trophies that were stolen or destroyed a symbol of the government's corruption and injustice? The simple answer is: no. The actions of the Ultras today are senseless and are not at all justified.
The "history of Egyptian football that is lost and cannot be recovered" not only represents Egypt's football success, but also represents each Egyptian's pride in his country and his people. Maybe one day Egyptians will raise signs stating "Never forget the day that football fans decided to burn their own history and pride."
---
Subscribe to our newsletter
---