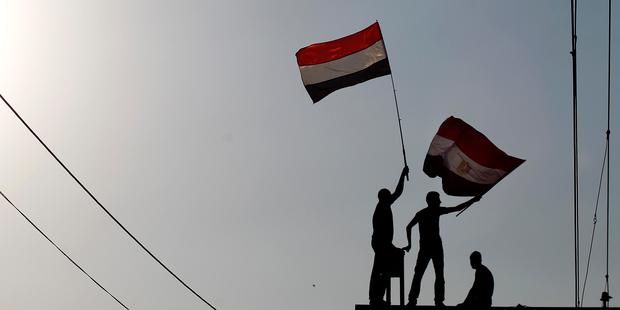 By Arwa Gaballa, Aswat Masriya
As women struggle against a sexual harassment phenomenon in the Middle East's most populous country, some men in Egypt have been keeping quiet about the harassment they encounter.
In spite of a lack of reported cases or documented complaints, personal accounts shared with Aswat Masriya indicate that sexual harassment against men may be more common than expected.
"I get cat-called by women on the metro," a tall and lean Egyptian man with dark hair and a slight beard told Aswat Masriya, adding that for him, it is a confidence boost.
When he does not respond to the women however, he is often insulted, verbally attacked and even accused of being a homosexual by them, he said.
The 24-year-old, who preferred not to be named, noted that groups are more likely to engage in this kind of behavior than individuals, adding, "Most of them are veiled too."
A veil or headscarf is often worn by Muslim women as a gesture of modesty and devotion to God.
Sexual harassment
Last year when a taxi driver told Hisham Ahmed* he would wait for him until he is finished with his appointment, the 24-year-old did not think much of it.
It was only time however until the driver began touching his face, arguably to brush off wool fuzz, eventually rubbing his thigh. "It was very brief, but I think it was sexual harassment," Ahmed said.
When asked why he would not report a sexual harassment incident, Ahmed said, "I don't want trouble. Plus, if I go to the police and tell them that I've been sexually harassed, they would rape me for that."
"I was once followed by a giggling group of high school girls, but I didn't bother and just walked away," said Samir Aly*, a relatively attractive young entrepreneur, adding that they were calling him names that translate to "sugar" and "sexy".
"It didn't feel good because I couldn't do anything about it," 22-year-old Aly said.
He went on, "Another time, I was on a minibus and there was this woman sitting next to me who kept staring. It was so irritating and uncomfortable."
"When it was time for me to get off [the minibus], she moved her hand and stroked my leg as she looked straight ahead," he added, guessing her age at about 30.
Shocked and confused, Aly stared back at her until she was forced to move her hand away, but she continued to stare at him, he said.
"She had this strange look on her face. She looked like she was psychologically ill or divorced and can't keep it together," Aly said.
Another Egyptian man whose colored eyes and fair complexion leads some to mistake him for a foreigner said, "All I ever got was stares. You just feel under surveillance."
The 21-year-old Law student added that the stares make him feel very uncomfortable "like they would make anybody else."
"We will [sexually] harass men"
In response to a graphic video of a mob sexual assault against a woman that began circulating earlier this month, female activists started a hashtag on Twitter that roughly translates to "We will [sexually] harass men".
Criticizing the trending hashtag, @NoorNoor1, a top Twitter user with over 120,000 followers, tweeted, "The purpose of the main struggle against the culture of sexual harassment is to improve conditions for the society as a whole, not just women."
He told Aswat Masriya that, "Abuse will only breed more abuse. Sexual violence is inflicted upon both genders starting at a very young age, and it manifests into horrendous things later on."
Sexual assault
Mohamed Galal* is a real life example of what @NoorNoor1 is referring to. Now 26 years old, Galal was sexually abused by his female teacher during private lessons when he was 15 years old.
"First we used to sit at the dining table, but then we moved to the couch. She started wearing a night gown and eventually came on to me," Galal told the story of how his teacher seduced him.
"I was shocked and after a while, I felt awful. I felt exploited and disgusted and didn't want to do it anymore," he said, adding that he never told anyone because it would have been a scandal for the married teacher.
"My friends would have probably congratulated me," he said, adding that a part of him enjoyed the experience. "She was an attractive woman, but I would have never made a move if she hadn't.
"If the perpetrator is in a position of authority, in occupation, family or education, over the victim or has used any pressure allowed by the circumstances, punishment will not be less than two years, but not exceed five years, and the fine will not be less than 20,000 Egyptian pounds, but not exceed 50,000 pounds," a recent amendment to the sexual harassment law stipulates.
Minors and consent in Egypt
According to international standards, the incident would be considered sexual assault because Galal was a minor when it took place, said AbdelGhany Sayed, a legal researcher.
"The Egyptian penal code criminalizes forcible indecent assault, while leaving space for punishment to be aggravated based on circumstances such as if the perpetrator is in a position of authority over the victim or the victim is under 16 years old," Sayed added.
He explained however that while Egyptian law does not necessarily disregard the minor's consent, in order for an incident to be considered indecent assault, the perpetrator needs to be aware that they are doing it with the intent of assaulting the honor of the victim without their consent.
Fearing being mocked or viewed as weak or unmanly is among the reasons men refuse to tell similar stories or report them to the authorities, Galal said.
An Egyptian woman, who preferred not to be named, confirmed this narrative to Aswat Masriya when she said that she is unsure she would get involved with a man who was sexually harassed. "If he was unable to defend himself, as a man, who says he can defend me? His image in front of me would be shattered forever," she said.
Law protects both genders
Michael Raouf from the Nadeem Center for Rehabilitation of Victims of Violence said that an anti-sexual harassment law that was amended recently protects both men and women.
"The problem however is that our law doesn't recognize anything outside of vaginal penetration as rape," Raouf said, adding that he has not heard of complaints or legal cases related to sexual harassment against men.
He also doubted that there are centers equipped or dedicated to treating men who were subjected to sexual harassment or assault in Egypt.
"If there are cases of sexual assault against men, they would probably fall under torture as the Egyptian state does not recognize the rape of men," Raouf said.
A law introduced by former interim President Adli Mansour days before he handed over power to the newly elected president, stated that sexual harassers shall face imprisonment for at least one year and a fine of at least 3,000 Egyptian pounds (419 US Dollar).
Sexual harassment was also extended to include verbal harassment, sexual gestures or harassment through phones or other means of communication.
Reported sexual harassment cases have increased since the amendments were introduced in an attempt to curb the phenomenon. Women were the victims in all of the cases.
---
Subscribe to our newsletter
---