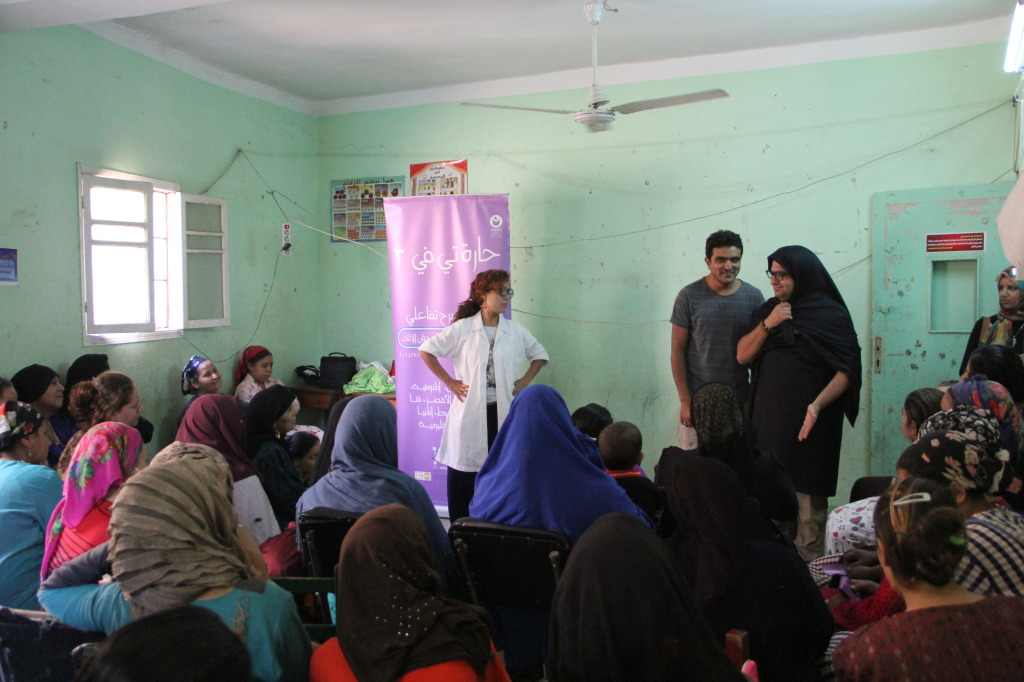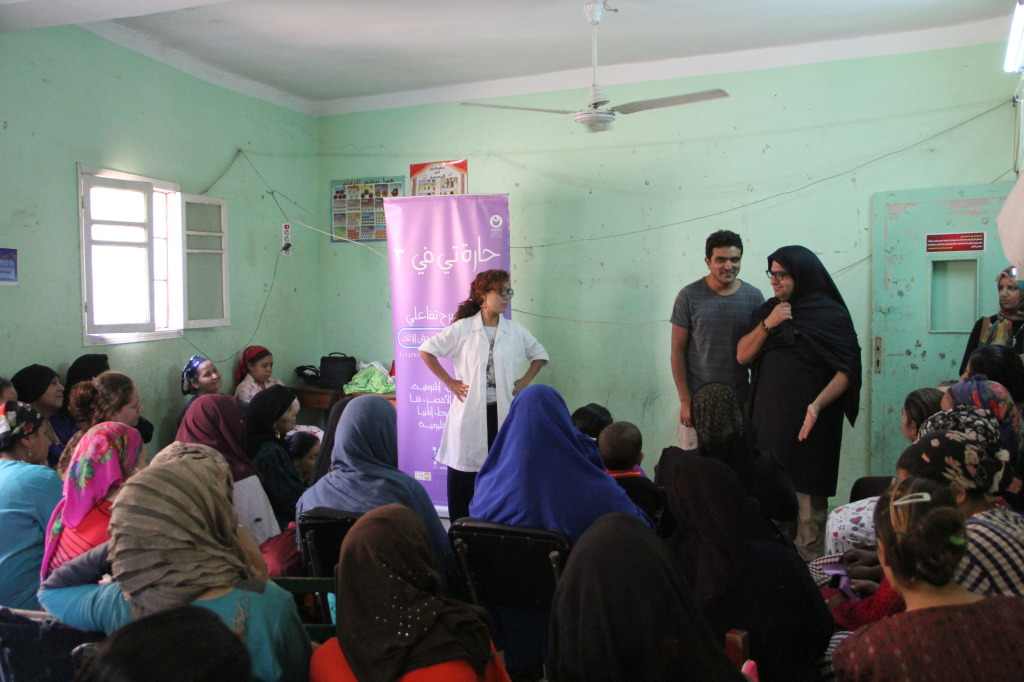 By Eleonora Vio, Community Times. Photos courtesy of Noon Creative Enterprise.
Earlier this year, the United Nations Population Fund (UNFPA) commissioned a cycle of 120 theatre performances on FGM to Noon Creative Enterprise – a small performing arts company already engaged in youth civic participation and domestic violence, as part of a larger national campaign.
Together, Egypt and Ethiopia have the highest number of FGM cases in Africa. In both countries, the most common kind of circumcision is the so-called Pharaonic circumcision, which is the removal of the entire clitoris, with both labia minora and medial part of the labia majora cut; both sides of the organ are stitched together, leaving only a small opening.
Although FGM has been illegal in Egypt since 2008, the phenomenon has neither halted nor slowed down in the past few years. Instead, "if the latest polls estimate that up to 80% Egyptian females are still victims of FGM, I would put the number as high as 9 girls out of 10," says Nada Sabet, artistic director and co-founder of Noon Creative Enterprise.
But, "What has recently and positively changed," says Gender Officer at UNFPA, Germaine Haddad, "is the will to discuss this topic at any level of the society, thus facilitating and implementing interaction among different stakeholders."
For this project, "I was asked to adopt the same format I was already familiar with, to create Hara TV 3 and raise awareness about FGM throughout the local communities," says Nada Sabet. "The only thing I had to negotiate with the local partners was the use of comedy to portray a tragic reality."
Sabet believed that tackling a sensitive issue like FGM by putting on stage the death of a young girl would be far from effective. "It would have been, in fact, very boring. Who wants to see a girl dying?" she says, barely containing her contagious laugh.
"Moreover, the majority of girls do not die because of FGM in Egypt, and our audience might have picked up on this minor detail as an excuse to defend a dangerous and unlawful practice," she adds.
So Sabet, along with the team at UNFPA, opted for comedy instead. "Making comedy was a great idea," says Doaa Abdel Hamid, local coordinator of Free Egypt Cooperation in the villages around Minya. "We arranged meetings with local communities to raise awareness about FGM before, but, since most people were illiterate, they would neither understand nor take part in the discussion. Comedy made things easier and changed our way of interacting with the audience."
"Do you know why foreign girls have sex anywhere and with anyone? Because they haven't undergone FGM"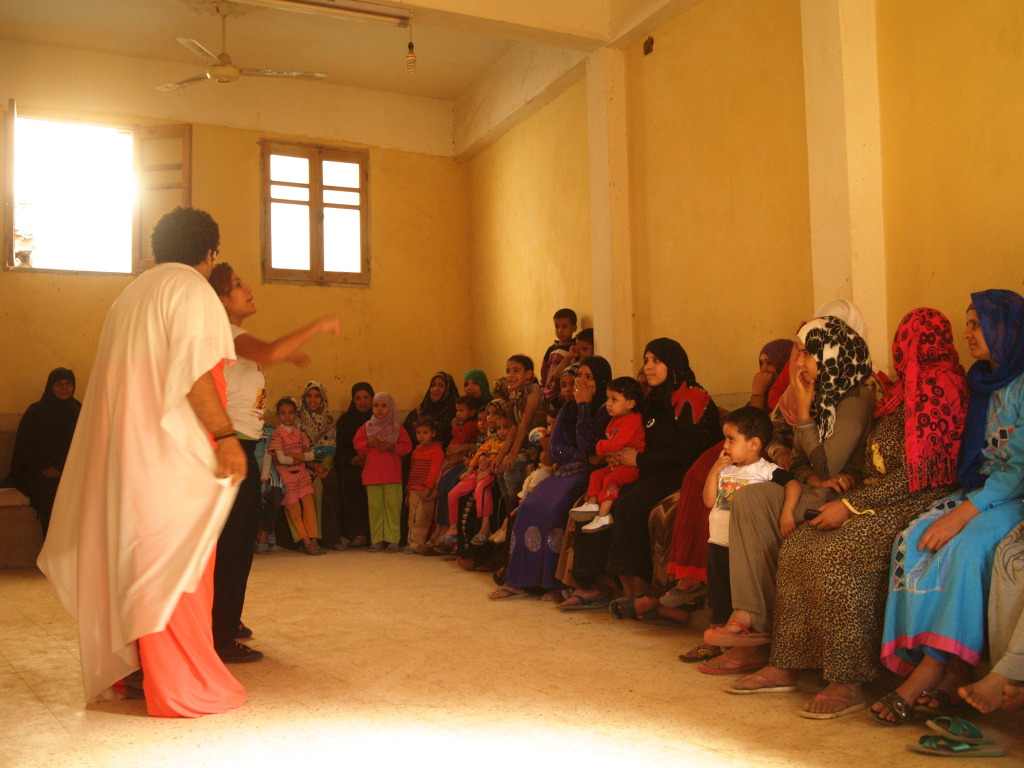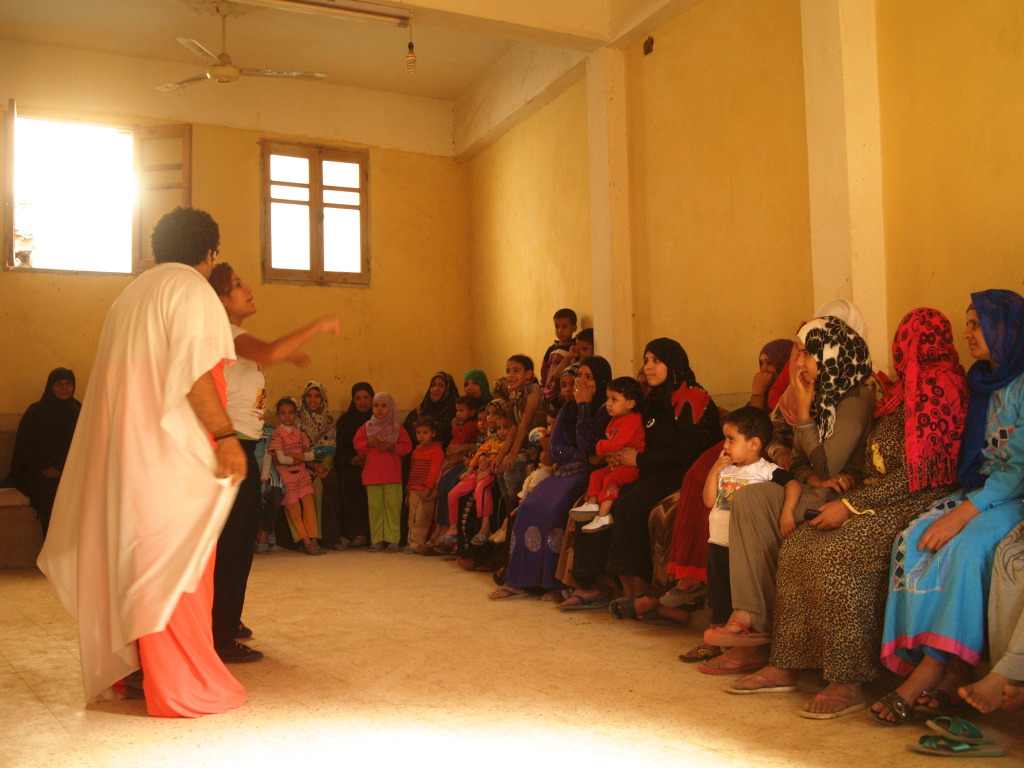 The comic play was divided into four – plus one – acts. Since Sabet and her crew were not fully aware of all the facets concerning FGM, they read through case studies collected by UNFPA over the years across different Egyptian governorates to get inspiration and dig deep into the core of this complex issue.
Finally, they identified the most sensitive and relevant points and, once they got the green light from UNFPA, they turned them into a series of short comic acts. The process was long, and sometimes very hard, because the actors themselves realized how mocking real people's dramatic lives is far from amusing.
"So many times, after reading one heart-breaking story after the other, I would find myself bursting into tears in the middle of the rehearsal," says actress Shireen Hegazy. "But Nada was really determined to succeed and she led us to overcome all our limits."
The first scene deals with the expectations a pregnant woman from a rural context holds towards her future child. "God, let it be a son." When the newly born turns out to be a daughter, played by male comic actor Ahmad Essawi, and laughed at loudly by almost the entirety of the female audience, there is a long list of rules she must abide by.
"Cover from head to toe," "don't go and play in the streets," "help your mother at home" are only some of the duties to be fulfilled by girls, all of which "are symptomatic of the gender-based violence engraved on Egyptian society, with which FGM is strictly intertwined," Haddad says.
After the scene that shows the lifecycle of a girl, the team stages a fight between a mother and her daughter: whilst the latter refuses to undergo FGM, the former replies by raising an argument often used as a defense of this practice. "You have to do it, otherwise you will grow up with no dignity and always craving for pleasure," she says, recalling the outspoken girl from the audience.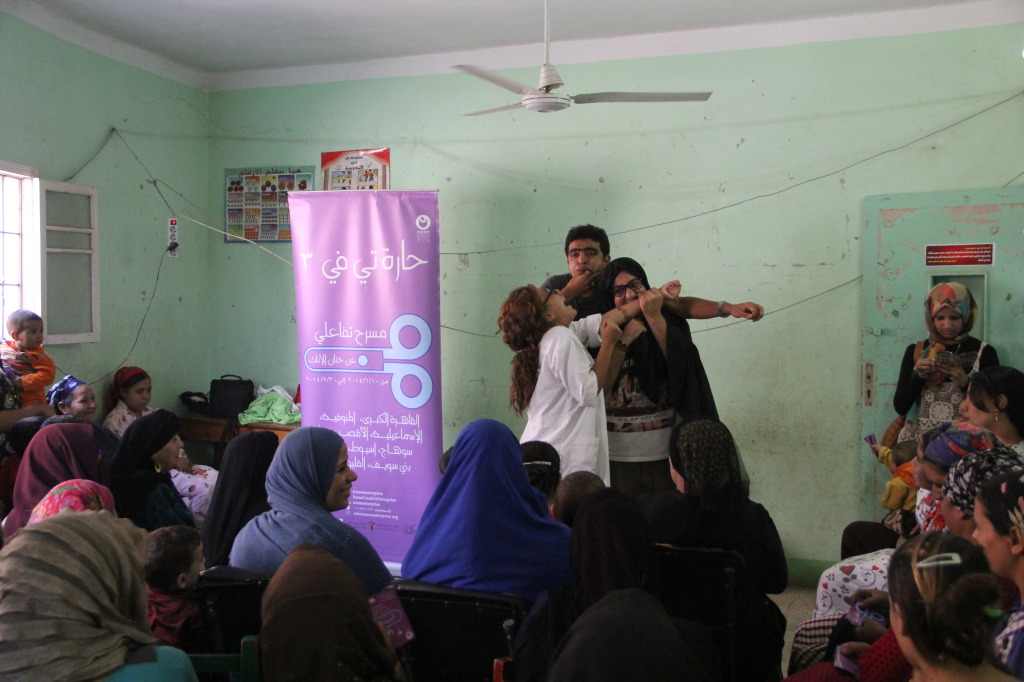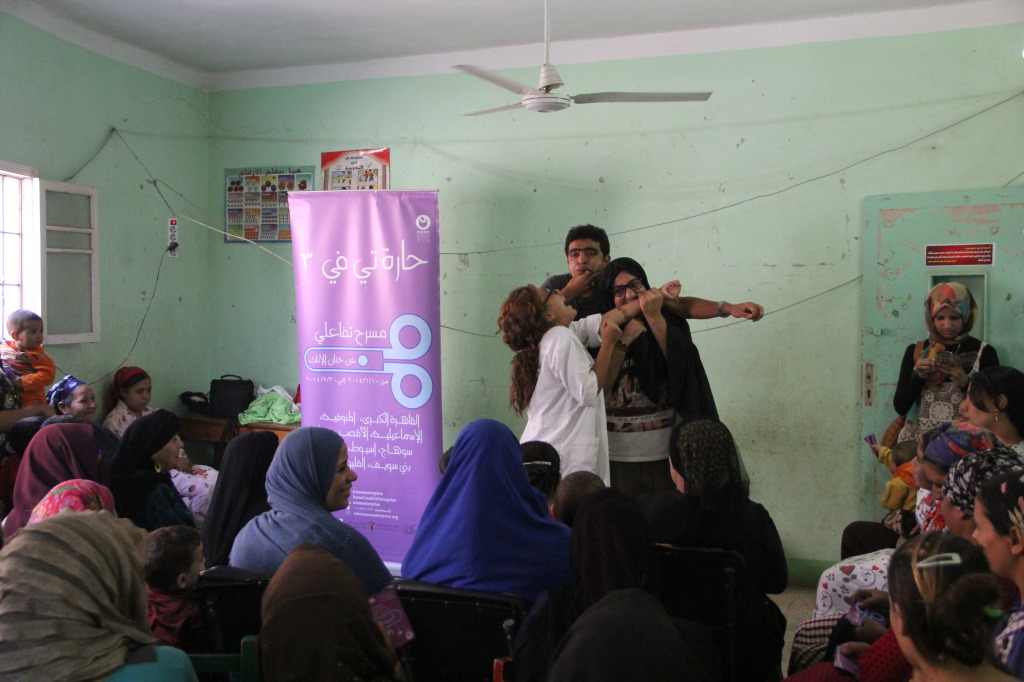 FGM in Egypt is increasingly regarded as a medical procedure, and more and more parents opt to take their daughters for circumcision at a clinic instead of relying on traditional practitioners.
"It is very hard to make people understand that the matter is not if the girl needs an operation," says Haddad. "People ask professional doctors for advice and rely on modern medicine instead of acknowledging that FGM is simply dangerous, illegal and contrary to religious teachings."
In order to understand the current implications of FGM, the third scene proves to be particularly interesting. In a verbal fight between a doctor and a mid-wife, mediated by the brilliant actor Mohmed Samy Negm, the scene unfolds as a microcosm of the clash between past and present, tradition and science. Although initially the doctor comes out as the front-runner of this fierce contest, neither of them gains the upper hand in the end.
As the mid-wife compares the procedure she adopts to circumcising girls to "the killing of a fearful rabbit," and arouses amusement in the attentive audience, the doctor looks horrified and boasts about advanced medical techniques, which includes anaesthesia and "the removal of only the rife piece of skin."
But when the audience begins to naturally sympathize with the doctor, Negm takes the floor and makes his point clear. "You are both criminals," he affirms, pointing at the contenders and casting a penetrating look at his confused public.
The last scene of the play depicts the getaway of a young couple whose love has been thwarted by their respective families, and opens up untold horizons for all those who have always believed that life is squeezed between FGM and marital duties.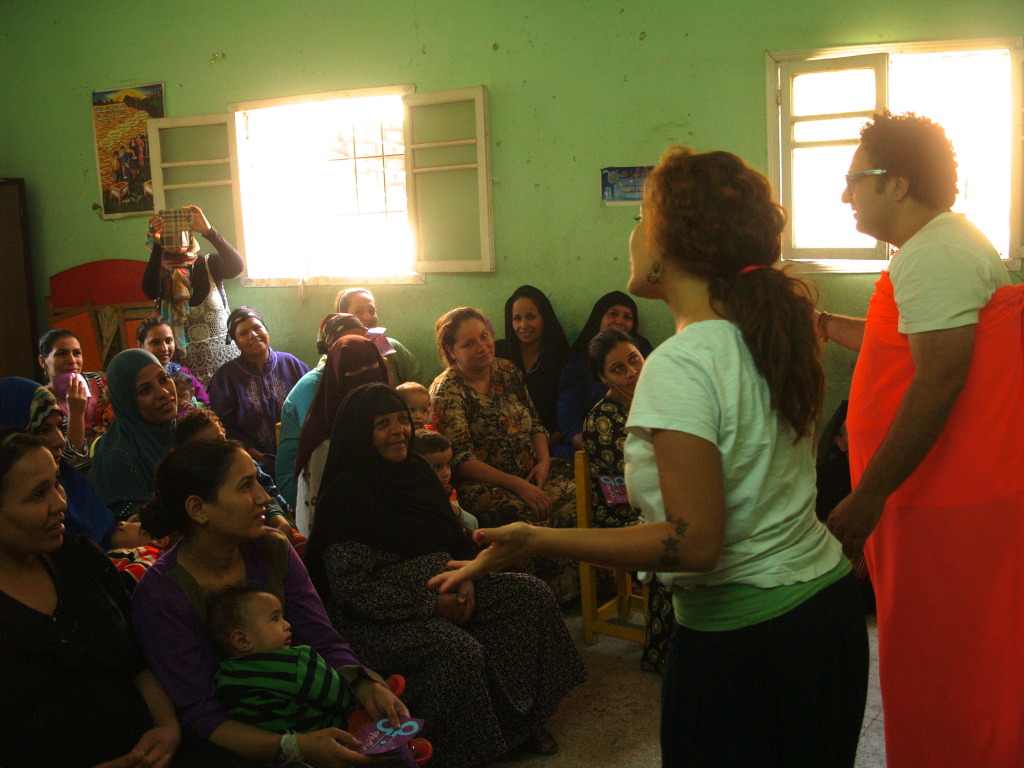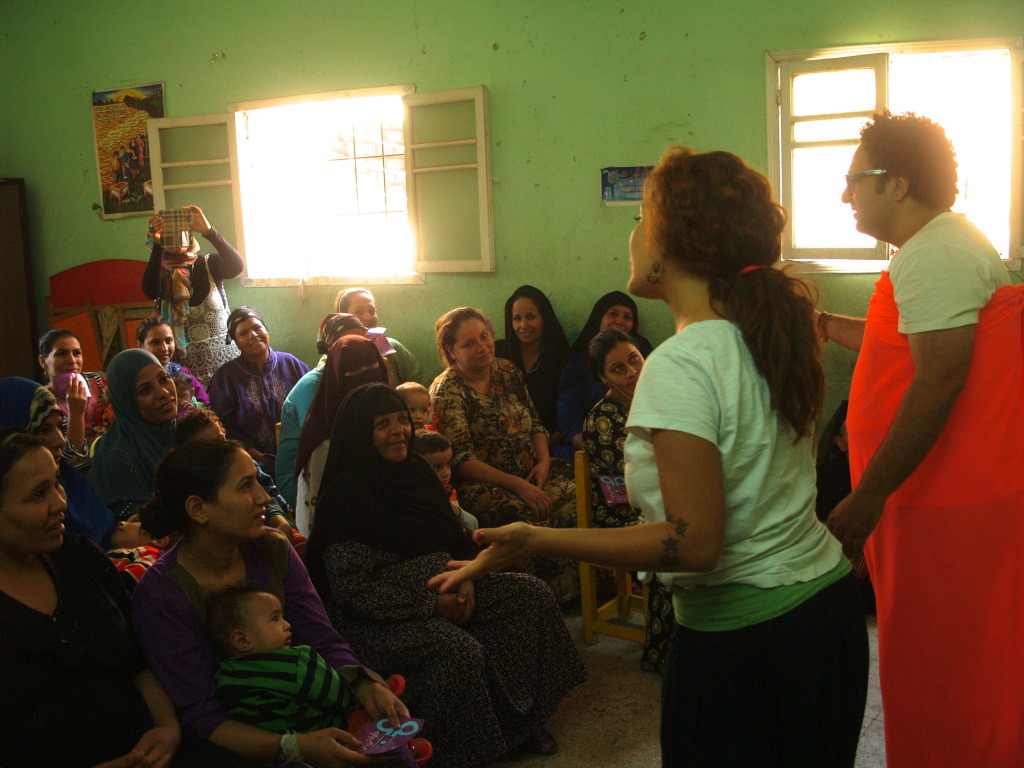 At the end of the fourth act, Sabet steals the show and asks her audience. "Do you know what we are talking about? What do you think? Is FGM good or bad?" Overall, women are happy to share their contrasting outlooks, because "Thanks to comedy they don't feel threatened to interact," Sabet says. "We don't care who's right and who's wrong, as long as people feel free and safe to ask and answer questions."
But sometimes, "women pass from laughing to crying in a matter of seconds," says Hegazy, recalling a time when they all froze on the stage, as some cheerful women suddenly covered their faces and started weeping silently. "Their lives are on display here, and they can't hold their frustration back anymore."
"Are you ready to see something shocking now?" Sabet asks. Only after receiving a positive and unanimous response from the audience, she calls the actors back on stage.
In order to neither upset the audience too much nor make it too defensive, a scene portraying a husband forcing his wife to have sex with him and her persistent refusal, which are central to understanding the dynamics behind many marital unions, is left at the end of the first tit for tat with the public.
The feedback the anti-FGM theatre project received so far has been very positive and, while the number of performances has been increased, more and more young people leave the performance acknowledging, that "FGM is bad and must be fought."
On the other hand, the arguments that old women still raise in defense of FGM deal with tradition, religion and protection.
"Since most of the women in their community underwent FGM, they feel like they cannot back off; they cling to some misinterpretations of the religious precepts – regardless of the fact that both Al-Azhar and the Coptic Church strongly condemn the practice. These women believe that FGM curbs women's sexual desires and protects them from being promiscuous," says Haddad."
However, "I would say that 50% women who attended the shows, are against, and 50% are still pro-FGM, which is a pretty good achievement."
Noon crew has toured in Luxor, Sohag, Qena, Assiut, Minya, Beni Suef, Cairo, Giza, Sharqiya, el-Marg, and is about to kick off in Port Said and, later return to Beni Suef, Luxor and Qena.
---
Subscribe to our newsletter
---