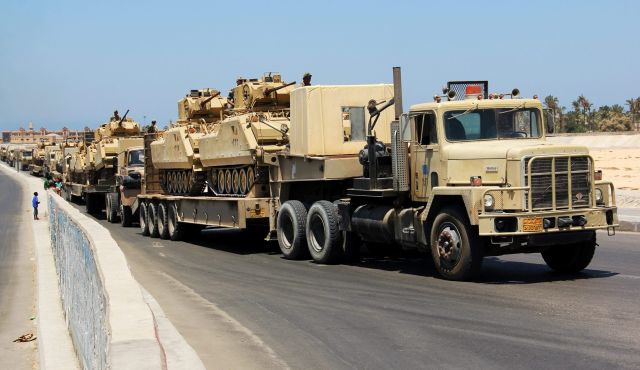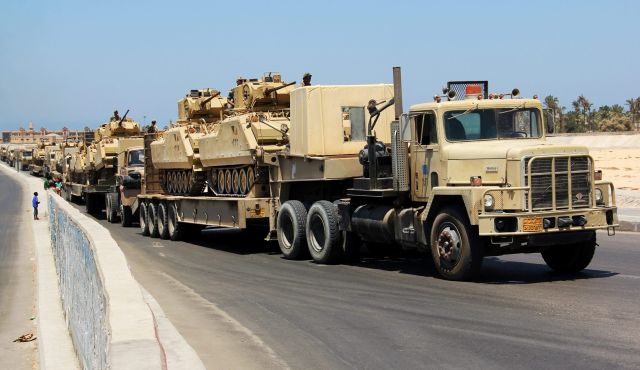 A string of coordinated attacks on military checkpoints and a police station in North Sinai's Sheikh Zuweid is "moving in the same direction" as that of Islamic State fighters, an analyst said.
Zack Gold, a visiting fellow at the Institute for National Security Studies, described Wednesday's attack as a "major development" and a possible attempt by the Ansar Bayt al-Maqdis militant group to drag Egypt's military to "urban warfare" rather than an earlier "hit-and-run" style of attacks.
Ansar claimed responsibility for the attacks in a statement released on twitter accounts affiliated with the group. The group claimed it has "gained full control" over several locations in its statement, released amid clashes between security forces and militants following the attacks.
The group changed its name to Sinai Province last November, after pledging allegiance to Islamic State fighters in Syria and Iraq.
"It seemed from the retreat they [Ansar] were trying to hold the city," Gold told Aswat Masriya in a Skype interview on Thursday.
The militant attacks had aimed to besiege the Sheikh Zuweid town, Reuters cited security sources as saying.
Army spokesman Mohamed Samir stressed in a phone interview with state television late Wednesday that the armed forces are in "full control" over North Sinai.
The change in the nature of Wednesday's attack was not in the simultaneous attacks on a number of security checkpoints, Gold said, stressing that the group had followed a similar tactic at least twice before, in attacks on security locations in Sinai last January and April.
Wednesday's attacks meanwhile reflect a "reversal of the group's former operations under Ansar Bayt al-Maqdis", Gold said. He said the group had previously voiced its keenness on defending Sinai's local population. The latest attacks nevertheless put civilians at risk.
No official death toll for civilians was made available. Yet, casualties from the attacks and the clashes which followed included civilians.
A mortar shell hit a house in Sheikh Zuweid at the time of the clashes, killing one woman and injuring five others, medical sources told Aswat Masriya. A child was also shot dead near one of the military checkpoints attacked by Ansar, the sources added.
Gold compared Wednesday's attacks to Islamic State fighters' operations to control cities in Iraq, Syria and Libya. While he said the attacks were not exactly the same, he described them as "another step on the road."
Whether Ansar would repeat its attempt to hold ground in Sinai remains unclear. Gold stressed that "IS affiliates do not always act in logic we recognise," yet he expected any future attempts to "invade" Egyptian lands to be fruitless.
"Sinai is not the [Iraqi] Anbar Province or Libya," Gold said, stressing that Egypt's military remains "strong" even if it is not in full control of the turbulent Sinai Peninsula.
He referred to the armed forces' size, advanced equipment and ability to hold ground, stressing that while Ansar could gain control over lands, such control is unlikely to be sustainable.
Prior to Wednesday's events, Egypt has been hit by two major militant attacks during the past year, both claimed by Ansar.
The first attack occurred in October 2014 and claimed the lives of over 30 security personnel. In response, authorities imposed a curfew in parts of North Sinai and created a kilometre-long "buffer zone" on the eastern borders with Gaza, clearing the area of civilians.
The "buffer zone" specifically targeted tunnels dug up in the Sinai to connect it with the Palestinian Gaza.
Egyptian authorities say the tunnels are used to smuggle arms to militants in the peninsula, while Sinai residents argue that the tunnels provide them with a source of income as they use them to trade goods with the besieged Gaza Strip.
The "buffer zone", like other measures adopted by the authorities to fight militancy, has negatively impacted the local population more than the militants themselves, Gold said.
A possible line of action for the authorities in response to Wednesday's attacks would be to invest in the local population, Gold said. He noted that the Sinai-based militants are "turning against the local people", adding that if the government tends to their problems, it could easily win them over.
The dire security situation in Sinai has had its toll on the area's services and facilities. A Sheikh Zuweid resident told Aswat Masriya in an earlier interview that the security threats have deterred workers operating in the area as they fear for their lives against armed militants. He cited shortage in water, electricity, gas and telecommunication services.
If the authorities focus on providing Sinai residents with normal living conditions and employment opportunities, at least the residents would not "provide habitat for militants to thrive in," Gold said.
---
Subscribe to our newsletter
---