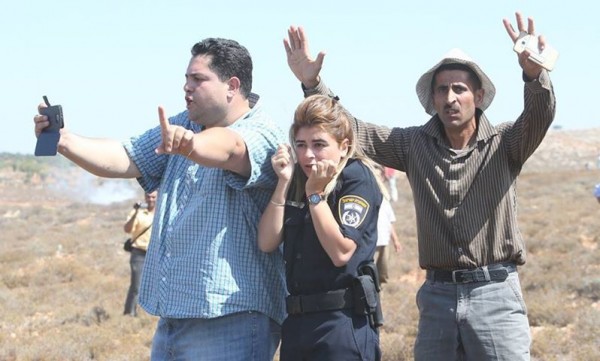 An image being widely circulated on social media depicts an Israeli policewoman being protected by two Palestinian men in a conflict between settlers, Israeli police officers and Palestinian civilians.
The image surfaced online amidst increasing tensions between Israelis and Palestinians, following the burning to death of a 14 month-old baby in an attack by extremist Jewish settlers.
The specific facts behind the photo are still unclear. However, Rabbis for Human Rights (RHR) – a group of Rabbis in Israel dedicated to informing the Israeli public about the state's human rights violations – claims that one of the men in the photo is one of their Palestinian field workers, Zakariah Sadah, who can be seen in the blue shirt.
RHR has stated that the photograph was taken after a settler, attempting to prevent Palestinians of the village Kusra from working their iland, accused a Palestinian of throwing stones. In response to the accusation, the police attempted to arrest the Palestinians at the scene, who then began to throw stones.
According to RHR, the image shows Zakaria shouting "don't shoot" at the police, after which he and the mayor of Kusra escorted the policewoman back to the other Israeli security forces. RHR has also stated that Zakaria has since been vilified by both settlers and by other Palestinians who saw him returning the officer without knowing the full context.
---
Subscribe to our newsletter
---