An American high school student was arrested on Monday after his homemade clock was mistaken for a bomb, Time Magazine reports.
Fourteen-year old Ahmed Mohamed from Irving, Texas, used a circuit board with a power supply wired to a digital display to make a clock. Dressed in a NASA t-shirt, he brought his invention to school to show it off to his engineering teacher, who was impressed but advised Ahmed not to show it off to any of the other teachers.
The boy kept the device in his bag for the rest of the day, but during English class the clock started beeping, prompting the teacher to complain. When Ahmed showed her the clock after class she confiscated it. According to Ahmed, she said 'it looks like a bomb', the Dallas News writes.
"It doesn't look like a bomb to me", the boy told the newspaper.
Ahmed was taken out of class by the principal and questioned by five police officers. They asked him about his intentions with the device and why he took itto school. James McLellan, spokesman for the local police department, argued the gadget 'could reasonably be mistaken for a device if left in a bathroom or under a car'. He added that the police were concerned about the purpose of the clock.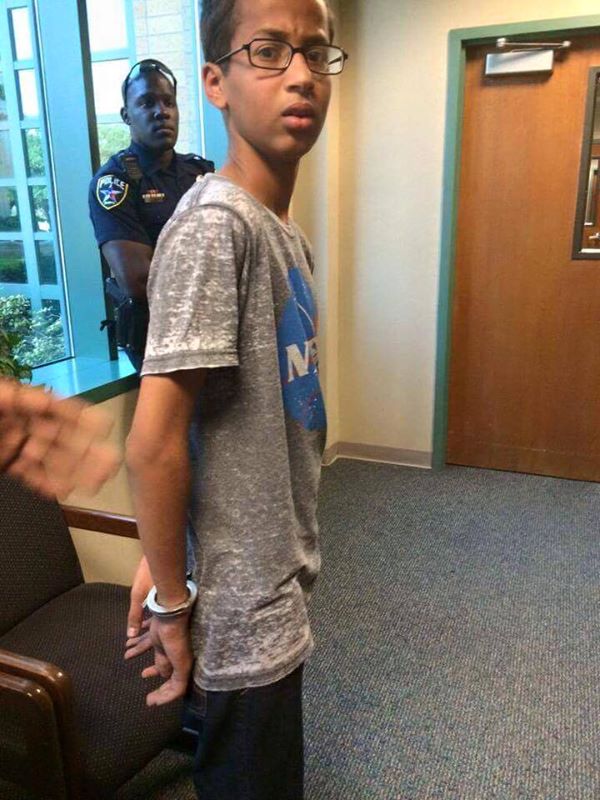 "It made me feel like I wasn't human. It made me feel like a criminal," said Ahmed to Dallas News.
The boy was suspended from school, marched out the building in handcuffs and taken to a juvenile detention facility to have his fingerprints taken. Ahmed could still face charges for making a hoax bomb, according to the Dallas News.
Assumptions and fear don't keep us safe—they hold us back. Ahmed, stay curious and keep building. https://t.co/ywrlHUw3g1

— Hillary Clinton (@HillaryClinton) September 16, 2015
The boy's father, Mohamed Elhassan Mohamed, suspects his son's Sudanese roots might have something to do with it. "He just wants to invent good things for mankind," he told the Dallas News. "But because his name is Mohamed and because of Sept. 11, I think my son got mistreated."
Fiddling around with electronics is one of Ahmed's hobbies, but the clock that landed him so much trouble is hardly his proudest achievement. The student says he 'threw it together in about twenty minutes before bedtime'. He also makes radios and repairs his own go-kart.
---
Subscribe to our newsletter
---