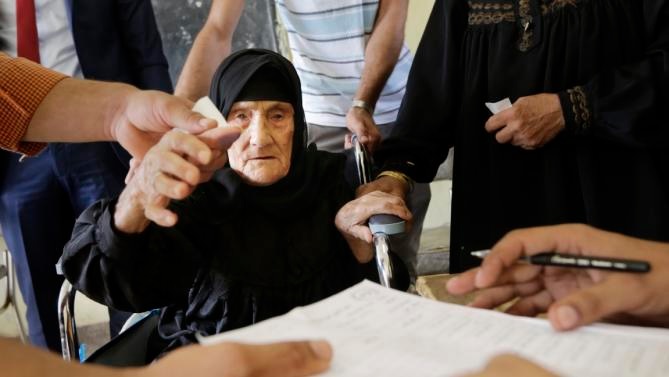 The total number of Egyptian expatriates who voted in the first phase of legislative elections was 30,531 in 139 embassies and consulates across the world, said Ayman Abbas, head of the Supreme Elections Committee (SEC) Tuesday.
Egyptians living abroad cast their ballots on Oct. 17 and 18, but of the over 680,000 expatriates eligible to vote in 161 countries, according to the latest census conducted before the constitutional referendum in 2014, only 4.48 percent turned up.
Invalid votes amounted to 1,856 leaving only 28,675, Abbas said at a press conference.
The number of Egyptians living abroad is estimated at eight million.
An assistant to Egypt's foreign minister told Aswat Masriya on Sunday, the last day of voting overseas, that turnout was "moderate", in a premonition to a similarly low turnout inside Egypt, where empty polling stations became the subject of ridicule by young people calling for a boycott.
SEC had announced late afternoon on the first day of elections at home that the turnout rate stood at 2.27 percent, but has yet to make any more statements on the issue, even though Egypt's Prime Minister Sherif Ismail claimed it was closer to 15-16 percent.
In the Belgian capital Brussels, only five people had turned up to vote by midday Sunday, an official at the Egyptian Embassy there told Aswat Masriya. He added that a dozen people had voted on Saturday in Belgium, which hosts 296 eligible voters.
The first phase of voting included over 27.4 million eligible voters. The second phase of voting inside and outside Egypt is slated for November 21-23.
On Saturday, President Abdel Fattah al-Sisi called on Egyptians to "line up outside polling stations."
Addressing Egyptians abroad, Sisi said that their participation will show the world what the "new Egypt" looks like.
The elections represent the final step in Egypt's "road-map to democracy", announced by then-Defense Minister Sisi in July 2013, following the military ouster of President Mohamed Mursi, who hails from the Muslim Brotherhood, and whose Freedom and Justice Party swept almost half the seats of the 2012 People's Assembly in an election that saw close to 55 percent voter turnout.
The Brotherhood was designated a "terrorist organization" in December 2013. This is the first election in 30 years where the Brotherhood are not participating.
---
Subscribe to our newsletter
---