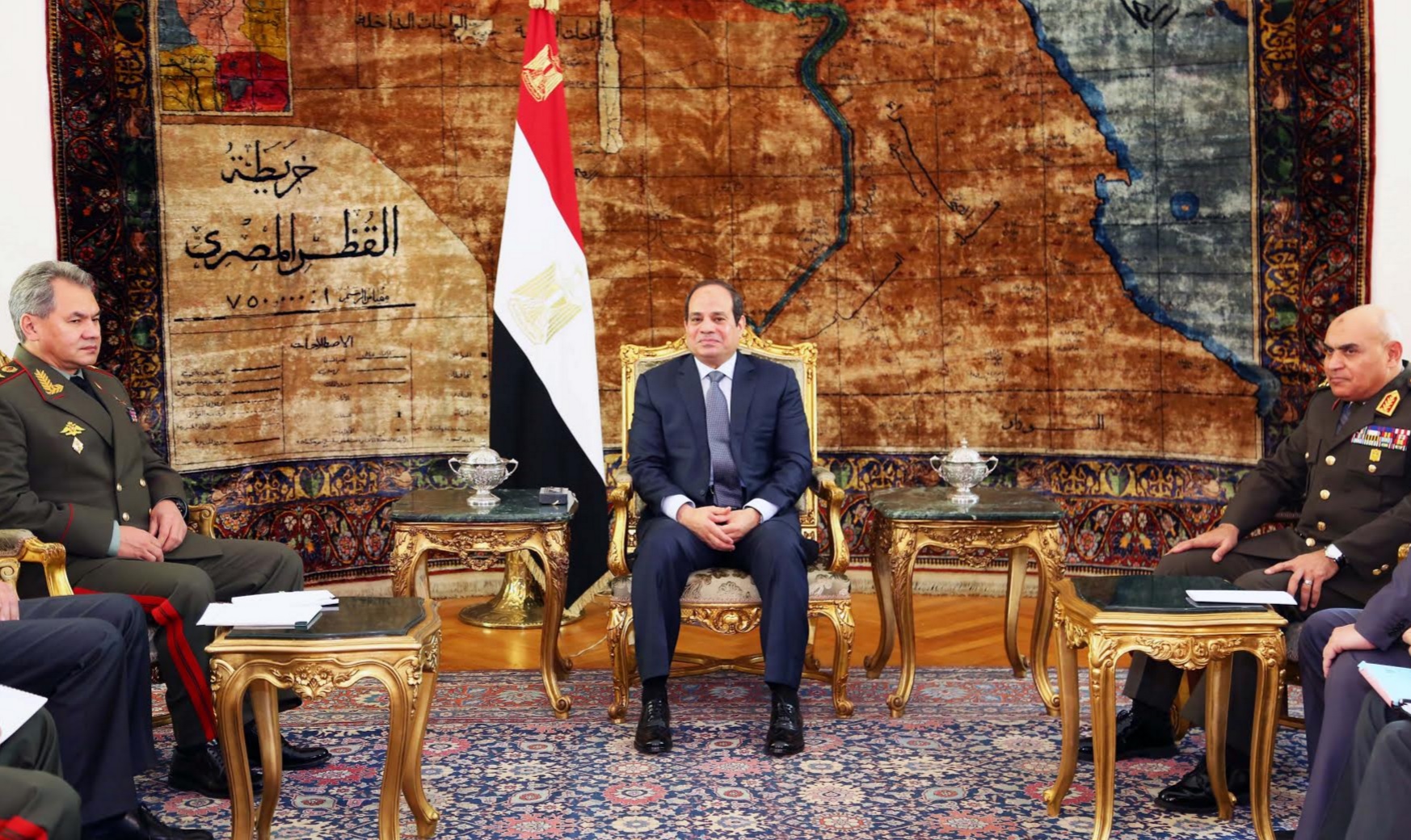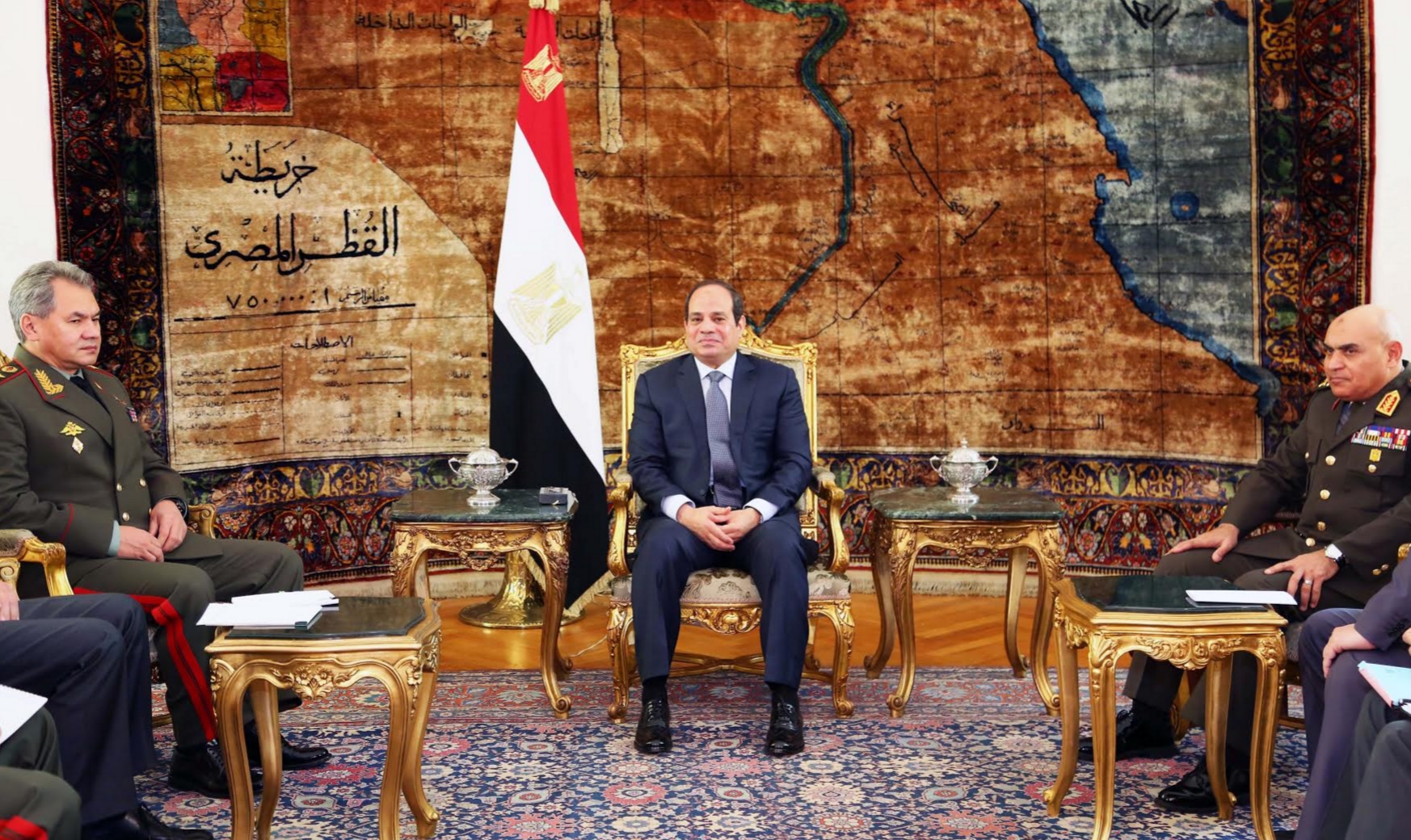 Almost a month after ISIS downed Russia's Airbus in Sinai, Russian Defense Minister Sergei Shoigu and 26 officials visited Cairo for two-day discussions over further military cooperation.
During a Tuesday meeting, Egyptian President Abdel Fattah El-Sisi presented a strategy to halt the rapid proliferation of extremist groups and cut off their sources of funding. "The strategy should also address military confrontations and security cooperation," said a Tuesday presidency statement.
"The murder of our people in Sinai is among the bloodiest crimes in terms of victims…This will stay with us forever but will not stop us finding and punishing the criminals," Russian President Vladimir Putin said following the conclusion of his Russian Federal Security Service's investigation.
Putin had said that Russia will act in accordance with Article 51 of the UN Charter, which allows attacked countries to defend themselves in a direct way, stirring speculations of military intervention in the peninsula.
However, Egyptian Foreign Minister Sameh Shoukry dismissed the possibility of such an intervention.
"Egypt's armed forces are sensitive to foreign interference in Sinai. The armed forces are strong [enough to handle the peninsula]," said Mohamed Abdel Qader, an expert at Al-Ahram Center for Political and Strategic Studies.  The incident will lead to intensified intelligence cooperation between the two states, he stated.
The plane incident presented a huge crisis for Russia, and the country's firm rhetoric was for its people's sense of security, believes Abdel Qader.
Around 90 thousand Russian tourists left Egypt, while Russia suspended all flights to the country and banned EgyptAir flights from entering Moscow.
Russia escalating measures with an ally was only to "justify what happened for its people" under public opinion pressure it was subjected to, declared Abdel Qader.
"If Russia comes to possess information concerning Sinai, it will inform Egypt," he said.
Despite ISIS claiming the downing of the plane and Russia's announcement that a terrorist bomb indeed crashed it, Egypt has yet to conclude its own investigation.
Egypt acknowledges the presence of "a problem" but insists on a secret investigation for the possibility of "collusions" against Egypt, Abdel Qader said. "Each country has its own approach and process, "he added.
Abdallah Hendawy, Middle East analyst at George Mason University asserted that "conspiracy is a playful term often used by governments to justify their failures in a given crisis".
"Both governments lack transparency, thus getting hold of the real results of either of the investigations would be a challenging matter," Hendawy said. Yet, the plane incident does not affect Egypt's relations with Russia. On the contrary, the downing of the plane will result in even closer ties for each state's own interests, Hendawy said.
"The crash complemented Russia's interests with its increased involvement in the Middle East," Hendawy said.
Following the plane crash on 31 October, Putin decided to intensify his airstrikes in Syria.
"Russia is in need of another ally because of the fragile state Syria has reached. Egypt is the alternative," said Hendawy.
Meanwhile, Egypt found in Russia an international political cover which supports its policies, according to Hendawy. One of such policies would be that both countries do not care about human rights, the analyst stated.
"Shoigu stressed that Russia in keen on continuously coordinating and consulting with Egypt on a number of regional issues of mutual interest," the Tuesday presidential statement said.
With Russia being the second biggest weapon provider to Egypt, and military cooperation on the rise, the Egyptian state aims to decreasingly depend on the West, said Hendawy.
Disagreeing, Abdel Qader said that Egypt is attempting to reach a tough balance between its relations with all world powers.
Soon Russia will reconsider permitting its people to visit Egypt, the strategic expert said, as well as allowing EgyptAir planes to fly into its territory, "after Egypt adheres to more security measures and guarantees".
---
Subscribe to our newsletter
---