Bassem Youssef, whose show was once the most watched television segment in Egypt, has become the first Arab and Egyptian to host the International Emmys.
During his opening speech, Bassem Youssef took a moment to acknowledge that the "world is still in a state of trauma" after the tragic events in Paris, Mali, Beirut, Nigeria, Kenya and the Sinai.
"It is brutal, it is horrible and it is unfair. But when people get together to celebrate art and creativity, and the best of what the human race can aspire to, we find our capacity to heal and to grow," said Bassem Youssef.
"I like to think that me being here is a part of that healing. The Academy chose me, an Arab Muslim, to host this event months ago. When we laugh, they lose. When we laugh, and do what we do here tonight, those evil bastards lose."
The host then went on to insult terrorists in Arabic, joking that censors would not beep out Arabic.
Bassem's history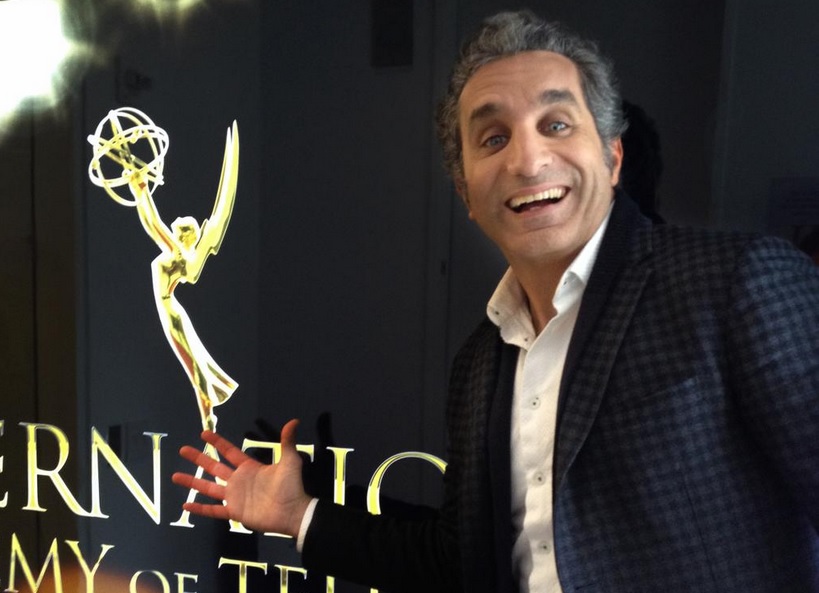 Bassem Youssef, known as the 'Jon Stewart of the Arab World', had been announced as the host of the International Emmy Awards Gala in New York earlier this year.
"Bassem Youssef has been dubbed the Jon Stewart of the Arab world but in fact his talent has no borders," said Bruce L. Paisner, President & CEO of the International Academy of Television Arts & Sciences.
"Through his own show and his many appearances on the Daily Show, he has become a comedic force and important political commentator around the world."
Although Bassem Youssef's talk show came to an end last year, his moment in the spotlight has been far from over. After leaving Egypt amidst governmental pressure that resulted in the cancellation of his controversial satire show Al Bernameg, Youssef remained busy through his many ventures.
Bassem Youssef also began a fellowship with Harvard University's Institute of Politics, was featured in big-name journals such as TIME Magazine, and most recently, won the Silver Medal for Best TV Host in the World at the 2015 New York Festivals.
Since the end of his show, Dr Youssef has also been working on a number of projects ranging from seeking out the next YouTube stars for his Dubai-based talent discovery network "Tube Star Network" to working on a documentary on his life since 2011, "Tickling Giants".