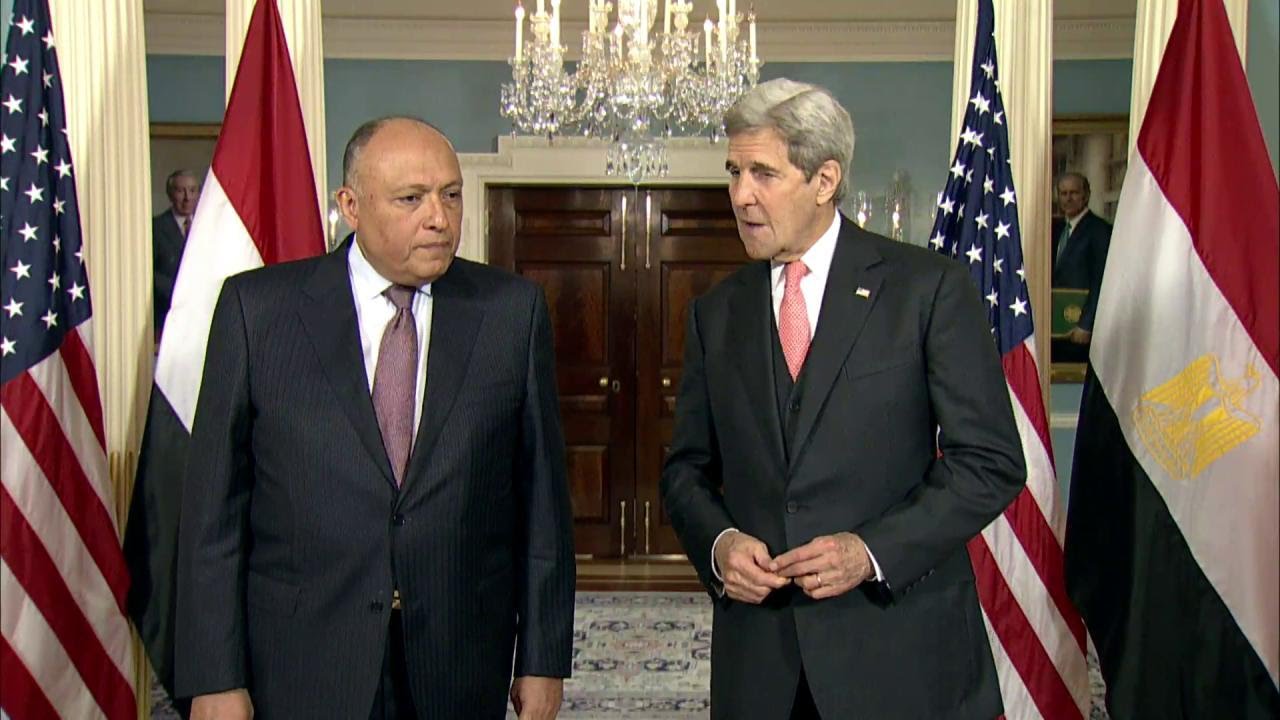 The United States Secretary of State John Kerry has reiterated the "very important" strategic relationship between Cairo and Washington D.C., adding that Egypt plays an important role in the fight against terrorism and violence across the Middle East.
Kerry's comments came as the Egyptian Foreign Minister, Sameh Shoukry, kicked off a three-day visit to Washington DC.
"We very much respect the important role that Egypt plays traditionally within the region – a leader of the Arab world in no uncertain terms," said Kerry during a press conference, adding that Egypt has been playing a key role in the region.
For his part, the Egyptian Foreign Minister reiterated the importance of continuing to cooperate closely to address the various political and economic issues that are common to both Egypt and the United States. Shoukry added that coordination between Cairo and Washington D.C. had been efficient in terms of the United Nations Security Council and that both governments had exchanged views on the situations in Libya, Syria and Iraq.
"I am hopeful that we will continue to address issues of – in our bilateral relations with the same degree of constructive approach and communications that will be beneficial in Egypt's democratization and development in the future," said Shoukry.
"We are going through a transitional period, one that this government has a very defined vision in advancing the aspirations of the Egyptian people. And we can only do so with the assistance of our friends and partners, and of course, primary among them is the United States of America."
Shoukry's visit to the United States has seen him meet with top U.S. government officials and experts, including leading US Democratic Senator Dianne Feinstein. The Egyptian Foreign Minister has also been interviewed by a number of US media outlets on issues related to democracy and human rights.
Egyptian-U.S. ties have been strained since the January 25 revolution in 2011, and worsened after the ouster of former President Mohammed Morsi. However, the recent return of military aid and efforts to boost bilateral ties have seen a warming of ties despite some caution on Egypt's behalf.
---
Subscribe to our newsletter
---