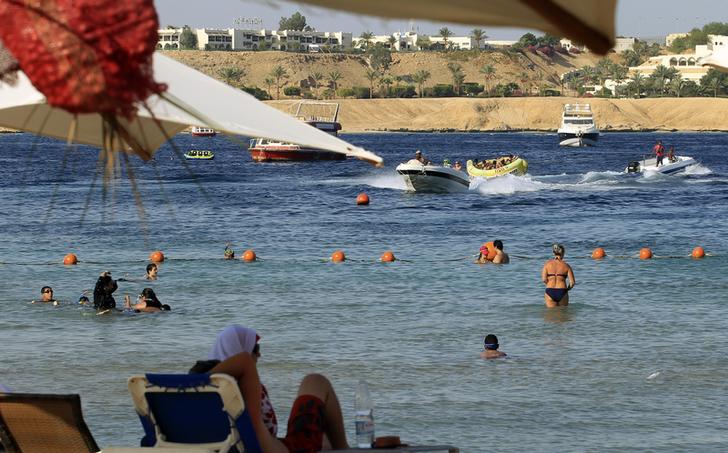 Egypt's Ministry of Tourism signed a cooperation protocol with the United Nations World Tourism Organization (UNWTO) on Tuesday in hopes of strengthening and developing Egypt's tourism sector.
The protocol, which was announced following a visit to Cairo by the UNWTO's Secretary-General Taleb Rifai, will see the organization providing long-term technical and political support to Egypt's tourism sector in addition to crises management expertise, Daily News Egypt quoted Minister of Tourism Hisham Zaazou as saying.
"The organization has approved our request and experts are currently writing their reports on Egyptian tourism," Zaazou said.
In Tuesday's meeting, President Abdel Fattah Al-Sisi met with several tourism experts to discuss ways to develop Egypt's struggling tourism sector. They agreed on an initial strategy that will be based on four elements: Security, historical/cultural tourism, creating of a new ministerial committee and promoting Egypt as a tourist destination worldwide.
The first aspect is meant to ensure Egypt prioritizes providing security at international standards to visiting tourists. In that vein, USD 32mn will be allocated to obtaining modern security systems and protocols according to Zaazou. Also, the London-based global risk and strategic consulting firm Control Risks Company has been hired by the Egyptian government to improve security standards at Egyptian airports.
In terms of historical tourism, Egypt plans to exert further efforts to advertise Egypt's unique historical heritage with its many monuments and sites.
The third aspect, establishing a new ministerial committee, aims to bring together international experts and representatives from the private sector to help Egypt develop the tourism sector.
The fourth and final element of the new tourism development strategy is to create international promotion campaigns telling the world about Egypt and promoting it as a world-class tourist destination.
Although Egypt – ever since the 2011 uprising that ended President Hosni Mubarak's 30-year rule – has struggled with a steeply declining number of tourists visiting the country, a recent study conducted by US polling firm Penn Schoen Berland on behalf of the Egyptian Ministry of Tourism revealed that 61 percent of tourists say that Egypt is "a place I want to visit in my lifetime" and 53 percent describe the country as a "must-visit" or the "next big [destination]" to travel to in the near future.
In 2015, Egypt's tourism revenues dropped 15 percent and the number of incoming tourists declined by 6 percent. The drop in these indicators is largely attributed to a string of security-related incidents, including the "accidental" killing of 12 Mexican tourists and their Egyptian guides in the Western Desert in September 2015, as well as the downing of a Russian passenger plane over Sinai in October of the same year.
Approximately four million Egyptians work in the tourism sector, which accounts for 12.6 percent of the country's total employment and about 12 percent of the economy.
In Tuesday's meeting with UNWTO, President Sisi reiterated Egypt's commitment to reinvigorating the tourism sector and said that tourism remains a key pillar of Egypt's economy.
---
Subscribe to our newsletter
---