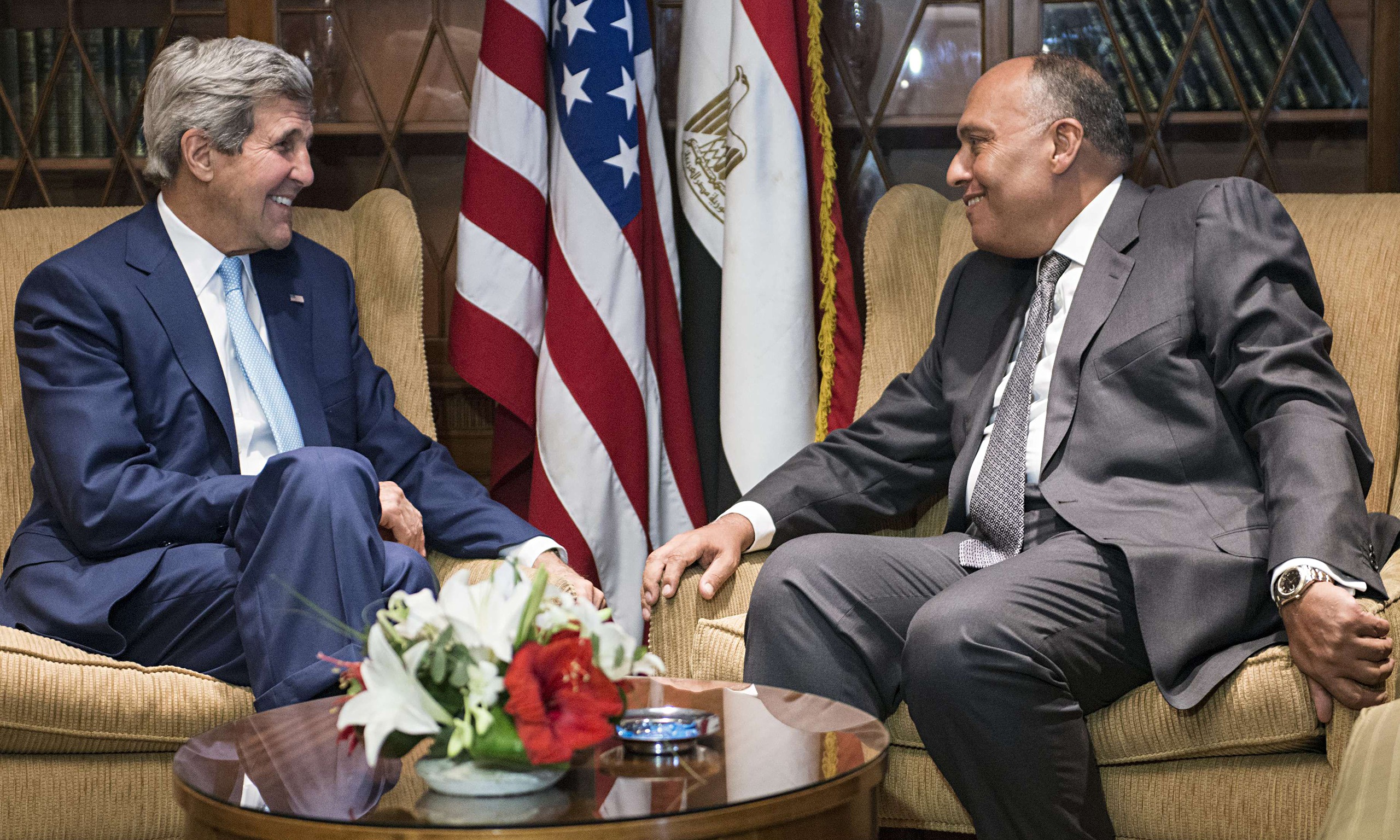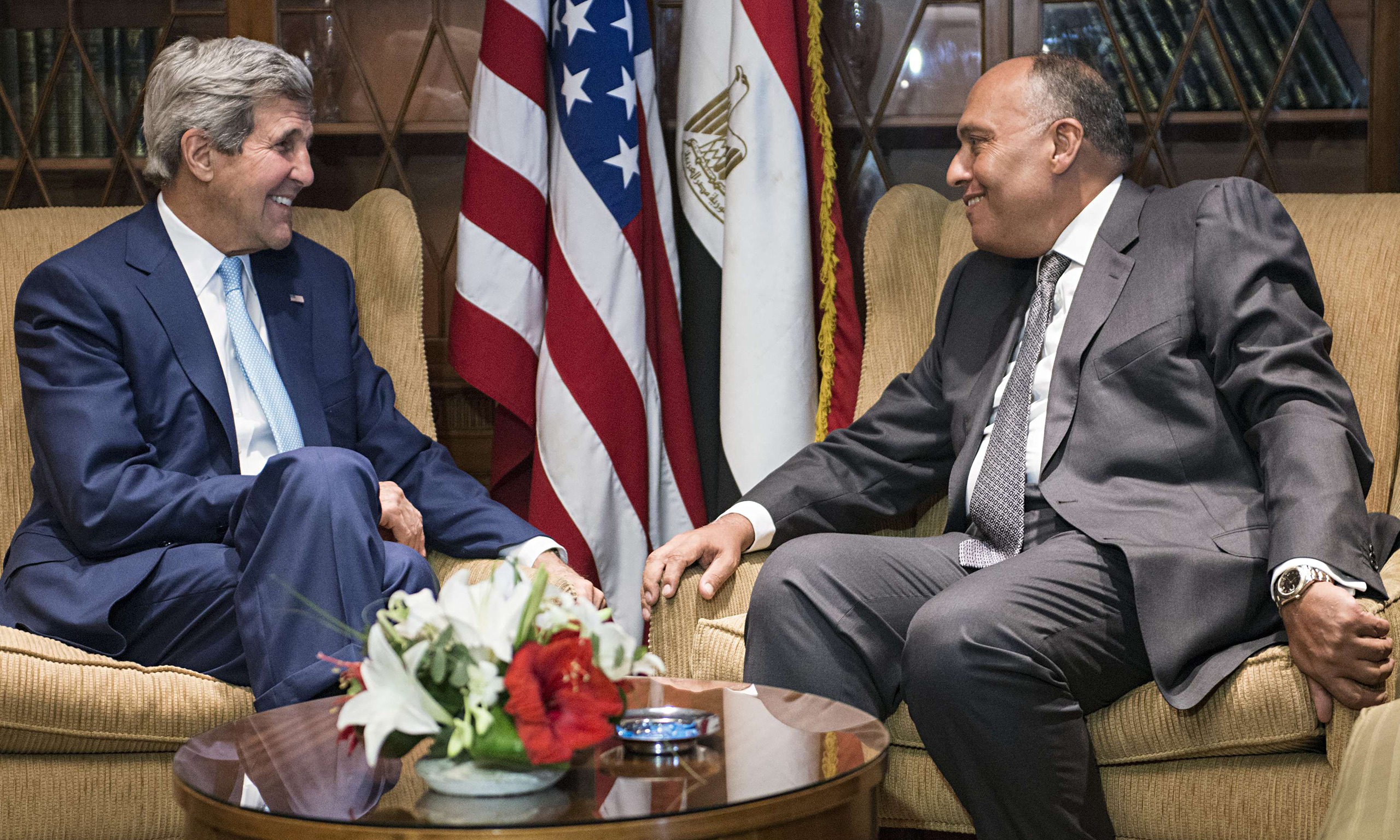 Despite scathing criticism from human rights groups regarding the increasing level of state repression against domestic opposition in Egypt, the Obama administration is now seeking to roll back human rights conditions on foreign aid to Egypt.
During the Congressional budget hearing earlier this week, Secretary of State John Kerry acknowledged the dire human rights situation in Egypt.
"There are disturbing arrests, there are disturbing sentences," said Kerry while simultaneously describing the situation as "complex."
The Secretary defended the US position of waiving the human rights conditions on foreign aid by pointing to Egypt's strategic significance to the US as well as the country's deteriorating security situation and the rivalry between various global actors to exert influence in Egypt.
"We've got a huge interest in making sure that Egypt doesn't go down into a more difficult status than it is," said Kerry.
"There is a major challenge of extremism, bombs that have been going off in Cairo, bombs that have gone off in Sharm el-Sheikh, different challenges."
If the proposal to formally omit the human rights condition is adopted it would end a Congressional restriction stipulating that "15 percent of aid to Egypt is subject to being withheld based on human rights conditions."
Commenting on the administration's new stance on aid to Egypt, Stephen Mclnerney, executive director of the Project on Middle East Democracy said that Egypt's human rights record is worsening.
"This is the worst period for human rights abuses, as well as the closure of political space, in Egypt's modern history," said McInerney.
This new shift reflects the Obama administration's greater focus on an interests-based Middle East policy as opposed to one underpinned by values, which some say the US government had been more interested in during the initial stage of the so called Arab spring. But ever since the initially peaceful uprisings metamorphosed into region-wide protracted conflicts, the US has been more keen on preserving its long-standing strategic interests than promoting human rights and ending the region's decades-long dictatorships.
Following the popularly-backed military ouster of former President Mohamed Morsi and the violent crackdown against the Muslim Brotherhood in 2013, the US decided to suspend military aid worth hundreds of millions of dollars to its long-standing Arab ally Egypt.
Ever since the 1978 Camp David agreement that Egypt signed with Israel, the military aid to Egypt had been a cornerstone of the US's Middle East policy, which the US government now seems to adamantly defend.
A day before this weeks budget hearing, Secretary Kerry told the Senate Appropriations Committee that Egypt's worsened security situation does not excuse human rights violations, "but we have to try to work and thread a needle carefully that can balance the various interests that exist."
Trying to justify the US's new stance, Kerry pointed out that while the US provides USD 1.3 billion in military aid and USD 150 million in economic aid to Egypt every year, regional powerhouse Saudi Arabia and the United Arab Emirates have allotted over USD 20 billion to Egypt during the past years.
"Let me ask you who has leverage, who are they going to listen to, where do they think their help is coming from," Kerry said. "We need to think about this."
Egypt has been criticized by a number of human rights groups for its deteriorating human rights record.
Ahead of the anniversary of the 25 January uprising toppling former president Hosni Mubarak in 2011, Amnesty International released a statement saying that hopes of change had been "shattered".
"Five years after euphoric crowds celebrated the fall of President Hosni Mubarak, the hopes that the '25 January Revolution' would herald a new era of reforms and respect for human rights have been truly shattered. Egyptians have been made to watch as their country reverts back to a police state," read the statement by Amnesty International.
In its 2016 World Report summarizing the situation in 2015, Human Rights Watch criticized the arrest of "tens of thousands."
"Authorities have imprisoned tens of thousands, effectively banned protests, and outlawed the country's largest opposition group, the Muslim Brotherhood. Courts have sentenced hundreds to death, including Morsi, after unfair trials," said HRW.
"The authorities continued to restrict freedom of expression and association by investigating independent nongovernmental organizations (NGOs), arresting people suspected of being gay or transgender, and prosecuting those accused of defaming religion," continued HRW.
However, Egypt's government has denied reports of human rights violations. In an interview, Egypt's Foreign Minister denied that there is a "massive crackdown" on opposition.
"Egypt," said the Foreign Minister, "has been treated as a culprit, and not as a victim."
---
Subscribe to our newsletter
---