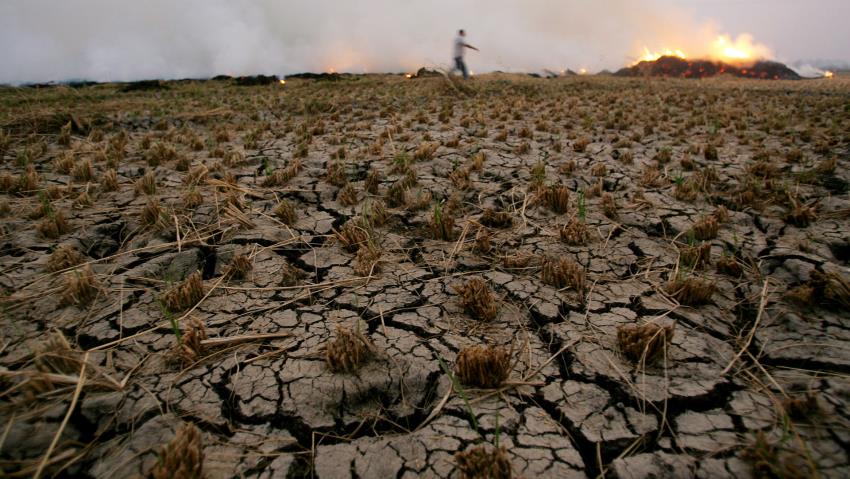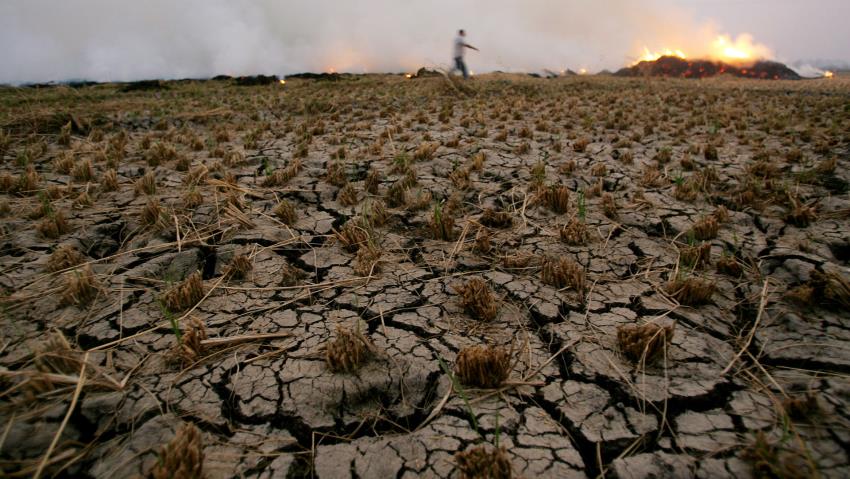 A study published by NASA found that a drought that has affected the Middle East's Levant region – Palestine, Israel, Jordan, Lebanon, Syria – and Turkey since 1998 is likely the worst drought in the past 900 years resulting from human-induced climate change.
The scientists, who published their paper in the Journal of Geophysical Research-Atmospheres, investigated the region's drought history by studying the growth of three rings in the Mediterranean, indicating irregularity in drought patterns. "Thin rings indicate dry years while thick rings show years when water was plentiful," the press release read.
The drought, which was particularly acute in 2006-2007, was likely an effect of climate change spurred on by human activity. The changing climate, in turn, had an impact on societies living in the region.
"If we look at recent events and we start to see anomalies that are outside this range of natural variability, then we can say with some confidence that it looks like this particular event or this series of events had some kind of human-caused climate change contribution," said Ben Cook, lead author and climate scientist at NASA's Goddard Institute for Space Studies and the Lamont Doherty Earth Observatory at Columbia University in New York City.
"The magnitude and significance of human climate change requires us to really understand the full range of natural climate variability," he added.
Connection Between Climate Change and Conflict
Other studies have made a connection between the last decade's climate change-induced drought and social upheavals and conflicts in the Middle East. CNA Corporation Military Advisory Board said in a 2014 study that climate change can serve as a "catalyst for conflict."
An article in the Proceedings of the National Academy of Sciences from last year stated that, "There is evidence that the 2007-2010 drought contributed to the conflict in Syria…It was the worst drought in the instrumental record, causing widespread crop failure and a mass migration of farming families to the urban centers…For Syria, a country marked by poor governance and unsustainable agricultural and environmental policies, the drought had a catalytic effect, contributing to political unrest."
Just before the 2011 uprising in Egypt – the world's largest wheat importer – bread prices skyrocketed due to droughts affecting countries exporting wheat to Egypt. Given that bread constitutes "one-third of the caloric intake in Egypt," and that Egyptians spend about 40 percent of their income on food, the price increases on bread resulting from changing weather patterns is considered by some as one of the reasons for the mass mobilization of people during the initial stages of what came to be called the Arab Spring.
However, the current drought can also contribute to reaching a political settlement in conflicts such as Syria, according to Frank Femia, co-founder of the think tank Climate and Security.
"There is a lot of historical evidence to suggest that broader insecurities drives cooperation between conflicting parties, whether that's at the sub-national level or between countries.  It doesn't follow that water insecurity must exacerbate conflict; it can be the basis for political cooperation," he said to Middle East Eye.
"If conflicting parties within Syria find it necessary and find the political will to work together on sharing water resources and doing so equitably, then that can help spill over into other areas of cooperation that's necessary to build peace in the region," he added.
---
Subscribe to our newsletter
---