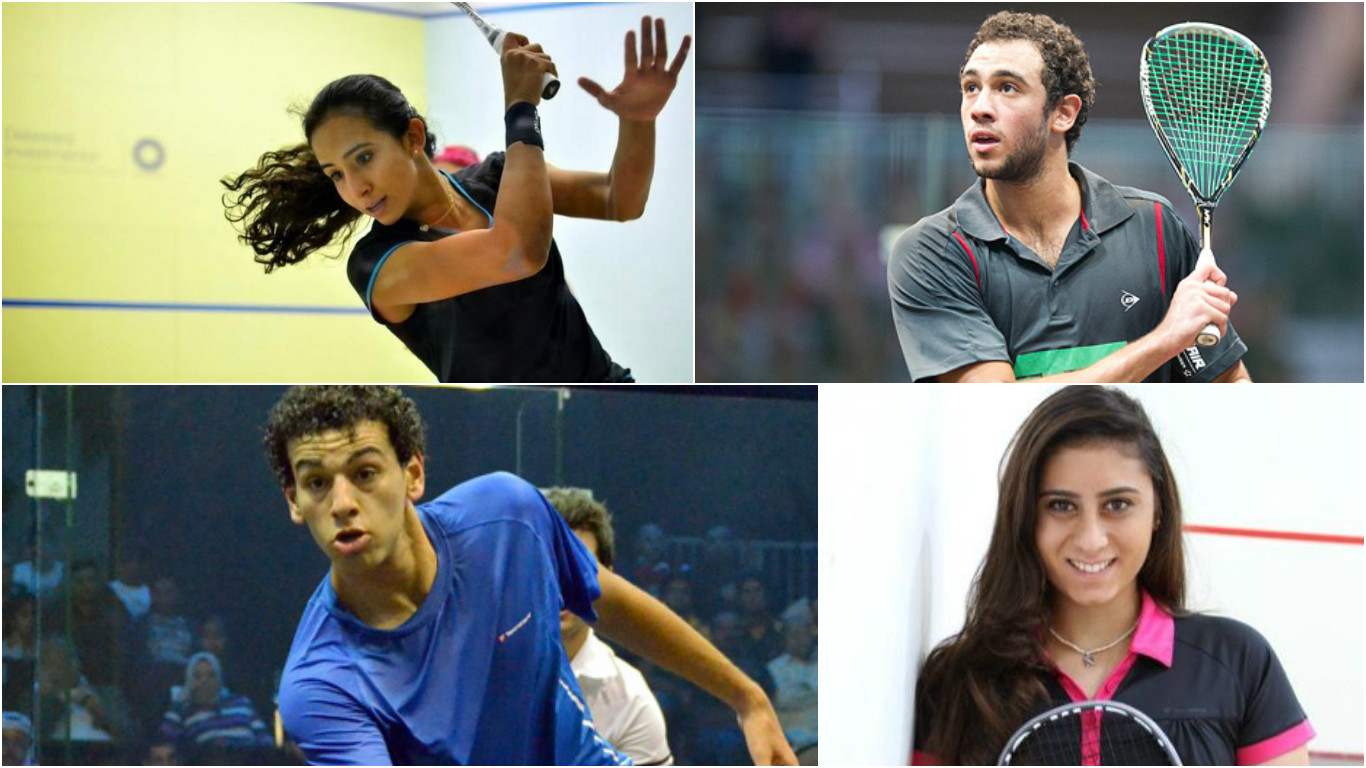 For the first time in history, PSA's World Squash Rankings for the month of October has placed seven Egyptian players among the top 10 male players worldwide, with an Egyptian also topping off the list as the world's best player.
Mohamed El Shorbagy currently sits at the top of the men's rankings, while fellow Egyptians Omar Mosaad, Karim Abdel Gawad, Ali Farag, Marwan El Shorbagy, Ramy Ashour and Tarek Momen are ranked 3rd, 4th, 6th, 7th, 8th and 9th, respectively.
Meanwhile, Egypt's Nour El Sherbini has also maintained her position as the world number one woman squash player. Another four women, Nouran Gohar, Raneem El Welily, Omneya Abdel Kawy and Nour El Tayeb are also ranked within the top 10 women players, landing the 4th, 5th, 8th and 10th positions worldwide, respectively.
Egypt is known for its high-ranking squash players, many of whom have broken world records and secured various championship titles.
Abdel Gawad, currently ranked 4th worldwide and El Welily, currently ranked 5th worldwide, recently clinched the top titles at the Ahram Open, held in Egypt.
Ashour, 29, previously held the number one world ranking for several months in 2010 and the entire year of 2013. However, he recently slid in the rankings and withdrew from competitions due to ongoing issues with his hamstring.
El Tayeb, who currently holds the position of 10th-best woman squash player in the world, recently won her second Egyptian National Championship title and married fellow squash player Ali Farag, ranked 6th worldwide, a few months later. Both are set to compete in the US Open this month.
In January, Alexandria-born El Sherbini became the youngest ever squash player to win the 2016 Tournament of Champions held in New York City. Three months later, she once again broke a record when she became the youngest player to win the PSA Women's World Championship, which helped her climb the world rankings to reach number one.
Gohar has also had her fair share of wins; in August, she clinched her second World Junior Championship title in Poland, becoming the fourth woman to become a World Junior Squash champion more than once. During the same month, she also dominated the Hong Kong Open, where she and fellow Egyptian Ashour won the women's and men's titles, respectively.
Gohar and El Sherbini faced off against each other at the British Open earlier this year, while world number one Mohamed El Shorbagy went head-to-head with Ramy Ashour in the first-ever all-Egyptian final round of the tournament.
El Sherbini and Shorbagy ultimately came out on top, marking the first time Egyptians won both the men's and women's titles at the British Open. While Gohar would have been the youngest woman to win the title if she had won the final match, El Sherbini nevertheless made history as the first Egyptian woman to win the championship since its creation in 1922.
---
Subscribe to our newsletter
---