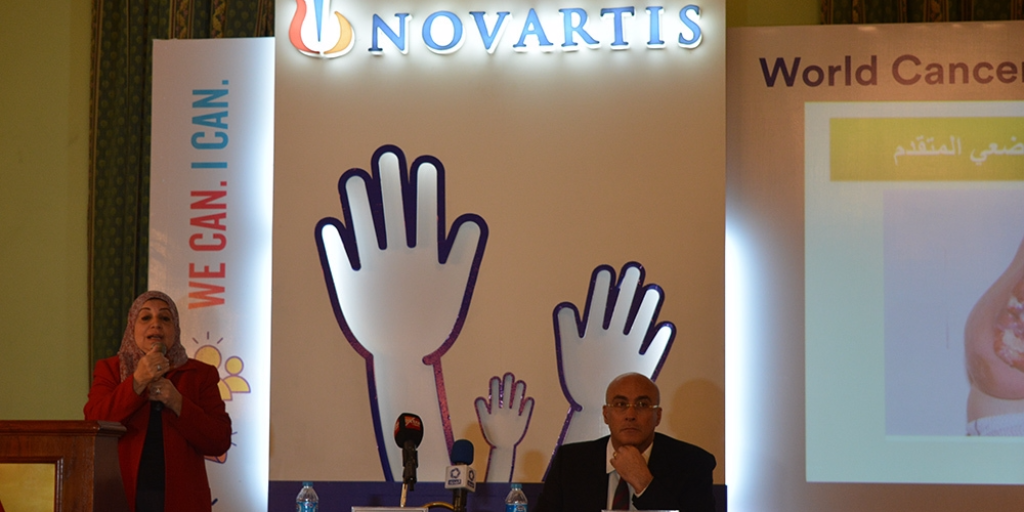 The Breast Cancer Foundation of Egypt (BCFE) and Novartis Pharma celebrated the World Health Organization's (WHO) annual World Cancer Day (WCD) themed "We Can, I Can" in Cairo last week.
The event renewed hope among Egyptian cancer survivors, and encouraged them to continue treatment plans and overcome obstacles they usually face during their journey towards recovery. Leading treatment specialists, including oncologists and surgeons, joined patients in a press event. Renowned painter Khaled El Samahy also led an art session for survivors sharing a message of hope through art.
One day before the event, Zamalek Runners organized a run to raise the voice of life without cancer, encouraging action to reduce the impact of cancer on patients, their families and communities.
Dr Ashraf El Ghandour, Professor of Hematology and Deputy Dean of Medicine at the Alexandria University said during the press event that this year's WCD theme "We Can, I Can" explores how everyone can contribute to alleviate the burden of cancer which affects about 14 million people annually worldwide.
Dr Heba El Zawahry, Professor of Oncology and Head of the Chemotherapy Department at the National Cancer Institute said that breast cancer is the most prevalent cancer affecting women worldwide. However and despite medical advances, the major focus is on awareness and prevention, often to the detriment of stage four patients who receive far less attention.
Nada Shateela, a leukemia survivor, shared her experience at the event. "I was diagnosed at 24, I had plans and dreams and was utterly devastated. Situations like these often reveal a strength we never knew we had. Eventually I learned how to accept the situation and treatment advances gave me hope," said Shateela. "I advise everyone to be considerate in their dealings with cancer patients; as psychological well-being greatly contributes to treatment success."
Another breast cancer survivor, Yasmine Gheith, also shared her experience with cancer at the event.
"I was diagnosed on September 1st and made the quick decision to undergo surgery. I later learned that early detection significantly improves the chances of a cure, reaching 90% in some instances. This makes me hopeful as does hearing many stories of survival," said Gheith. "Sometimes the disease can be a great motivator, and I am now writing to help people through difficult times. I hope all patients are surrounded by positivity, hopeful in the knowledge that medical progress now means that a cure is possible."
---
Subscribe to our newsletter
---