Note: This episode contains an expletive. Also, the episode above and the article below are supplementary and different. The following originally appeared on Kerning Cultures.
We, the People
On January 27, 2017, President Donald Trump issued an executive order banning immigration into the United States from the seven countries of Iran, Iraq, Syria, Yemen, Libya, Sudan, and Somalia. The full text of the executive order documents that the order was issued because, "In order to protect Americans… the United States must ensure that those admitted to this country do not bear hostile attitudes toward it and its founding principles…."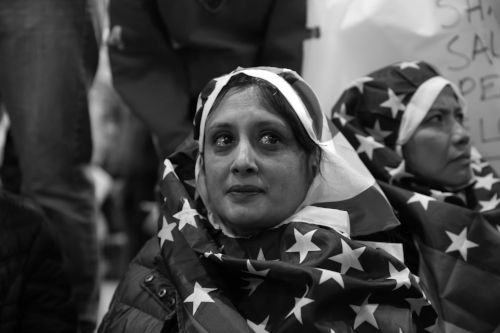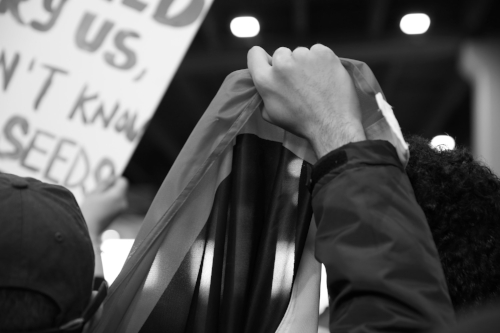 The week that ensued was chaotic, at best. There weren't clear instructions of how to roll out this new immigration policy, even those within the Bureau of Population, Refugees and Migration of the U.S. Department of State, the bureau that processes incoming migrants, were uninformed and were "refreshing the White House website for updates", too.
Thousands were affected, prohibited from boarding planes from foreign destinations because airlines pay a fine of USD 3,000 per passenger they permit aboard who are improperly brought to the US. For those hundreds who boarded planes on Friday before the ban was enacted, they were prohibited from entering the US; thousands of family members and friends were unsure where their loved ones would be sent to next. Estimates place the number affected in the area of 60,000 persons in the ban's first week.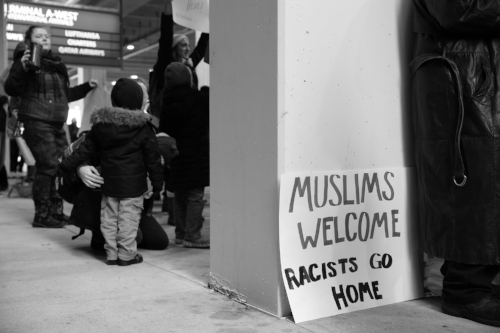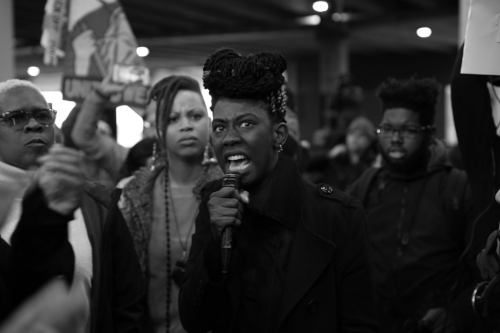 But statistics and figures don't ever paint the full picture, do they? We want you to meet one person whose life was affected by the recent travel ban. Meet Ibrahim:
Ibrahim initially moved to the U.S. six years ago from Tehran, Iran, and his time since then hasn't always been easy. The first time he came, it was January 2011 and the Iranian protests were in full-force. He moved in with his older brother in Michigan, excited at the prospects of starting his American life. "I [felt] so happy," Ibrahim said. "Because everybody talk about America. In Iran, America is like a heaven. They think everything is perfect. Because Hollywood makes really good movies."
But after a few months, tousled by the language barriers and the cold, he returned to Tehran.
Back in Iran, amidst rising prices and a difficult economy, he thought to try once more in the United States. A friend of Ibrahim's encouraged him to join him in Charlottesville, Virginia, where he was studying at the University of Virginia, and Ibrahim thought, "why not?" When he told his brother, his brother scoffed, "I will see you [back in Michigan] after one month… because [Charlottesville] is not easy."
Ibrahim took on the challenge. He returned to the US in 2012, this time to Charlottesville, and almost immediately, felt comfortable. "And I said, man, here is nice. I don't want to go to Detroit or Tehran. I want to start my new life in America. [Because] Charlottesville is exactly like Ramsar, one city [we have] in Iran. It is green, quiet, clean. And lots of nice people. And here, I find lots of jobs."
Ibrahim started working at a local Indian restaurant where the owner took him under his wing and helped teach him English. From there, he began working at the University of Virginia (U.Va) dining hall, where he enjoyed speaking to students and practicing his English. "Some people when they try to talk to American people, they are nervous. They try to run away. But I never do that. I love to talk. If I make mistakes, they can help me because that is why American people are nice."
He quickly befriended students during his time off while playing ping-pong in the U.Va recreational room. Speaking with Ibrahim, I learned rather quickly that he's not one to take it easy on unworthy opponents. He was a ping-pong champion in Tehran from the age of 11, and sources tell me he has yet to lose a game at U.Va.
Ibrahim is settled now. He has a car, an apartment, and most importantly, language skills. At this point, enough time has passed and the paperwork has finished processing for him to bring his wife, Mahiye, to join him in Charlottesville.
In 2015, Mahiye arrived from Iran. The two lived apart for the first four years of their married life as Ibrahim settled in the United States and began processing Mahiye's paperwork. The US visa vetting process alone takes at least two years before approval. Finally together, they embark on starting their family. In 2016, they got pregnant, but miscarried.
Now, in 2017 they're pregnant again, and further along than before. As they eagerly anticipate their delivery, they invited Mahiye's mother to come from Iran to be with her daughter. Mahiye looks to her mother to teach her the secrets of motherhood, to help her with pregnancy and delivery, and to relieve the burden on the new mother when there's an infant in the home and Ibrahim has to continue to work.
But because of  the recent US immigration ban, Mahiye's mom won't be able to come. When the couple heard the news, they were devastated. "My wife was crying," remembers Ibrahim.
Ibrahim says he doesn't understand why this is happening, and especially to Iranians.  He thinks maybe it's "because [the Trump Administration] thinks that the Iran government supports terrorists, [meanwhile] the Iran government thinks that the American government supports terrorists."
He struggles to reconcile the reality of the ban with the lofty ideals he studied in his free time. "When I read about constitution in America, they said 'we the people.' And we are people, so what is different?"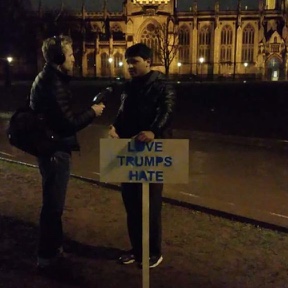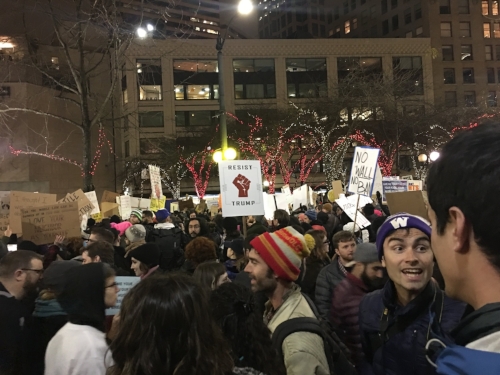 EPISODE CREDITS
This episode was produced by Alex Atack, Razan Alzayani, Lilly Crown, Hebah Fisher, and Jackie Sofia, with special thanks to producer Dana Ballout for tracking down Nisa in Djibouti, and to Rabiya Shabeeh for fact checking. Sound design and original music by Mohamed Khreizat. Article written by Lilly Crown.