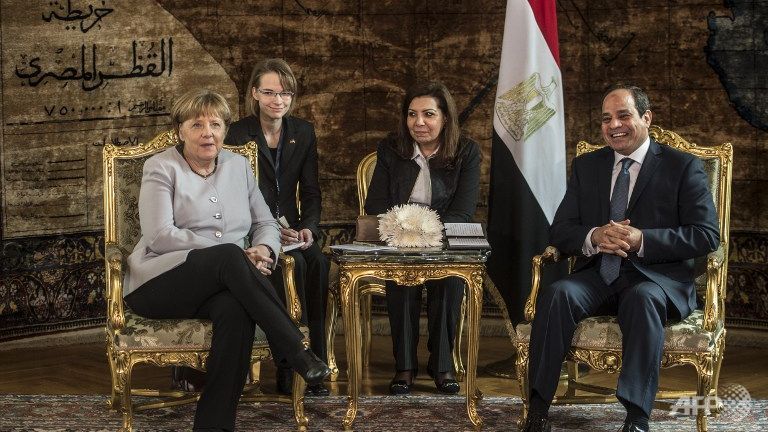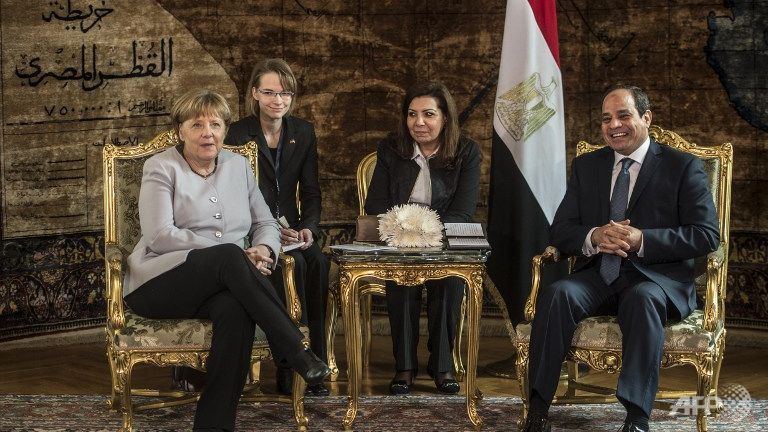 The German Chancellor Angela Merkel arrived in Egypt on Thursday for a two-day visit. The long-awaited visit was the first for Merkel since Al-Sisi took office as President in 2014.
The visit, which saw Merkel meet with several top Egyptian officials, touched upon several economic issues, the refugee crisis and attempts of combating extremism.
Prior to their press conference, Al-Sisi and Merkel held a meeting that was attended by several Egyptian and German officials including the foreign ministers.
What Sisi Said
According to the presidency spokesperson Alaa Youssef, Al-Sisi said that it is important to increase the German investments in Egypt, as several German companies are very active in Egypt.
Al-Sisi added that Germany is the most important economic partner to Egypt in Europe, adding that significant progress in Egypt's economy is now obvious after the tough economic program Egypt has undertaken.
During the press conference, Al-Sisi also said that he agreed to enhance cooperation between Egypt and Germany in several fields, adding that he informed Merkel of the steps Egypt had taken to achieve political stability and economic development.
The Egyptian president said that the bilateral relations between Egypt and Germany have boosted over the past few years, stressing that Egypt is serious about developing good relations with its European partners.
Concerning the economic situation, Al-Sisi said that he briefed Merkel with the economic reform program of Egypt, praising Germany's support to the Egyptian economy.
Addressing Merkel, Al-Sisi said that he hopes this visit will be a gate for further cooperation between the two countries.
What Merkel Said
The German Chancellor said that the cooperation between Egypt and Germany is strong, particularly on the economic level.
Merkel and Al-Sisi inaugurated on Thursday three new power stations by Siemens that are forecast to deliver electricity to about 45 million citizens.
Having received about 500,000 Syrian refugees, Merkel announced that Germany will financially support Egypt with $US 250 million starting 2018. She added that another $US 250 million will be given to Egypt to support Egypt's economy following the recent economic decision that included the flotation of the Egyptian Pound. Al-Sisi welcomed the decision, adding that Egypt has received nearly five million refugees from various countries. The Egyptian President said these refugees are not staying in shelters, but rather integrating with the Egyptian society.
Touching upon conflict in Libya, Merkel said that all the political factions who are in dispute in Libya should be united.
"If each faction received different messages, they won't reach a political consensus. They all should discuss under the umbrella of the United Nations (UN)," said Merkel.
On terrorism, Merkel said that there should be international collaboration to combat extremism and finding those who finance extremists, praising Al-Sisi for his role.
During her visit, Merkel also met with the Gran Imam of Al-Azhar Ahmed Al-Tayeb. Al-Tayeb hailed Merkel's humanitarian stance on the displaced and refugees from the Middle East. He also said that Al-Azhar is appreciating her speeches in defense of Islam and Muslims that were made during Berlin protests against Islamophobia.
Al-Tayeb stressed that the ultimate goal of Al-Azhar is to renew the religious dialogue to combat extremism and to stand against deviation of religion to shed blood and destruct nations.
Merkel also met with Pope Tawadros II. He said that the conditions of Christians in Egypt have significantly improved following the 30 June mass protests that were protected by the Egyptian Army.
The Pope said that 39 Christian MPs were elected in the House of Representatives, compared to only one in the past. He added that the state has also reconstructed the churches that were burned and attacked by Islamists following the June 30 uprising.
"Some unrest happens every now and then as a result of ignorance, lack of education and poverty," said the Pope. "However, it swiftly gets solved because it is similar to those minor clashes that happen within the one family."
---
Subscribe to our newsletter
---