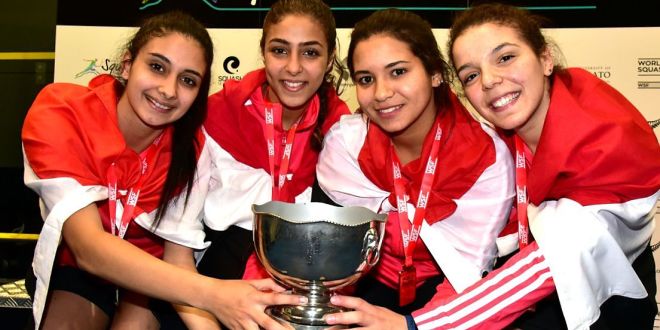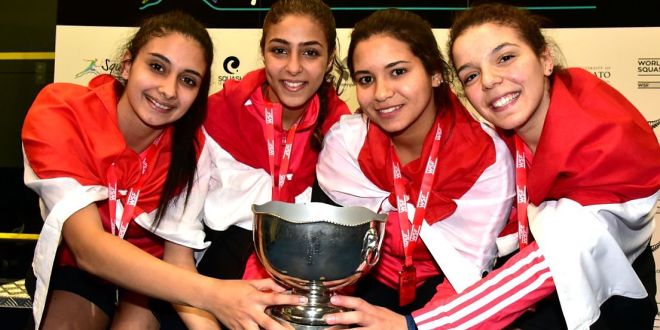 July 2017 is coming to an end with a great victory for the Egyptian squash team after Rowan El-Araby, Hania El-Hammamy, Zeina Mickawy, and Amina Yousry have won the World Junior Squash Championships in New Zealand.
This is the sixth consecutive time and the eighth time for Egypt to win the girl's team tournament as it did before in 1999, 2003, 2007, 2009, 2011, 2013 and 2015.
Moving to the individual tournaments, Egyptians El-Araby and Marwan Tarek won the girls' and the boys' competitions, respectively.
The victory was guaranteed for Egypt as the girls' individual final included El-Araby and her compatriot El-Hammamy. In a match that lasted for 36 minutes, El-Araby won by a score of 3-0 (11-7/11-9/11-8).
"I did not expect it to be three-nil. All the matches I play against Hania are nearly close. This is just amazing. I am sorry, I do not really have many words right now," said El-Araby expressing her joy.
Egypt and France competed for the boys' individual final, it was Tarek against Victor Crouin. The first game was for Tarek (11-9). Crouin won the second game (11-3). Eager for success, the Pharaoh beat his rival (11-6) in the third game. Crouin did not lose hope and ended the fourth game to his favor (11-3). Tarek won the fifth and the decisive game by (11-3), ending a match the lasted for 58 minutes to his favor, by a total score of (3-2).
"I cannot think right now, I am the world champion, I am the world champion," said Tarek repeatedly commenting his victory, "Dreams come true."
Egypt won the boys' individual tournament eleven times thanks to the following squash champions: Ahmed Barada, Ahmed Faizy, Karim Darwish, Ramy Ashour, Mohamed El-Shorbagy, Amr Khaled Khalifa, Marwan El-Shorbagy, and Karim El-Hammamy.
On the other side, Egypt won the girls' individual competition owing to Omenya Abdel Kawy, Raneem El-Welily, Nour El-Sherbibi, Nour EL-Tayb, Habiba Mohamed, and Nouran Gohar.
---
Subscribe to our newsletter
---