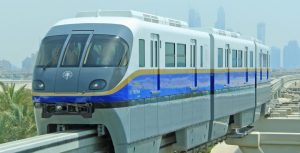 Privately-owned Chinese car making company BYD announced Tuesday plans to build a straddle-beam monorail, or 'sky rail,' transit system in Egypt's second city Alexandria, China's official press agency Xinhua reports.
The company said it inked an agreement on October 21 with Alexandria's transportation authority to construct a 128-kilometer single rail track.
Compared to the current 32-kilometers-long tram system in the city, the monorail would be four times that length.
No details of the total value of the project have been revealed yet. However, the carmaker stressed that, compared to an underground subway system, a monorail requires just one-fifth of the building cost and one-third of the construction time.
If completed, the monorail in Alexandria will be the first straddle-beam monorail system to be constructed on the African continent.
"BYD's SkyRail is a clean, affordable and safe way for people to commute. It also utilizes limited road space in towns and cities while minimizing disruption to local communities," said AD Huang, general manager of BYD Middle East and Africa Auto Sales Division.
The Chinese carmaker started manufacturing and selling passenger vehicles, in Egypt, 13 years ago. According to Huang Zhixue, general manager of BYD's Middle East and Africa Auto Sales Division, almost one-third of taxis in the capital Cairo are made by BYD.
Alexandria Passenger Transportation Authority chairman Khaled Eleiwa said the monorail is expected to begin operations in the coastal city as soon as possible.
As is the case with Cairo, Alexandria's public transit system is plagued by problems, including under-developed services and difficulty coping with the large number of passengers using it.
In addition to the worn-down tram, initially constructed in 1863, the city also has a limited number of public buses. Like Cairo, privately-run minibusses dominate the transportation market.
In recent years, local authorities have been looking to develop new transit solutions. Just a few months following their negotiations with BYD, the city's transportation authorities decided to go for the monorail solution.
Similar transit solutions have been under discussion in Cairo.
In 2015, Egypt's Minister of Housing announced that the country's first monorail would become operational in 2018. The minister said that the monorail would be built by the Egyptian-Canadian consortium and would connect areas of October 6 and Sheikh Zayed with Giza and Cairo.
---
Subscribe to our newsletter
---