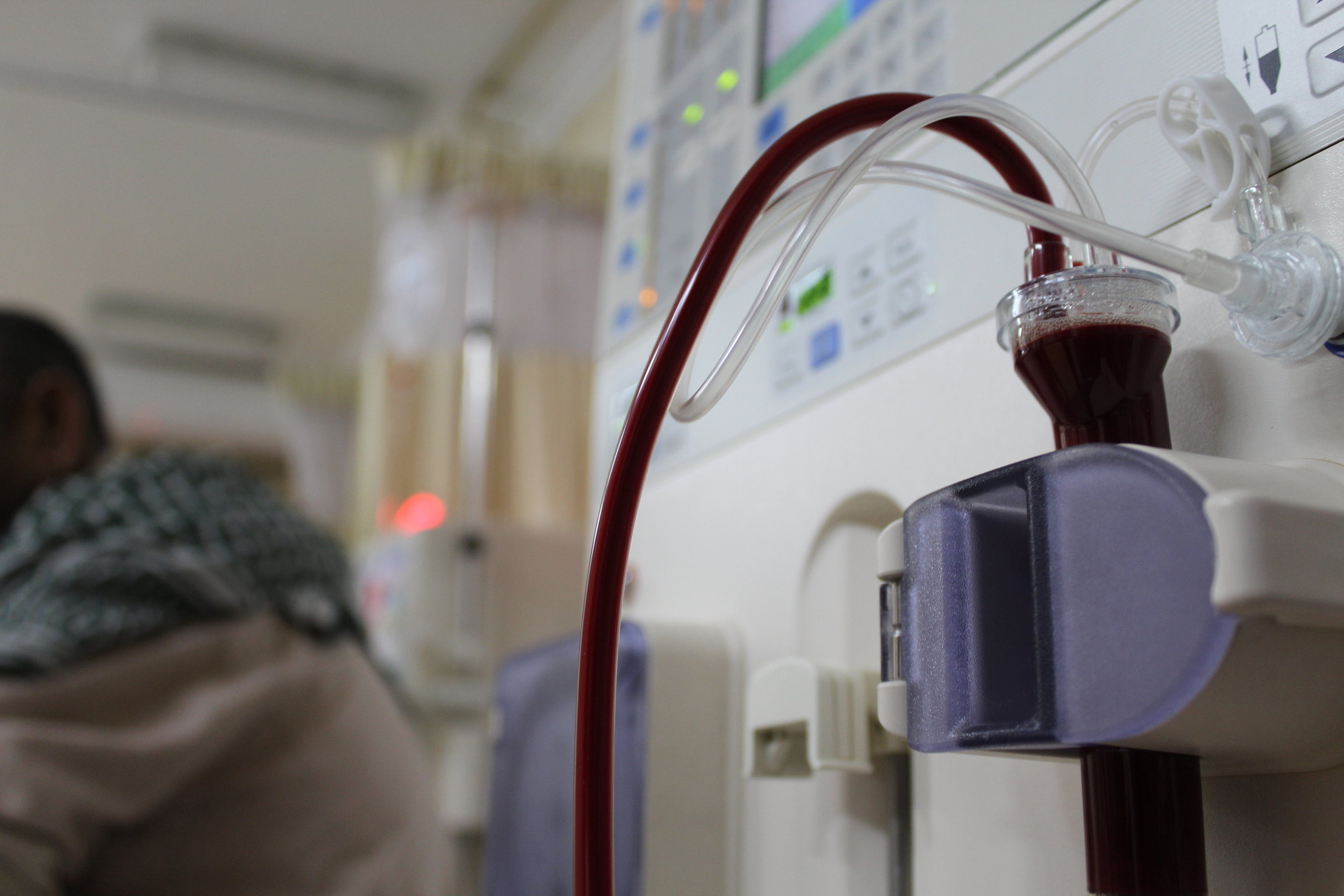 In a conversation with kidney liver patients at al-Rahma hospital, stories of hopes, fears and struggles reveal the personal side of the fight against kidney failure in Egypt.
"The people here are giving us everything we need," said a 57-year-old retired accountant, Ahmed el-Sharkawy, in a voice overshadowed by the pumping of the dialysis machine hooked up to his arm.
Al-Rahma – Arabic for mercy – is a charity hospital in el-Hay el-Sabea – or district 7, one of the constituents of Cairo's 6th of October City; it is equipped with some half a dozen dialysis machines. Al-Rahma, among similar clinics around Cairo, has become a haven for the country's kidney failure patients.
Egypt ranks number 12, globally, in the number of deaths caused by End-Stage Renal Disease (ESRD) a late stage of the disease causing a sharp deterioration of the kidney function. A high prevalence of diabetes and hypertension in the country are the main causes of the health issue.
However, el-Sharkawy believes that similar cases, referring to people who share the same health condition, have been largely marginalized on both the societal and legislative levels.
"We are so many, but no one talks about us […] There has to support from the state in everything: the dialysis, the filters, the medicine, all of it," he said.
Hospitals like al-Rahma cover the expenses for IVs and medical filters and provide the facilities and machinery. However, Egyptian public health care only covers a little more than 50 percent of the necessary expenses, requiring patients to pay what is known as a "session compensation" that sometimes reaches EGP 150.
The most recent estimates show that about 60,000 patients undergo renal dialysis, an often physically taxing, expensive and time-consuming process, with some patients needing up to three weekly sessions, each taking an average of four hours.
Some kidney disease patients cannot afford to pay the expenses, and many lose their jobs due to the demanding schedule of dialysis.
"There were a lot of problems; some people got blood toxicity and died, this is when we decided to move," said Rodaina Abd el-Halim, who runs a Facebook group of more than 10,000 members with the name "Kidney Disease Patients, We'll Live Our Lives."
Abd el-Halim has been undergoing dialysis for 17 years.
"Are we going to let people die? Or maybe we can gather donations from each other and help cover these people's expenses."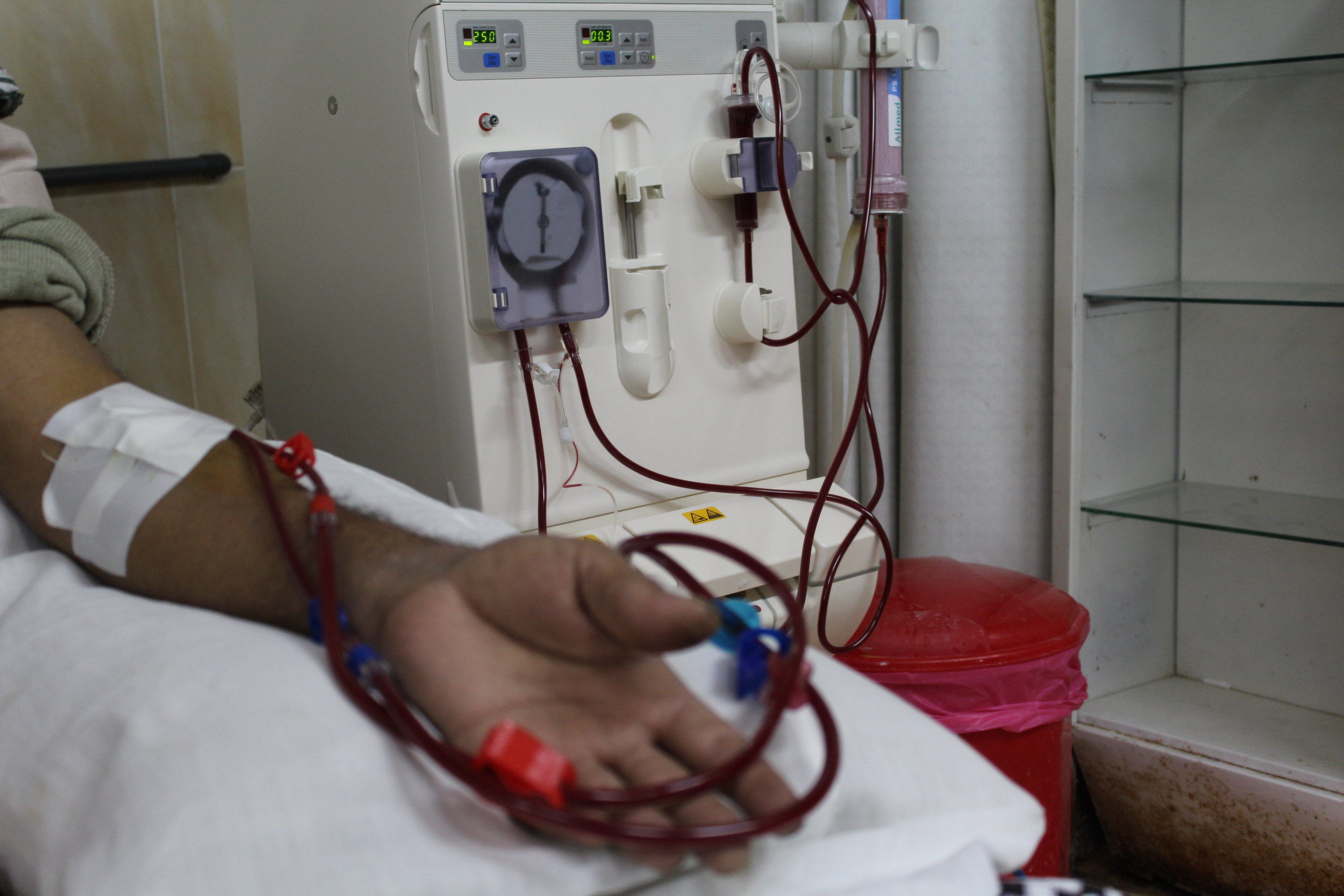 The group is a community of patients, doctors, nurses, and others willing to help with the cause. Members exchange medical advice, stories, recommendations, and raise money to support one another.
"Kidney patients take about 15 different types of medication […] after the hike in prices of medication, some stopped taking their medicine," she said.
In November 2016, the Central Bank of Egypt (CBE) devalued the Egyptian pound as part of an International Monetary Fund (IMF) reform plan. The devaluation shot up the price of imported medication, and some pharmacies and medical companies stopped importing expensive medicines altogether.
"This is what we are trying to do in our campaign. If someone has extra medicine, they share it; people are empathizing with one another," Abd el-Halim added.
One poll on the group asked whether it is better for ESRD patients to do dialysis or perform a kidney transplant, which sparked a debate for discussion. The overwhelming majority of responders warned against going the transplant route noting its risks.
Egypt is a conservative Muslim majority country where there has been a contentious religious and legal debate over organ donation.
The first living donor liver transplants (LDLT) in the country took place in 1989 and 1991 at the National Liver Institue in the governorate of Minufiyah. The procedures were successful, but only elongated the recipient's life by about 11 months.
Since then, funding for LDLT programs in both private and governmental hospitals helped make considerable headway in the efficacy of LDLT procedures in the country.
However, since LDLTs usually involves the removal of a small graft from the donor, which in many cases is insufficient for patients with end-stage liver-disease who need a full healthy liver, the procedure does not always offer a cure.
The prevailing religious and governmental stance on post-mortem donation also severely limits the number of eligible organ donors.
Egyptian parliament passed an amended organ donation law which legalized post-mortem transplants in 2010.
The law also states that it is permissible for relatives to donate their organs to one another, but donations from non-relatives require a proof of terminal urgency, decided through a committee under the Ministry of Health which reviews each case individually.
The law, however, adopts a biological, as opposed to, a clinical definition of death, in line with al-Azhar's, the country's highest religious authority, religious verdict.
Clinical death involves the cessation of heartbeat and breathing, while biological death occurs shortly after, with the degeneration of brain tissue and other organs. Most organs are unusable for transplant after biological death.
With the stringent regulation on donation, as well as rising levels of poverty, an underground market for illegally obtained organs thrived in the country; Egypt is one of the top countries involved in organ trafficking, according to the U.N.
Numerous criminal networks have been taken down by law enforcement in the past year alone, involving doctors, brokers, solicitors, and nurses. An alarming number of illegal donations—many of which involve wrongdoing are carried out in governmental hospitals.
Victims are often coerced into giving up their organs for a scant financial incentive.
"I refuse to buy a kidney," Abd el-Halim said.
"I have had people message me on the group begging to sell their kidney for financial reward. How much money will you get? 10 thousand, 15 thousand pounds? The money will disappear, it is not worth your health."
Last month, Ministry of Health officials stated that they have started accepting official wills listing a post-mortem organ donor status, effectuating article eight of the 2010 law.
It is, however, uncertain whether the Ministry is sufficiently equipped for such a task.
Khaled Samir, member of the Egyptian Medical syndicate told Al-Badil newspaper that the Ministry does not yet possess the organ banks and other facilities necessary for a large number of donations.
Nevertheless, it remains unclear just how relevant the minimal government effort to foster social acceptance for donation would be for organ failure patients given the state's existing definition of death.
With the continuing lack of regulation, as well as delayed policy implementation, transplant is still a largely unreliable option for kidney and liver failure patients in Egypt.
This article is produced by a multimedia journalism student, Ahmed Refai, at the American University in Cairo (AUC) and supervised by professor Kim Fox in Fall 2017.
---
Subscribe to our newsletter
---