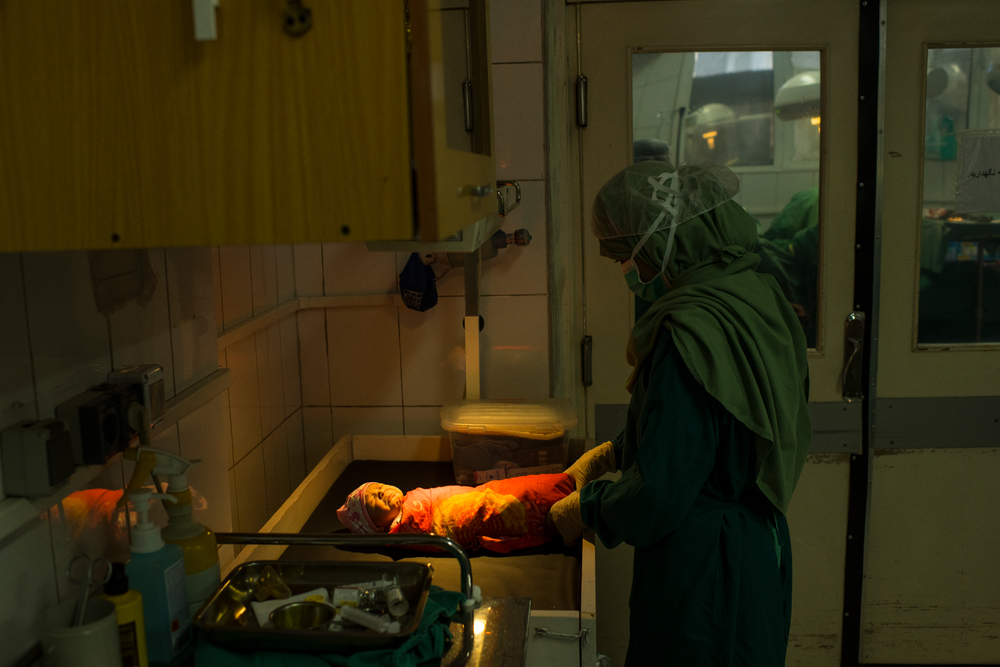 Médecins Sans Frontières (MSF) – or Doctors Without Borders – in Egypt held one of their most memorable events in Cairo last week, where three doctors gathered to narrate their stories in afflicted areas.
Hagar Mohamed, Ehab Omar and Gihan Mostafa assembled to talk about their stories among tens of attendees anticipating to know more about how it is like to be a doctor without borders.
MSF is an international and independent association that is made up of doctors and health sector workers and it is open to all other professionals who might help in achieving its aims.
From Upper Egypt to South Sudan: Hagar Mohamed
Hagar Mohamed graduated from the faculty of medicine in 2010. She was appointed to work in a small unit in her village.
"I chose to be a doctor of endemic diseases. My father was suffering from Virus C and I wanted to help him; however, he died two years later," said Hagar. Following her father's death, Hagar decided to reassess her life in determination towards what she wants in life.
"I felt I could do more," said Hagar after an advertisement on MSF grabbed her attention. At this moment, she saw a glimpse of her dream in front of her eyes. "It was a dream of mine to join MSF; I didn't, however, have enough information on it. I thought it was hard to reach them," Hagar continued.
Afterwards, Hagar applied at MSF and went through a rather long recruitment process. The more she read, the more she was fascinated by what MSF does. "I grew more excited, the process was long but I succeeded," Hagar said in joy.
Remembering her father, Hagar recalled a situation when two rival tribes from her village and another were shooting at each other. At the time, Hagar was at work and her mother called her insisting to send someone to pick [Hagar] up. However, her father told her that this was the right time that she does her job and people need her presence. "If your life is subject to real danger, I'll come and pick you up myself. Otherwise, stay where you are," Hagar's father told her over the phone.
Her first mission was in South Sudan, she embarked on a research quest to know more about South Sudan and the situation there. At the beginning, Hagar was not familiar with the disputes in South Sudan. The second obstacle she had to deal with was persuading her family to travel alone.
"It wasn't really difficult to convince my family to go. This is how my father raised me, to be confident," Hagar assured, adding that social pressure was much worse. She uses to hear comments on her solo trips such as 'what would you do there and why?'
On arriving in South Sudan, the airport was under construction and people were scattered in camps. "I wanted to take the first flight back to Egypt on seeing the situation at the airport," Hagar cast her mind back to what she saw when she took her first steps in South Sudan.
Hagar's first impression on South Sudan was that people were suffering from extreme poverty. They have an abundance of natural resources including heavy rains, two rivers, and petroleum, but all to waste Disputes and wars are not giving any leeway to real progress.
"MSF project in South Sudan is one of its biggest projects, and the number of doctors working there is massive. I worked on three projects out of 16 active projects operating in South Sudan," Hagar said.
In her last project, it took people days and weeks to reach MSF. Hence, some cases were severely deteriorated. One of the patients that Hagar remembers well was a pregnant woman who arrived at their headquarters with severe complications.
"I am not a gynecologist, I had no idea what to do," Hagar revealed. However, a helicopter transporting cases of no emergency took the women, and she was saved, but the baby and the uterus were not.
"What did I learn from MSF? To appreciate that I can do more, I got exposed to different cases that I saw in books, but never encountered in Egypt," Hagar concluded.
Passion For Humanitarian Work Long Before MSF: Ehab Omran
Omran is a professor in the Faculty of Medicine of Kasr al-Aini, Osteology department and he specialized spinal surgery.
"When I first chose the Osteology specialism back in the mid-1990s, a professor told me that it is called emergency medicine," Omran said.
"During the times of war, hospitals can be prepared, but these preparations cannot be enough to absorb the number of injuries during wars. We spent four days on the borders to be able to access Gaza," Omran remarked.
When we look at wars from the outside, we often think that it is a rather hard situation. However, when you are suddenly in the middle of the events, you forget the fear and the only thing you think about is how to be useful in this place.
Omran joined MSF in 2012 in Afghanistan followed by Burundi in 2017. Omran's work in the humanitarian field started long before he joined in MSF. In 2009, when there was a war on Gaza Strip in Palestine, a group of doctors decided to do more than just sympathizing and condemning.
Ahead of joining MSF, Omran also went to Darfur where the basic needs including food and were lacking. In 2012, Omran went to North Afghanistan to work in Osteology center. Two years later, he had another mission at the same place.
In 2015, he joined MSF mission in Haiti, where the organization still operate following the deadly earthquake of 2010. "It's a poor area [Haiti], it's not like we think it is. Extreme poverty promotes violence and this is why MSF work in Haiti is endless," Omran continued.
Last Summer, he was in Burundi where there are ongoing tribal disputes. These disputes have explosives and bombs, hence there are injuries. "Working in a place where there are armed disputes is different from work in Egypt," Omran concluded.
From Executive Manager in Egypt to Women Saver in Afghanistan: Gihan Mostafa
Born to two Anaesthesia doctors, Gihan graduated from the faulty of medicine in 2000. Upon concluding her BA degree, Gihan moved to Ismailia governorate for general training – a mandatory assignment that should be taken by medicine students following graduation.
"I spent two years in Ismailia, I grew passionate about gynecology and upon my return to Cairo, I was awarded by the Ministry of Health or managing to reduce the number of births per family by about 1.5 percent through promoting pregnancy spacing treatments and implants," Gihan said.
Gihan moved back to Cairo to complete her MA studies. She worked at Boulak al-Dakrur hospital for eight years, and more than 25 cases each day, including five to six cesarean cases.
"I achieved a lot of things, but also became aware that the medical field is not solely confined to the operating rooms. Management is also fundamental, hence, I studied for one year for the Diploma of total quality management of health care from the School of Business at the American University in Cairo," Gihan went on to say.
After multiple promotions, Gihan landed a position of executive manager of a prominent hospital in Cairo. "But my goal was never to collect money and score high positions," Gihan assured.
Then, Gihan heard about MSF and applied. After a rather lengthy recruitment process, Gihan got accepted. She traveled to Brussels for the orientation program where she received all the training and information she wanted. Upon her return to Cairo, she received her offer to go to Afghanistan.
"My husband and family were quite worried, but I chose to know more information to be able to take a decision. I wanted to break the fear barrier with a calculated risk," Gihan added.
MSF provides all the needed information about the mission including the security status and the number of cases they receive on a daily basis.
"I chose to study medicine to save people, and gynaecology is not easy because in only one moment, you can lose a mother or a child and it becomes a disaster for the entire family," Gihan said, adding, "I want t support women because when women receive support, they become a source of joy to their families.
In Afghanistan, Gihan worked on emergency cases constantly. She had a team of 10 Afghani doctors and they all learned from each other. "For the first time, I had to deal with cases that I read in books but never saw in reality in Egypt, Gihan said, concluding, "Thankfully, during my stay, there were no death cases."