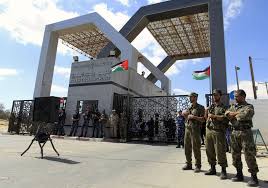 Egyptian authorities have announced that Rafah Crossing will be opened in both directions starting Saturday until May 12.
The opening is meant to allow the passage of humanitarian cases; it is not the first of its kind. The last time there was a decision of the border opening it was in March 23 for two days, according to Egypt Today.
In terms of the impact it has for Palestinians, the border crossing is one of the most important between Egypt and Gaza. It is focused on the individual movements between the two courtiers. However, it is often used for he passing of goods for emergency relief.
As it stands, it is one of the few areas of access for 1.8 million Palestinians from which they can travel seeing as the only airport which used to allow Palestinians to travel, the Yasser Arafar International Airport, was destroyed by Israeli forces in 2001.
The border was often criticized as being a portal for terrorists and armed groups to travel from and gain access to Egyptian territory. Head of Fatah's Central Committee Azzam al-Ahmad issued a statement in February where he voiced out his agreement with Egyptian authorities on not giving terrirorists a chance to use the crossing, according to Egypt Today.
Accordingly, the tight regulations around the opening duration of the crossing is meant at preserving the two countries' security by controlling the flow of individuals.
Although there are stronger ties between Egypt and Israel, Egypt persisently reiterates its support for the Palestinian reconcilation agreement which was signed in Cairo between Fatah and Hamas in October.
---
Subscribe to our newsletter
---