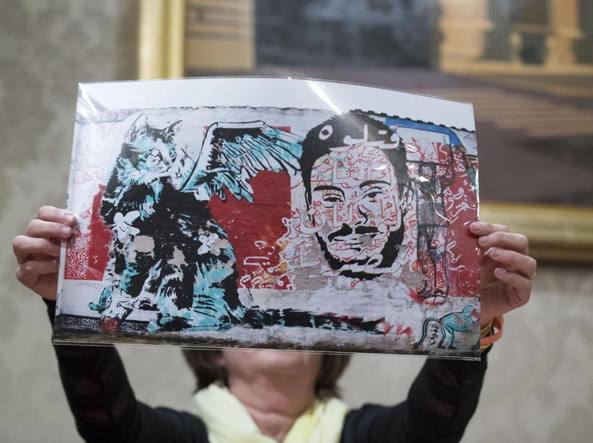 In the latest development in the Giulio Regeni case, the Egyptian prosecutor general has agreed to give the Italian prosecutor recorded videos from the Cairo Metro camera in relation to the case of the alleged abduction and murder of Regeni. The videos are accompanied by other documents related to the case.
In a press release published on Tuesday, Nabil Sadek, the prosecutor general said that throughout the previous days "several meetings were held between the Egyptian and Italian investigative teams, and the recordings were retrieved by the most advanced scientific techniques".
This comes two weeks after the Italian news agency Ansa has reported that a Russian team has been tasked by both the Egyptian and Italian authorities to retrieve the Cairo Metro videos on the day of Regeni's disappearance (25th of January 2016).
Regeni is a Cambridge University, Italian student who did his research on independent labor unions in Egypt. He disappeared on the 25th of January 2016, and 9 days later, his body was found near Alexandria-Cairo highway bearing severe marks of torture: two dozen broken bones, as well as bruises and burn marks.
The Egyptian government has consistently denied its involvement in the murder of Regeni, but Reuters has reported that the head of the Egyptian union for independent vendors has reported Regeni to the police weeks before his arrest.  According to the same Reuters report, Regeni was then subjected to security "checks" by the police.
Italy's top prosecutor Giuseppe Pignatone also previously stated that Italian PhD researcher Giulio Regeni was murdered because of his research into Egypt's independent labor unions.
The Egyptian police had killed 5 men whom it accused of abducting, torturing and killing Regeni.  It claimed to have found Regeni's personal belongings in one of the murdered men's house. The police also called them a gang who target and kill foreigners. This claim was challenged by the Italian authorities leading to a diplomatic rift between the two nations. A New York Times report later shows that the Egyptian Prosecutor General told his Italian counterpart that two Egyptian members of the police were charged for the murder of the 5 men.
Last year, Regeni's family appealed to Pope Francis to raise Regini's case with Egypt. The case has sparked international attention on human rights violations in Egypt. Furthermore, the case has strained the traditionally close relationship between Egypt and Italy due to the lack of progress holding those responsible accountable.
---
Subscribe to our newsletter
---