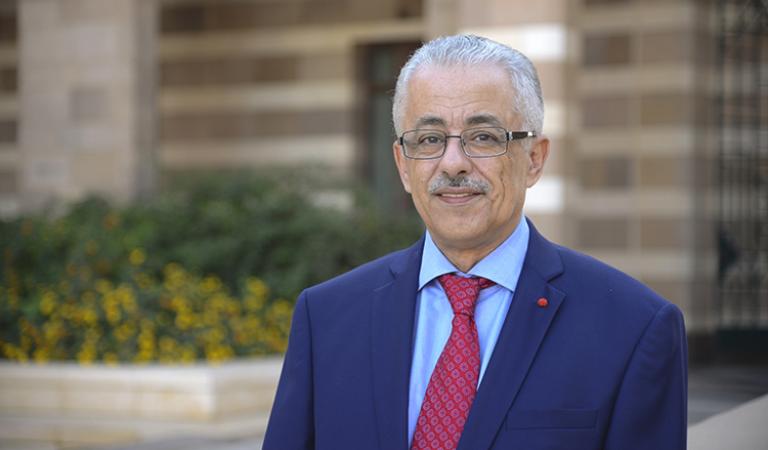 The minister of Education Tarek Shawki announced that the current and public Egyptian educational system is to set to end by 2026.
The news, that a new educational reform which will spare class teachers the trouble of correcting examinations and which will gradually substitute the current system, was disclosed at a group Iftar at the American Chamber of Commerce in Cairo and was reported by Egypt Independent. 
Shawki states that the high school exams, which presently cause a great deal of pressure and stress for the students, are to be changed with an evaluation that spans over three years in order to measure the understanding of students more fairly.
"Paper books will be cancelled as well," Shawki added.
Books in the new reforming system are to be replaced with tablets which will be provided for by the Ministry of Education. Tablets, which will be given for free, in contrast with the required books that presently cost 3 billion LE, will operate through school networks or on pre-saved data. Thus, the performance of the tablets will be of equal efficiency in all cities regardless of the quality of their internet connectivity and networks.
The introduced tablets will also be of use as the exams will become electronic; therefore, it becomes feasible to hold exams at the school level rather than at a unified nation-wide level.
The new system's implementation is to begin in September and it will be compulsory in KG1, KG2 and first grade classes in all private and public schools. The news of the new system was announced last year; it included the cancellation of the Primary Education Certificate in addition to the traditional Thanaweya Amma system to be replaced with a new secondary education system based upon the Grade Point Average (GPA), starting from the school year 2018-2019.
Shawki emphasized that the first essential component of this project is to build an educational system that balances the academic and the real life skills of the students. The second component of the system is to improve the teachers' conditions and to be of assistance to them. The enhancement of the overall assessment system thirdly follows, thus it will evaluate and assess the understanding of students more thoroughly.
---
Subscribe to our newsletter
---