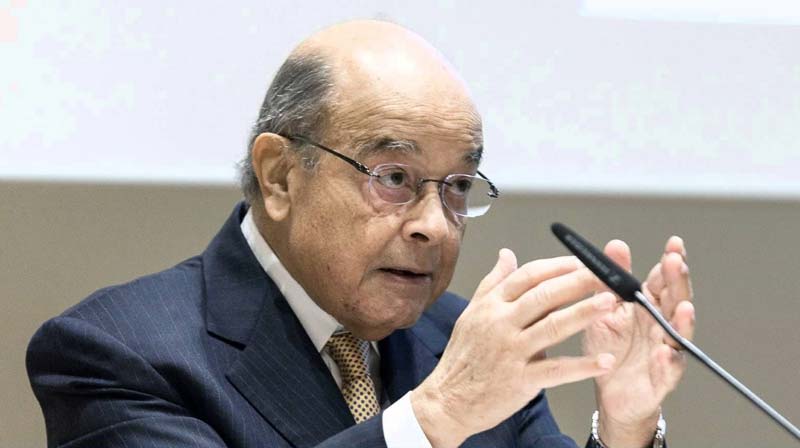 Although there are few Egyptian names that resonate with global medicine, the name of Dr. Abel Mahmoud was quite a well-established one. The  76-year-old doctor, who was credited with the invention and marketing of two important vaccines, passed away one June 22 in the United States.
Dr. Adel Mahmoud was at the forefront of the creation of two significant vaccines: one for  the rotavirus infection and one protecting against human papillomavirus (HPV).  One prevents rotavirus infection, a potentially fatal cause of diarrhea in babies. Another protects against human papillomavirus (HPV), which causes cancers of the cervix, anus, genitals and middle of the throat.
News of the death sparked messages of mourning across the world. Egypt's Ministry of Higher Education and Scientific Research released a statement which expressed its condolences, stating that Dr Mahmoud's death was a "huge loss".
Meanwhile, Bill Gates  tweeted "the world lost one of the greatest vaccine creators of our time".
"Dr Adel Mahmoud saved the lives of countless children," tweeted Bill Gates.
Dr Mahmoud graduated from the University of Cairo in 1963 and earned a doctorate from the London School of Hygiene and Tropical Medicine in 1971. He then became a postdoctoral fellow at Case Western Reserve University in the United States, and in 1998 was recruited at Merck Vaccines and served as president until 2006.
Following his retirement, Dr Mahmoud worked as a professor at Woodrow Wilson School of Public and International Affairs and at Princeton University's molecular biology department.
Why are the vaccines important
Every year, thousands of women and children worldwide are killed due to cervical cancer and rotavirus infections. As such, Dr Mahmoud's help ensuring that vaccines for these two reach the global market was significant although their arrival on the market was largely contested.
The HPV vaccine was largely argued against as it had to be given to girls at a young age and before a particular age (in the mid to late twenties) to be effective. Moreover, the vaccine, called Gardasil, was and remains only effective against particular strains of HPV, such as type 6, 11, 16 and 18.
There have been various reports that the vaccine has caused women medical issues .
In Japan, the government has had its reservations about administering it to girls below their twenties, and in Spain, one batch of Gardasil was discontinued after two girls fell severely sick after being administered the vaccine.
Moreover, the vaccine stirred controversy in the U.S as it was seen as a mean of inciting women to promiscuity as the vaccine would 'potentially' encourage a higher sex drive.
Recently however, the World Health Organisation called the HPV vaccines "truly wonderful" according to the New York Times, with the head of the organisation calling for all girls to be given the vaccine despite some concerns surrounding their use.
---
Subscribe to our newsletter
---