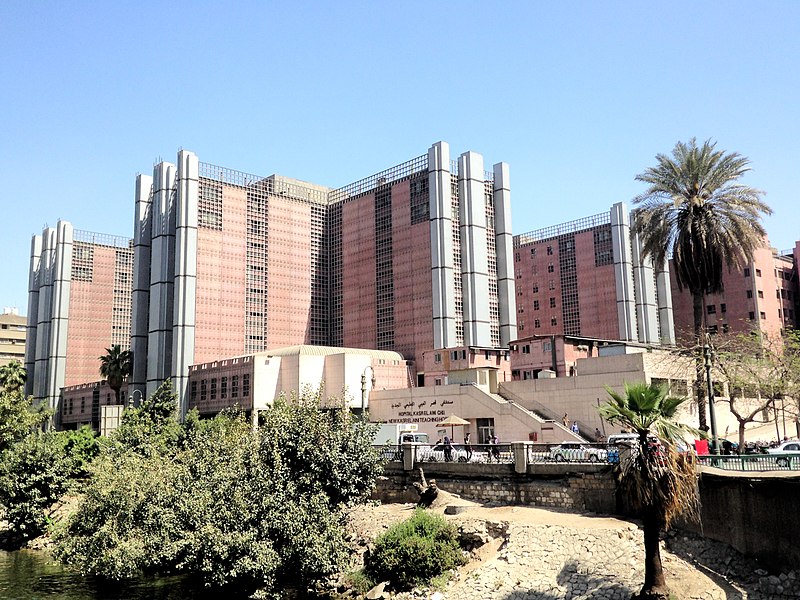 Qasr El Eyni Hospital. Photo Credit: Johan Ramli, Wikimedia Commons
A controversial Egyptian law regarding organ transplant surfaced after a video of a deceased man in a hospital missing his eyes went viral on social media.
The deceased was identified as Mohamed Abdel-Tawab, a 40-year-old man who was undergoing heart surgery at Qasr El Eyni Hospital. The video was recorded in a morgue with blood covering the deceased's eyes. Abdel-Tawab's family accused the hospital of homicide in order to steal the deceased's eye.
Fathy Khodeir, head of Qasr El Eyni Hospital, stated that the hospital did not engage in any illegal act. The law at question is the Law 103 that was established in 1962 and was amended on several occasions to regulate corneal transplant and eye banks.
The most notable amendment is that of 2003 which allows human intervention in organ removal or transplant given that the body is not altered. In a statement Khodeir released to the media, he clarified that the hospital has only removed the surface of the cornea which does not result in any disfigurement.
According to the law, organ donation can occur in one of the following circumstances: those deceased whose body undergoes state ordered autopsies, those who consent in their will for their organs to be donated upon death, and like in Abdel-Tawab's case, those who die while undergoing surgery in a hospital that contains a donation bank.
However, under article 60 and 61 of the 2014 constitution, hospitals are not allowed to mutilate any deceased without prior consent from the deceased's family.
MP Shereen Farrag said to Ahram Online that the hospital did not abide by Law 162 and instead removed the oculus and requested for the hospital staff to be questioned. Farrag also argues that the law is outlawed and if proceeded with a case in a constitutional court, the hospital will be prosecuted.
---
Subscribe to our newsletter
---