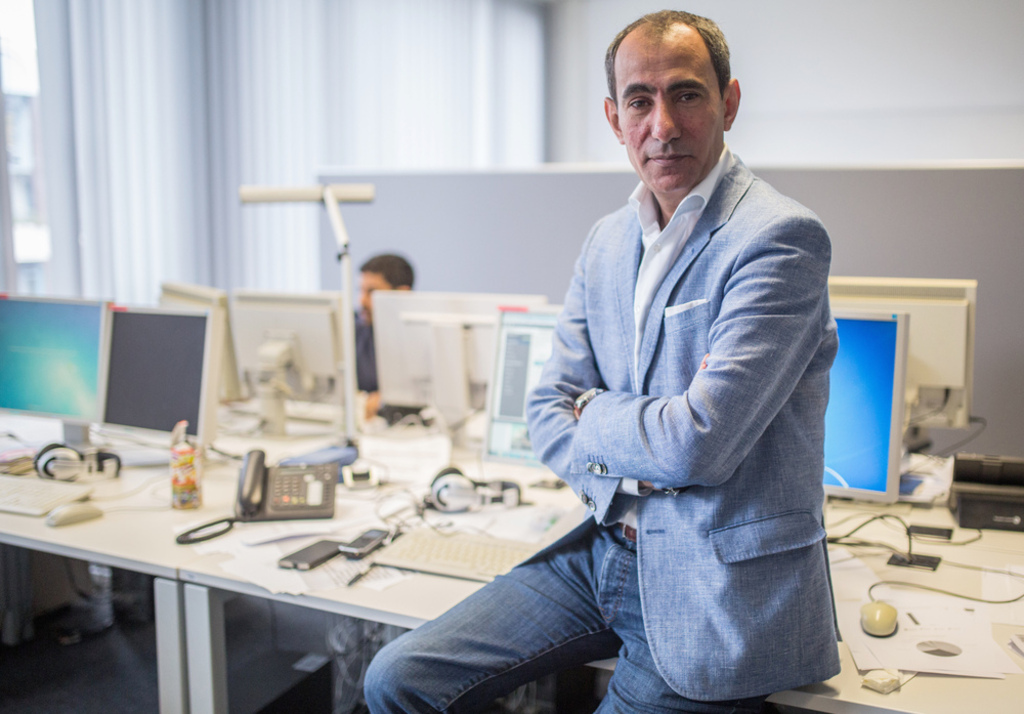 Egyptian journalist Yosri Fouda, a prominent investigative reporter and television host, has parted ways with German broadcaster Deutsche Welle after at least three separate allegations of sexual misconduct came to light in recent weeks.
In a statement released on Friday evening, Deutsche Welle announced that allegations of sexual harassment against one of its former employees have proven credible, adding that the accused person no longer works for the German broadcaster.
Deutsche Welle refused to release the name of the accused, but it is believed that the former employee is Yosri Fouda.
In an email to the Associated Press, Deutsche Welle spokesman Christoph Jumpelt said that Yosri Fouda, who joined the German network in 2016, is no longer working at Deutsche Welle.
Jumpelt, however, refused to comment on the reasoning despite Fouda's sudden exit.
"As a general rule, we are not commenting on speculations or on matters specific to any individuals," said Jumpelt to the Associated Press.
Fouda, who came to prominence in Egypt following the 2011 revolution and is a staunch critic of Egypt's President Abdel Fattah Al-Sisi, has not commented on Deutsche Welle's latest statement.
Fouda slams 'unfounded' reports
Allegations of sexual harassment and other misconduct against Fouda first arose several weeks ago, with some local media reports claiming that Fouda is facing charges in Germany over incidents of sexual harassment against colleagues at Deutsche Welle.
In a Facebook post published on 12 September, Fouda denied that there are any legal proceedings against him. However, Fouda did not seem to deny the allegations of sexual misconduct in the same Facebook post.
"This is a war that has been imposed on me. I know it's source and I know how it started and how it developed," said Fouda on 12 September.
"There is no case raised in any court that I know of….I encourage prosecutors to find justice in Germany…and raise any issues, and I would be happy to answer any questions before the court," continued Fouda, providing details of his postal address.
In an earlier post on 10 September, Fouda said that reports about him are "unfounded" and that any such reports should be confirmed by contacting Deutsche Welle.
In addition to the allegations of sexual misconduct at Deutsche Welle, a number of social media users have shared their own experiences of working with Fouda, claiming to have been made to feel uncomfortable by Fouda.
Dalia Alfaghal is one of a number of women who have claimed they were sexually harassed by Fouda. Alfaghal posted on Facebook on 11 September stating that Fouda sexually harassed her and made her feel uncomfortable at Fouda's house in Berlin. The Facebook post has since been shared thousands of times on Facebook and Twitter.
Allegations in the media sphere spread
The allegations against Fouda come amid a series of sexual harassment and misconduct allegations arising in recent weeks following the infamous Fifth Settlement 'coffee' sexual harassment incident.
In August, May Elshamy, a former journalist at Youm7, claimed to have been repeatedly sexually harassed by a senior supervisor at Youm7.
The journalist said she had officially filed a lawsuit against the unidentified man, adding that in addition to being verbally harassed, the man had also inappropriately touched her in the newsroom.
Elshamy's admission resulted in social media users sharing their own experiences of sexual harassment at Egyptian media organisations. #SupportMayElshamy also became trending on Twitter.
In a later statement published on 13 September, Elshamy called on social media users to share their own experiences of sexual harassment in the work force.
Youm7, one of Egypt's most prominent private pro-government media organisations, has not commented on the claims. Though there are speculations as to who the unidentified man is, this is not yet officially confirmed and Egyptian Streets has chosen not to name the man pending legal proceedings.
---
Subscribe to our newsletter
---