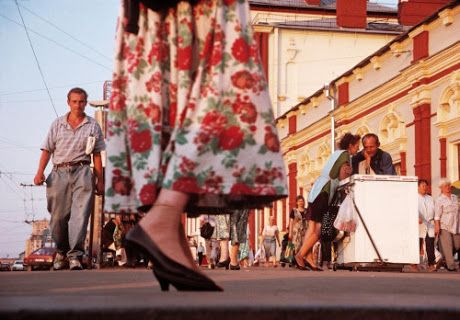 "I felt like a whole new person," says Amal, "and I am starting to love myself again. It is kind of like the difference between heaven and hell, and I am now in heaven."
Egyptian women are often looked at from an angle that only selects the tragic side of their lives; they are presented to the world as feeble creatures that are under the oppression and control of many men.
Yet, Amal is not weak. As a single mother living in Egypt, her story does not just include hardship, misery and abuse, but it is more than that – it includes power, strength of character, independence, and even happiness.
There is a difference between reading a statistic meshed with a short painful story, and reading a story that reveals everything about Egyptian women. Like many other women in the world, they could also experience both happy and distressing stories. But more importantly: they are also able to fight and achieve their freedom.
The modern Egyptian woman
Before 1920, women were not given the opportunity to initiate a divorce. Since then, the Egyptian legislature has tried to restore the balance between man and woman. Currently, the majority of divorce cases are through khula', which is form of divorce in Islamic law initiated by women and was introduced in 2000. Rasha Dewer, researcher at Cairo University, cited a study in her research 'Engendering Poverty and Egyptian Personal Status Law' that showed khula' representing 67.6 percent of the divorce cases in 2015.
The rising divorce rates reflect an obvious reality: that the social stresses that previously defined many women's actions are changing, and as such, it demands listening to their stories, their struggles and how they truly feel about divorce.
"Egyptian women are more often blamed for any unsuccessful relation. This puts a lot of pressure on women who find no option but to compromise," says Nermeen Abusalem, founder of one of the largest single mothers communities group on Facebook.
"I want to tell every single mom to not be hard on herself, it is not your fault. Be successful, think of your child's future, give back to your community and develop yourself. Good things fall apart so better things fall together.. always believe in that," she adds.
Female warriors who did not compromise: their stories
Egyptian Streets spoke to a number of Egyptian women who agreed to share their experiences of divorce in Egypt.
Mayar, 26, shares her path to getting her ex-husband to agree to a divorce
"My ex husband was a drug addict. We got married when we were still in college and then had our son a year and a half later. This is when all the mess started to happen. He simply stopped going to college and even stopped coming home. I was all alone with the baby and a degree to finish.
"After I graduated, I asked for divorce for two years, but he never replied. So I blackmailed him by sending a khula' declaration to his hometown…checkmate. His family finally forced him to divorce me fearing the disgrace of khula' on their family's reputation in Assiut.
"But during the divorce process, I gave up all my financial and legal settlements in exchange for an education and travel permit for my son. As a woman I feel free…sometimes lonely, but it is only part of the coping process. Right now, I am planning to establish a good financial base and leave the country to start over with my child."
Amal, 41, says freedom is like the difference between heaven and hell
"The decision of divorce is not easy for any woman. I spent six years unable to make the decision, until it started to negatively affect my nervous system. I was even subjected to physical violence.
"Of course, my daughter was the reason why I was continuing my miserable life with him, but then I realized that I am also important, so I took the decision without returning back. And as usual, to get the divorce, I gave up all my rights and took only my daughter.
"I was able to stand on my feet and get a job. I felt like a whole new person and I started to love myself again, and I am completely satisfied with my decision. It is like the difference between heaven and hell…and I am now in heaven."
Menna put her foot down when she realized he was a fraud and was marrying other women
"I opened my own company and I met him at work when he asked to join and help me with my business, and he seemed really kind and good, so we starting working together. Then after six months, we got married.
"Since then, the company started to fall apart. He would take all the money from the bank and always borrow money until the business was destroyed. He was always in debt, and for seven years I always tried to help him to pay back the money, but then I found out that he was actually a fraud, and he was marrying other women behind my back to take their money and pay back his debt.
"So I got divorced, and then he left completely without paying any financial support for kids. But I don't care, because now I feel completely happy, and I will start my company again to support my kids."
Passent, 37, found the struggle coming from society and not her ex-husband
"My ex is a very decent man. He loves his kids and I love him so much as like a close friend or a brother. When we were married, he used to always buy things for his kids and do household chores. But the reason for divorce was because the love between us ended, like the love you have when you get married.
"The only struggle I faced actually was dealing with society. My best friend, who was also divorced, immediately left me when she got married. I don't know if she got scared from me or from her husband or she felt that suddenly I no longer play a role in her life as a divorced woman.
"And my male work colleagues were trying to hit on me as if they're hunting a fish from the sea! Everyone used to tell me that I was cursed, and my mom till this day cannot believe that I am divorced.
"But I am now working really hard and studying to live a better life. I come from a well off background and my dad can pay for me,  but I do not want to be financially dependent on anyone. My kids are my life and I am willing to work for more than 1000 hours just to see them smile."
Nermeen, 25, fought for her rights in court
"The story began when we got into a really big fight and he threatened to kill me, so of course I left the house and went to my family. After a while, I found out that he filed cases against me in court, one of them that I robbed all the furniture in the house.
"So I had to go to court all by myself and fight, and in the end I proved that he was a liar and got a divorce. The whole divorce process of going to courts and dealing with judges that cannot empathize with your situation was really the worst part of it all, and it damaged me psychologically.
"But right now I am thankfully working and able to support myself on my own."
Marwa forced her ex-husband to court to get her rights
"For me, I was quite surprised with the divorce. Usually it comes after a really big quarrel or problem, but there was nothing like that at all. He simply just decided to break it off after a little fight we had, but he was reluctant to go to court and hold financial responsibility.
"So I insisted that he must go, and if he is afraid to take the decision then I will take it myself. And I kept going on about it until I forced him to come to court with me and to give me my rights.
"But I just feel scared about the future. My income is not enough to help me rent an apartment after my daughter gets married, and it's really bothering me. I will be all alone, but I also have a lot self-respect and I will not allow anyone to pay for me anything. I will just have to find a way."
---
Subscribe to our newsletter
---