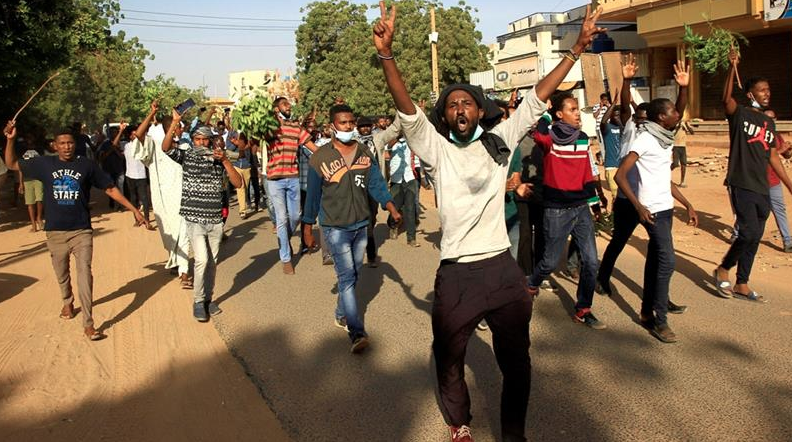 A week after they have started protesting, demonstrators in Sudan demanding President Omar Al Bashir to step down have been met with live ammunition, rubber bullets and tear gas.
Civilians have also spotted snippers across of the capital Khartoum.
According to Amnesty International, 37 people during the protests, at least four of the victims were students under the age of 18. While the government has denied the use of live bullets and repetitively "asked" its police forces to not fire, many have lost their lives and hundreds were injured due to gun shots.
#Sudan: gunfire can clearly be heard in the capital #Khartoum. regime forces are shooting, gassing, beating and taking away protesters, all in desperate attempt to crush the ongoing uprising.
#مدن_السودان_تنتفض pic.twitter.com/6R5o9WlSIb

— Thomas van Linge (@ThomasVLinge) December 25, 2018
The Sudanese Professionals Association prepared a memorandum, demanding the resignation of Basheer and called people from across Khartoum to march to the presidential palace to deliver the letter on 25 December.
However, news of this reached the government who soon retaliated by sending Rapid Security Forces (RSF) to all the announced meet up locations, as well as across Nile Street, where the palace is located.
In central Khartoum, a protester witnessed "the police and army were surrounding Souq Arabi and beating up protesters and arresting them."
Police forces have cordoned off streets across the country in different states to prevent assemblies. Crowds have been dismantled by violence against people walking in groups around these locations.
Civilians reported on Twitter that security forces have been using purple colored tear gas that stains clothes and skin, so they are able to identify protesters even after the crowds were segregated.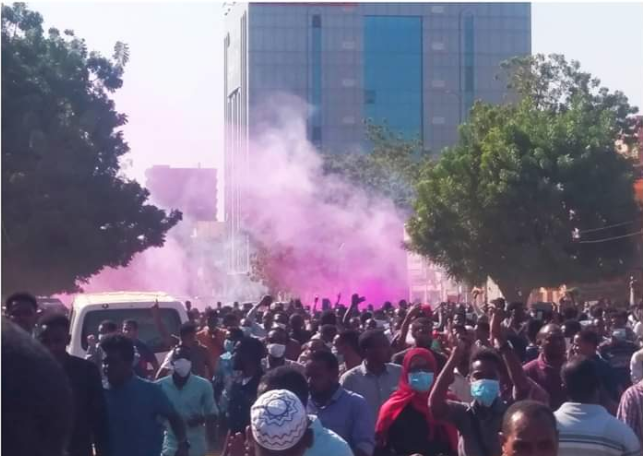 Others reported that forces chased and shot people who were caught filming on their phones. Unconfirmed reports have also said that officials were confiscated smartphones of those walking around the streets near the protests.
President Bashir arrived to inaugurate a school in Rufaa, a city in Al Jazirah state in eastern Sudan, where he was greeted by angry civilians, men and women of all ages.
موقف هذه السيدة العظيمة جعل إيماني يزداد بما قالته ( جوي ندوجوتسي ):
نحن نساء قويات، نحن مديرات رائعات، نحن صناع سياسات عظيمات، يمكننا أن نكون قوة عظيمة لأفريقيا.
نعم سيدات افريقيا أنتن قويات لقد أنجبتن جيلاً لا يرضى المهانة.. بكن ننتصر ✊#مدن_السودان_تنتفض #موكب_25ديسمبر pic.twitter.com/IKY1HHQHSt

— افريقيا التاريخ المدفون؟! (@Africahistory1) December 26, 2018
His speech was broadcasted on local TV channel Al Sudan, and while he was speaking chants of people booing him and asking him to leave took over forcing the channel to stop the broadcast.
In an attempt to hinder the dissemination of news about the protests, local media have been instructed to not cover the local events. Several newspapers were banned from going to print at the state-owned printing houses.
Yassir Abduallah, a local journalist for Al Sudani Newspaper, an Arabic publication that is funded by National Council Party (NCP) and National Islamic Front (NIF), has reportedly been subjected to violence by local forces. Soon after his assault, he was taken to a hospital for treatment.
Local TV channels have censored the recent events too, but instead air their regular music and cooking shows. This media blockout has triggered many civilians who highlighted the incompetence of the local media.
One caller local Sudanese TV channel Blue Nile in their "Hob El Watan" or Patriotism segment and said "Please read what's being said [about the protests] and stop playing music, you have been playing music since the morning and there are people losing their lives for their country. Other channels are not showing anything. Where is 'patriotism'?" She added "If you really are 'patriotic' then you should cover what's happening in the country right now."
مداخلة الشابة السودانية التي هاجمت قناة النيل الازرق والقنوات السودانية التي تجاهلت الأحداث الجارية في الشارع السوداني وانشغالها ببث الأغنيات ليل نهار.#مدن_السودان_تنتفض#السودان#السودان_ينتفض#SudanUprsing pic.twitter.com/gftbo7KMPW

— Sudan News (@Sudan_tweet) December 24, 2018

Amnesty International's regional deputy director Sarah Jackson said "Instead of trying to stop people from demonstrating, the authorities should be focusing on ending longstanding repression of human rights and resolving the economic crisis that have collectively precipitated these protests."
Sudanese President Omar al-Bashir has pledged to take "economic measures to provide a decent life for the citizens," after the uprising has broke out in at least 10 states out of the 18.
According to the Sudan News Agency, Bashir praised the role of the security and intelligence forces in maintaining the safety and security of citizens, reassuring that he will not leave office.
On 22 December Qatar 's State News Agency confirmed that Qatar's Emir Sheirkh Tamim Bin Hamad Al Thani called Bashir to reassured the Sudanese President that Qatar has his full support and is willing to send any necessary aid.
The recent events were triggered by the economic hardships that left civilians hopeless. Sudan is fighting to overthrow a regime that has been systematically imposing cultural, religious, political and economic policies for almost three decades to deliberately detriment the citizens. These policies have lead to the economic deterioration of the country inciting the recent protests.
Prices of bread have doubled to three pound per piece of bread. The limited supply of petrol has queued citizens for hours at gas stations across the country and empty ATMs have left people cashless. The highest price for USD one equals SDG 85 in the black market, up from around SDG 20 in last January.
Sudan's economy has been struggling for over two decades after the US placed a 20-year embargo on the country for allegedly sponsoring terrorism. The trade sanctions were recently lifted in October 2017.
The country's economy further plunged after South Sudan seceded becoming the world's youngest independent country in 2011. Oil exports was Sudan's main source of foreign currency, after the divide, most oil fields are located in the independent state of South Sudan costing Sudan 75 percent of its oil outputs.
---
Subscribe to our newsletter
---