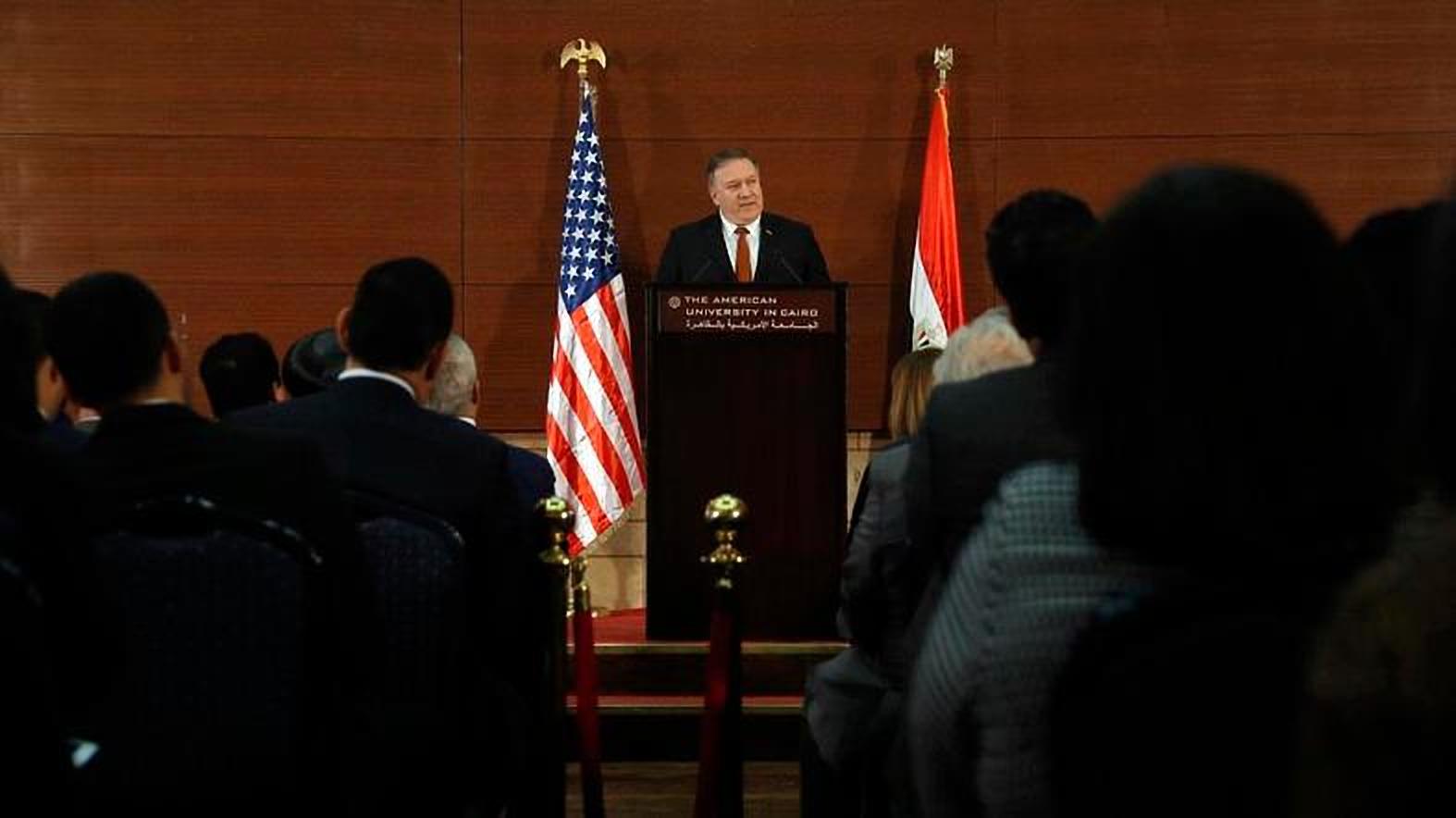 United States Secretary of State Mike Pompeo delivered a speech on Thursday in Cairo at the American University on America policy's in the Middle East, noting that the Trump administration hopes to establish a coalition consisting of GCC states, Egypt and Jordan.
"The Trump Administration is also working to establish the Middle East Strategic Alliance – or 'MESA' to confront the region's most serious threats, and bolster energy and economic cooperation. This effort is bringing together members of the Gulf Cooperation Council, as well as Egypt and Jordan. Today we ask those countries to take the next step in solidifying MESA," Pompeo said in the speech.
Pompeo noted that the "the age of self-inflicted American shame is over" and that America will pursue a more activist policy, adding that it is a "force of good" for the region.
He added that the only way to end the rivalries and conflict in the region is by containing and defeating Iran, and vowed "expel every last Iranian boot" from Syria.
"For those who fret about the use of American power, remember this:  America has always been, and always will be, a liberating force, not an occupying power. We've never dreamed of domination in the Middle East.  Can you say the same about Iran?" Pompeo stated.
"The work to curb the regime's deadly ambitions isn't confined to the Middle East. America's friends and partners from South Korea to Poland have joined our effort to stop Iran's wave of regional destruction and global campaigns of terror."
Pompeii's speech was part of a nine-nation tour of the region aimed at assuring the leaders of the Arab states that the Trump administration is still taking an active role in the region amid confusion over the recent decision to withdraw US forces from Syria.
After the speech, he drove to the new administrative capital to visit two new places of a worship, the largest cathedral in the Middle East and a new grand mosque.
The speech was criticized for its lack of depth and clarity, as it merely narrowed down the conflicts in the region to be a result of Iran and the Obama administration.
It was also criticized for its contradiction with Trump's recent decision to pull out US troops from Syria and his skepticism of American foreign engagement.
---
Subscribe to our newsletter
---