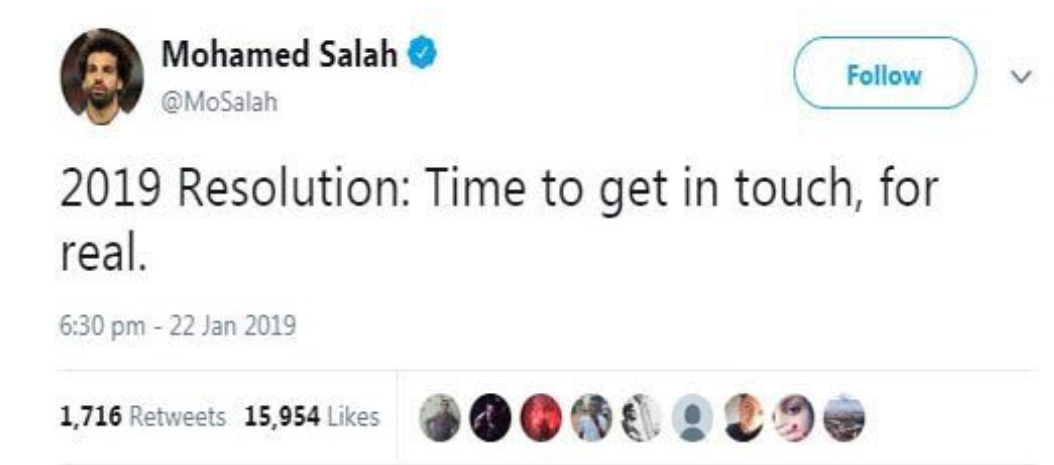 Egyptian striker and Liverpool player Mohamed Salah (Mo Salah) has completely vanished from social media on Wednesday morning after tweeting a vague message saying "2019 Resolution: Time to get in touch, for real" on Thursday evening.
After going on a social media hiatus for two weeks, Salah deleted all his social media accounts including Facebook, Twitter and Instagram leaving fans very confused and skeptical.
My guess is he's probably sick of receiving abuse online of supposed fans

— Dale 🔴🔥LFC 🔥🔴 (@DaleLFC1983) January 23, 2019
What do you mean dear 🤔

— Ali Farrag (@fWz1Zj4BuVbK2J8) January 22, 2019
Some believe that he was trying to get away from the negative energy online to focus on his upcoming competitions, while other are still trying to decipher what it meant.
Salah has just scored his 50th Premiere League goal in his last game against Crystal Palace. For the second year in a row, Salah was named the Best African Footballer of 2018 by the Confederation of African Football's (CAF).
In December, the Egyptian striker was also awarded 'Best Player in Africa Award 2018' by the BBC for the second consecutive year. He was also titled 'Arab Player of the Year 2018' and awarded the 'Excellent Arab Sportsman' prize.
The Egyptian star was nominated for the FIFA's World Player of the Year and UEFA Men's Player of the Year Award and landed third place in both.
---
Subscribe to our newsletter
---