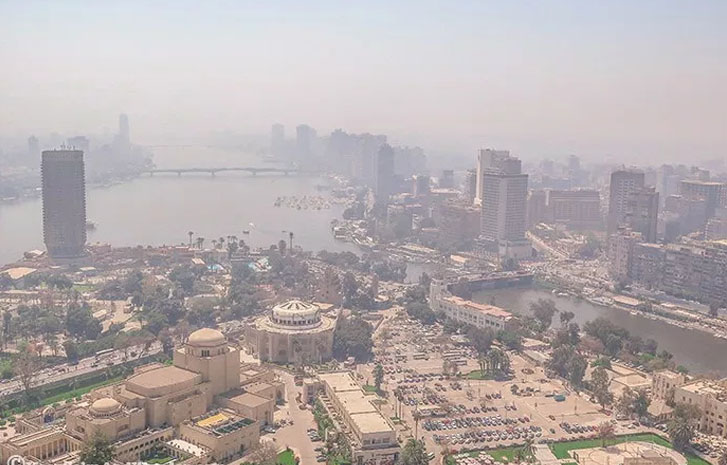 Egypt jumps up to 66th place on Yale's 2018 Environmental Performance Index (EPI) out of 180 countries, almost 40 point up from ranking 104th place in the previous year.
While Egypt is often criticized for its high air pollution as a result of its growing population, high gas emissions and lack of environmentally sustainable solutions, the country ranked 32nd place in terms of air quality compared to the global standards. According to the World Health Organization (WHO), the main causes for air pollution are by "the natural or human-caused release of harmful contaminants into the atmosphere."
However, despite ranking pretty high in air quality, Egypt still ranked 99th place in terms of air pollution. The indicators for air pollution are based on nitrogen oxides and sulfer oxides. According to the Yale's EPI, "air pollutants negatively affect ecosystem integrity and function. Both sulfur oxides (SOX) and nitrogen oxides (NOX) can cause acidification, which can degrade soil and water quality."
In late August of last year, Forbes released an article on a report done by The Eco Experts saying that Cairo is one of the most polluted cities in the world. The data was based on three different types of pollution: air, noise and light.
It is no surprise that Cairo has an excess amount of smog in the air caused by the large number of vehicle exhaust. According to ACS Publications, the amount of pollution in the city's air shortens its resident's life by 1.85 years.
Similarly, in terms of water and sanitation, Egypt scored pretty low landing the 119th place out of 180 countries merely surpassing Bhutan, Equatorial Guinea, Myanmar and Indonesia. The index based revealed that "poor water quality and inadequate sanitation affect all aspects of life. Inadequate access to clean water and sanitation sources hinders sustainable development efforts worldwide."
The most common diseases in Egypt are reported to be bacterial diarrhea, typhoid fever, and schistosomiasis, all of which have a connection to unsafe water and poor sanitation.
With the country's rapidly growing population, climate change and poor garbage and pollution management, the Nile river, which is the main source of water in Egypt, has become disposed of contaminants that threaten the lives of many.
The EPI based its results on 24 performance indicators across ten issue categories that vary from environmental health to ecosystem vitality.
For years Cairo has been considered as a home for miscellaneous pollutions such as air, water and even noise. It is Cairo's air pollution, however, that is at the most critical level, with an estimated 43,000 Egyptians dying from diseases related to air pollution in 2012.
In the recent years, both the public sector and the private sector in Egypt have been actively working towards environmentally sustainable solutions by introducing electric cars and electric buses to its transportation system.
Non-profit organization Bassita in collaboration with Greenish also launched a campaign 'VeryNile' to help clean up the Nile River and the shores along the river in hopes that it becomes a cleaner source for water and a step towards a sustainable ecosystem.
---
Subscribe to our newsletter
---