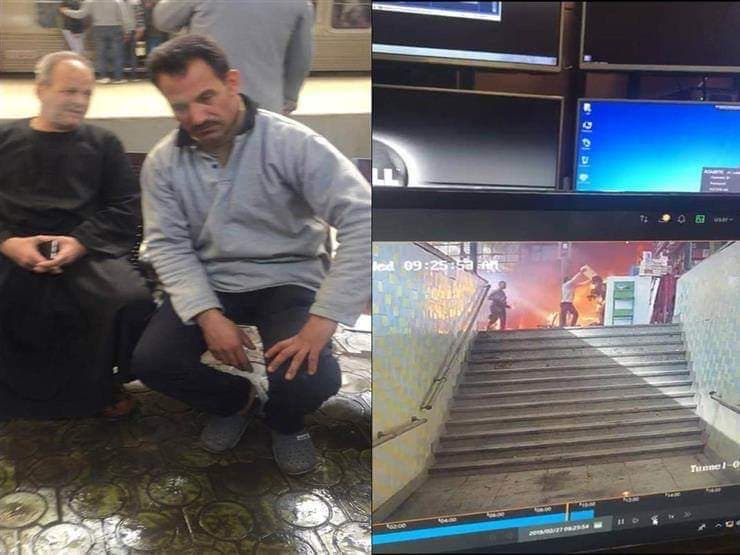 As footage of the deadly blaze in Ramsees Railway Station circulated social media, people quickly spotted a number of heroes who risked their livss to save those who were caught in the tragic fire.
Mohamed Abdelrahman, Mohamed The'ib, and Waleed Mordy are kiosk clerks at Watania Sleeping Trains and Catering Services who were present at the time of the incident.
Waleed has been working as a clerk at the railway station for over 17 years. He used to work on the Cairo to Aswan train, but he recently decided to move his kiosk to the platform in Cairo's Ramsees Railway Station. Waleed pointed out that this was the first time something like this happens in Cairo.
In an interview with ON TV, Waleed recalls."I was standing where I work and I heard a loud sound of an explosion. So I went to have a look, and found that a large fire broke out."
"I saw people who were caught on fire running past me, so of course I stood there for a second in utter shock," he continued,"So I ran to grab a big bucket of water from my kiosk. We all have water tanks in our kiosks because we use it to make tea and other warm drinks."
When Waleed ran out of water, he grabbed a blanket and started patting it down on the people who were on fire to put out the flames. "Thankfully, Mohamed and two of our other colleagues were there to grab blankets from their kiosks and start putting out the fire," Waleed smirked.
The"b was approached by a police officer who asked him to put our the fire that was covering his body. "So I took the blanket and patted him down whilst he rolled on the ground," he stated in an interview with ElWatan News.
Waleed highlighted that it is their morale duty to report anything that happens in the railway station regardless of its severity. "I did not see the locomotive crash into the platform because it was behind my kiosk," he said, "but when I heard the sound, I looked over at a fire that was almost 10 meters long."
When asked about how he felt during the incident, Waleed said "I am originally from Monufia governorate, a rural area. These types of incidents happen often there. So, I have been exposed to a situation like this once or twice before, and I would also interfere and help people."
"In the beginning I didn't feel anything because I wanted to save people. But afterwards, I sat down for a minute and thought about what happened, and I started losing my temper," Waleed added, "I started wondering what happened and how it happened."
"Some people died right in front of me, but I couldn't help them… Those who died were very close to the fire. We were only able to save those were were farther from the core of the fire," he explained.
The'ib believed that the number of victims would have been much more had the people on the platform not taken the previous train.
Waleed was very disappointed by how people at the site of the incident reacted. He said that people were too busy taking pictures and selfies rather than helping others.
This particular picture of a young man taking a 'selfie' at the scene of the explosion has received a precedented amount of backlash.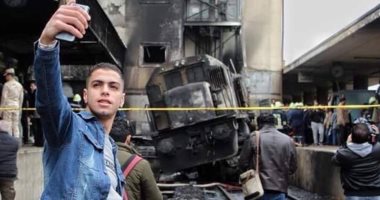 While the injured were fighting for their lives, this young Yasser Medboli decided to stop for a selfie that he later shared on his socials. A wave of anger over from social media users hit Medboli after his picture circulated.
The young man clarified by releasing a statement saying "I was on my way from the metro to Ramsees station, and I received a phone call from my dad who he asked me where and how I was, so I confirmed that I was safe. He asked me to take a picture and send the picture to him to make sure."
Nonetheless, many people were keen on helping the injured by donating blood. Mohamed Naseer, technical advisor at the Central Blood Bank of the Egyptian Red Crescent, said the amount of blood they received covers all those who were injured in the incident, and there is a sufficient quantities to cover emergencies.
---
Subscribe to our newsletter
---